Have you heard of a Pancake Bake? Gluten free eaters want to enjoy all the fun food trends they see on social media and that's what inspired me to share two versions of my pancake bake recipe.
A Pancake Bake is simply pancake batter poured into a pan and baked in the oven. Aside from the fact that they can be fun to make, this is a safe way to cook gluten free pancakes.
Whether you're visiting family, staying over at a friends or you just don't have a pancake griddle, making a Pancake Bake is the perfect solution to avoid cross contact with gluten.
In one of my Kids Cooking Classes we made a Pancake Bake and talked about different ways to serve pancakes. During this one-hour class I made these two variations; a PB&J Pancake Bake and a Cinnamon Roll version.
How To Make A Cinnamon Roll Pancake Pie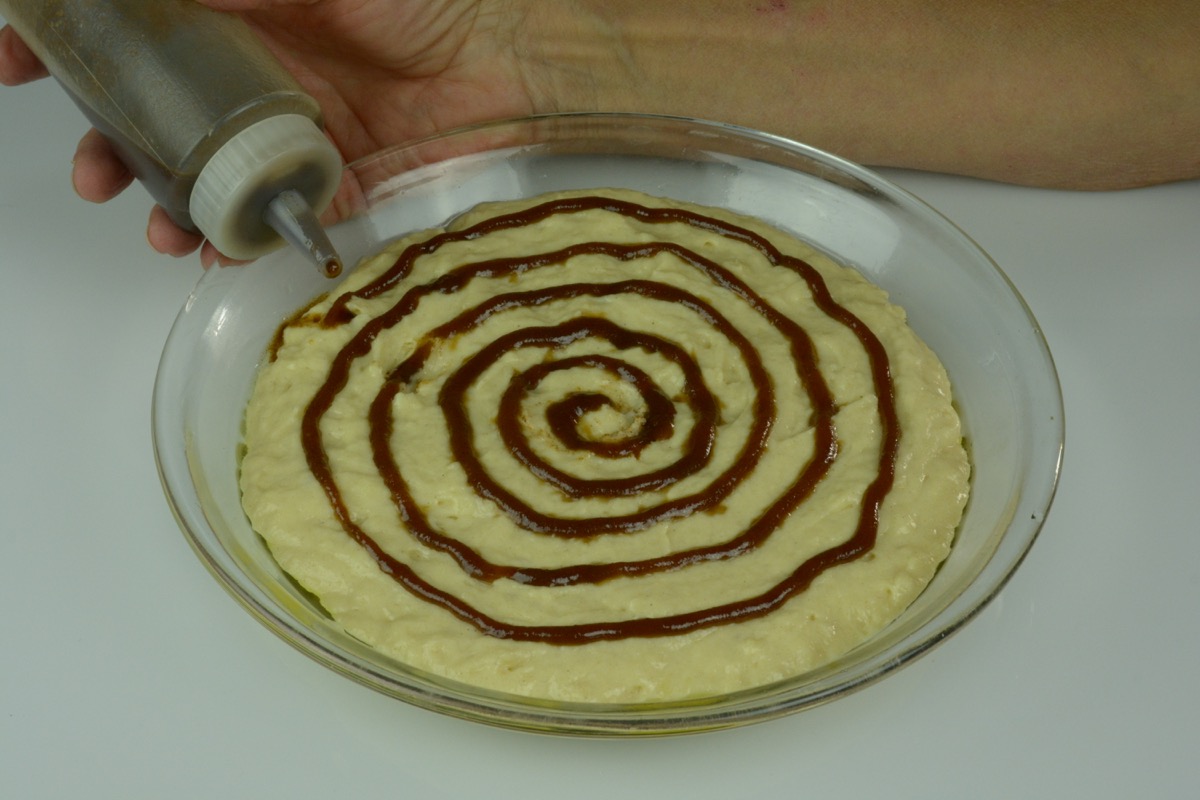 I've taught many kids to make gluten free Cinnamon Rolls in cooking classes and I do think every teenager should learn to make them. I can also think of many reasons you'd want to make a quick pancake bake to satisfy that craving.
For younger kids, or just a super easy Saturday morning breakfast a Cinnamon Roll pancake bake is a simple solution. Like any recipe, the more often you make pancakes the easier it gets.
This variation is made in an old fashioned, 9-inch pie plate so this recipe will make two pancake pies. If you use a bigger deep-dish pie plate you'll need to adjust the cooking time. Of course you can make it in a rectangular baking pan and drizzle on the cinnamon swirl in any pattern you like.
For this pancake pie I add the cinnamon swirl before it goes in the oven and voila. In 15 minutes your kitchen will smell like cinnamon rolls and you just made pancakes!
This sounds like a cool mom trick to me (or a dad trick).
I've tried making cinnamon swirl pancakes in the past by adding this swirl onto pancake batter as it cooks on the griddle. When I flip them over it makes a mess on the griddle and I never thought it was worth the effort of cleaning it after ever batch of pancakes.
PIN for later…
Tips for Making a Peanut Butter and Jam Pancake Bake
Making swirls with slightly warmed peanut butter and jam is the fun part. In this recipe I give you all the tips you need to make a perfect pancake bake.
The major difference when making any gluten free recipe (with flour) is the flour!
Once you're got the gluten free flour figured out you'll be making pancakes the whole family wants to eat. People will be asking (even when they already know) "is this gluten free?"
For more help with flour I've got loads of posts and resources. Click this link to get them emailed to you and download 29 Tips For Cooking With Gluten Free Flour.
10 Fun Ways To Eat Pancakes
Need some more ideas to make your pancake breakfasts more fun? I did a search of Google images and came up with this list of fun ways to serve pancakes. Make them big or small, thick or thin, stacked high or in a bake. Wrap them around sausages for Pigs-in-a-Blanket or try one of these ideas just for fun.
PB&J Pancake Bake with swirls of peanut butter and jam (or fruit sauce).
Birthday Pancake Bake with candy sprinkles cooked on top, served with whipped cream more sprinkles and a candle.
Layered Pancake Cake with thinner pancakes (just like a Crepe Cake).
Cinnamon Roll Pancake Pie with an icing sugar drizzle or full on cream cheese icing.
Peanut Butter and Banana Roll Ups made with thinner pancakes.
Nutella Stuffed Pancakes made with a small frozen circle of nutella topped with more batter so it melts inside as it cooks. (Shout out to Recipe Tin Eats for this idea.)
Pancake Casserole similar to overnight French Toast (found over at Southern Living)
Eggs Benedict Pancakes
Egg-in-the-Hole Pancakes with a hole cut out of the center after the pancake is flipped. Break an egg right into the hole to cook for the last half of the cooking time.
Breakfast Charcuterie Board from simple to elaborate made with tiny pancakes or any pancakes you can imagine.
I'd love to hear about your pancake bake in the comments below. If you send me a photo, preferably of a smiling face eating it or holding it, I'd love to share that.
---
More Recipes: Waffles, Pancakes and Crepes
Pancake Bake
A Pancake Bake is a fun way to serve pancakes and avoid cross contact from a pancake griddle. It's perfect for a crowd and if you like to play with food making swirls is fun!
Ingredients
DRY INGREDIENTS
2

cups

EGFG gluten free flour blend*

(260 g)

2

tablespoon

sugar

1½

teaspoon

baking powder

1½

teaspoon

baking soda

½

teaspoon

xanthan gum

½

teaspoon

salt
WET INGREDIENTS
2

eggs

2

tablespoon

melted butter

2

cups

buttermilk

(OR sour milk**)
PEANUT BUTTER AND JAM SWIRLS
¼

cup

each of peanut butter and jam

(see notes for more ideas)
Instructions
In a large bowl whisk dry ingredients together, set aside.

In a 4-cup pyrex measuring cup combine buttermilk, egg and butter.

Add wet ingredients to dry mixture and whisk until combined. Let batter rest for 5 minutes.

Preheat oven to 425°F. Lightly brush baking pan with cooking oil.

Pour batter into baking pan. Bake for 15-20 minutes depending on the thickness of your pancake. (see notes)

Cut and serve with yogurt and fruit.
Notes
*My EGFG flour blend: 300g sweet rice flour, 300g potato starch, 200g sorghum flour, 200g millet flour. Makes ~ 8 cups.
**Make sour milk by putting 1 tablespoon white vinegar into a measuring cup and adding milk to the 1 cup line. Stir and let sit for 10 minutes before using. Store bought buttermilk makes the fluffiest pancakes but sour milk works in a pinch.
***Variations: Make a swirl pattern using chunky, homemade blueberry sauce or simply sprinkle fresh fruit all over the pancake before you bake it. Kids like to add chocolate chips and confetti candy sprinkles so try different ideas and have fun.
CINNAMON ROLL PANCAKE BAKE (or PIE): This recipe will fill two shallow 9-inch pie plates. Divide the batter between 2 pie plates. To make the cinnamon-sugar filling combine 2 tablespoon melted butter, ¼ cup packed brown sugar and 1 tablespoon cinnamon. Stir until smooth and transfer to plastic bag. Cut off the tip of the bag and using gentle pressure squeeze in a circular pattern starting in the center of the pancake. Bake at 425°F for 15 minutes.