Pigs in a Blanket is simply a fun way to serve pancakes and sausages. It could be a fun Father's Day breakfast or a simple weekend tradition. If you don't have a pancake griddle you need one, it can be used for many things but for making pancakes it shines. There seems to be a readily available supply of gluten free sausages so then it's all about the pancakes.
Do you have a pancake recipe you love?
If not then create a breakfast table discussion about the perfect pancake. Should it be thick and fluffy or thin and crepe-like? Should it be grainy with a bit of chew or white and smooth like you remember them as a child? There is no right answer but this question could inspire you to have a little weekend fun trying recipes and enjoying a homemade breakfast together.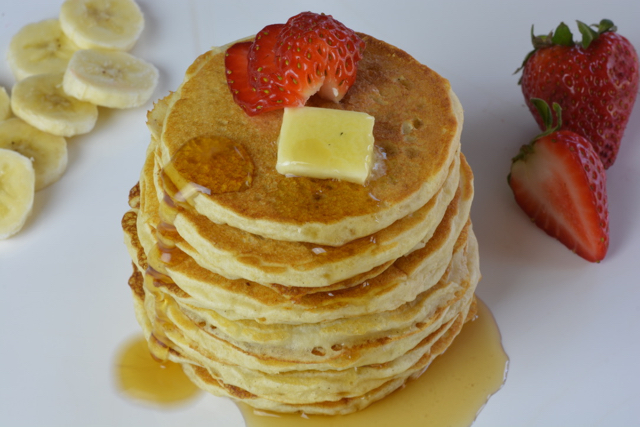 Store Bought Pancake Mix vs Homemade
If you have read a few of my posts you may know that I don't buy mixes. For me a store bought mix includes ingredients I already have in my kitchen so only complicates my already full pantry. If you have a pancake mix that works for everyone in your house that's great news. Enjoy it.
If not, let the pancake search continue.
How To Find Your Perfect Pancake Recipe
You may need to buy a few new flours, you may need to try a few recipes. Once you decide what kind of pancakes you want it gets easier. I'm pretty sure you can find your perfect pancake in less than ten recipes. In my opinion, all that effort will be worth it for years to come. Years of flipping flapjacks, family breakfasts, pigs in a blanket, pancake eating contests and perhaps a very tall, layered pancake cake.
PIN for later...
This post contains affiliate links. When you purchase using these links your cost is the same, but I receive a few cents for every dollar spent. I appreciate your support for this website.
Recipe Testing for Pigs in a Blanket
I made this recipe using my own gluten free flour mix and did a little recipe testing at the same time. Here's how.
I cut the recipe in half so it requires only one egg for one cup of gluten free flour. That way I was able to make the exact same recipe and adjust the flour. For example you could use 1 cup of a gluten free flour mix for one batch of pancakes but in the other recipe use ¾ cup of gluten free flour mix and ¼ cup oat flour (or teff, buckwheat or almost any flour you want to try). This side-by-side comparison works well for me and I am often surprised that I can't tell the difference. (My bad you might say.)
I think this is an easy straightforward way to learn to use different flours and become a little more confident adjusting recipes. If you eat a gluten free diet or live with someone who does this is a life long skill that will serve you well. Not only for the times you are out of a certain flour but also so you can adjust your tried and true recipes as you learn more about gut health and all the gluten free flour options available. Follow my year-long blog post series on How to Use different gluten free flours for baking.
Get The Tools
If you don't have a pancake griddle you need one. A griddle can be used to cook many other things but for making pancakes it shines. Serve them with Canadian maple syrup or your favourite toppings. Whether you make Pigs in a Blanket or simply stack your pancakes high, weekend breakfasts are all about family.
I'd love to hear your story about searching for the perfect pancake.
---
More Recipes - Pancakes, Waffles, Crepes & More
Pigs in a Blanket
Pigs in a Blanket is simply a fun way to serve pancakes and sausages. It could be a treat for Father's Day or a weekend tradition.
Ingredients
DRY MIXTURE
1

cup

EGFG gluten free flour blend*

1

tablespoon

sugar

¾

teaspoon

baking powder

¾

teaspoon

baking soda

¼

teaspoon

xanthan gum

¼

teaspoon

salt
WET MIXTURE
1

egg

1

tablespoon

melted butter

1

cup

buttermilk

(OR sour milk**)
PIGS IN A BLANKET
12

small gluten free breakfast sausages, cooked
COOKING & SERVING
cooking oil, toothpicks and maple syrup
Instructions
In a large bowl whisk dry ingredients together, set aside.

In a 2-cup pyrex measuring cup combine buttermilk, egg and butter.

Add wet ingredients to dry mixture and whisk until combined. Let batter rest for 5 minutes.

Heat pancake griddle to 350°F. Lightly brush with vegetable oil.

Using a ladle or liquid measuring cup pour ¼ cup batter onto the griddle. Cook first side until bubbles appear on the pancake and the bottom side is golden brown, 2-3 minutes. Flip pancake and cook second side until cooked, 1-2 minutes.

Keep pancakes warm while cooking all the batter.
PIGS IN A BLANKET
Wrap a pancake around each sausage and use a toothpick to secure the pig in the blanket. Serve syrup on the side.
Notes
*My EGFG flour blend: 300g sweet rice flour, 300g potato starch, 200g sorghum flour, 200g millet flour. Makes ~ 8 cups.
For thin pancakes use regular milk.
**Make sour milk by putting 1 tablespoon white vinegar into a measuring cup and add milk to the 1 cup line. Stir and let sit for 5-10 minutes before using. It never really makes pancakes as fluffy as ones made with store bought buttermilk but at least you can eat pancakes.
TIPS FOR YOUR PERFECT PANCAKE
Experiment by replacing ¼ cup flour blend with any individual flour you are interested in trying (oat, teff, buckwheat etc). Notice how it affects the taste and texture.
Make pancakes big enough to easily wrap around a sausage.

Buttermilk makes fluffier pancakes that will be sturdy enough to be held with a toothpick.