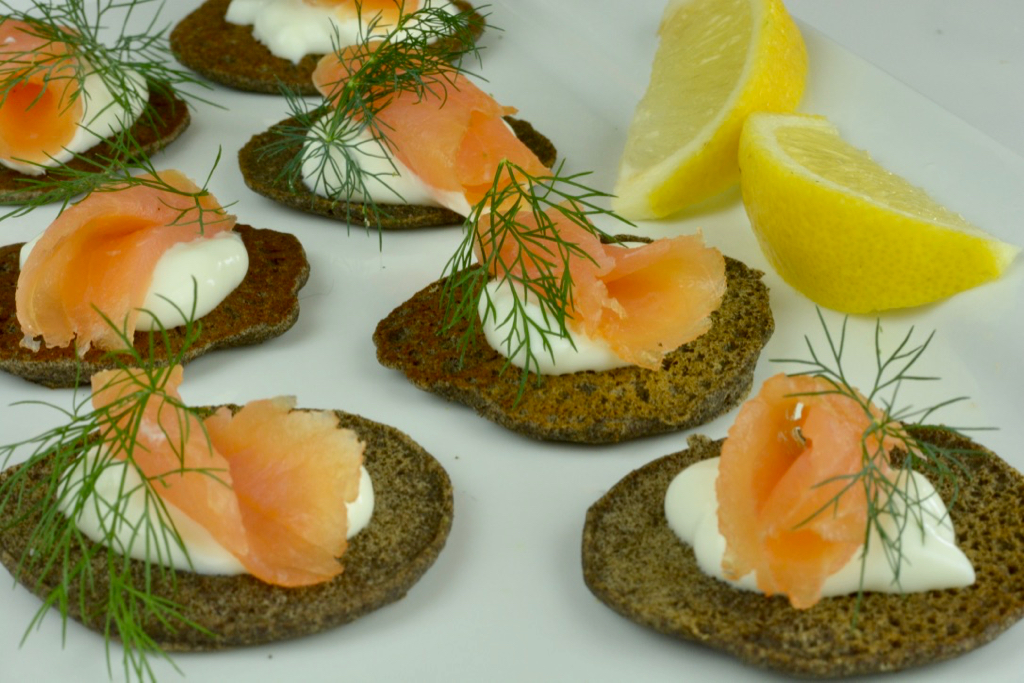 Description
I've wanted to make buckwheat blini for a long time, since I wrote the blog post How To Use Buckwheat Flour actually. These leavened, buckwheat pancakes come from Russia and the Ukraine I learned. There are hundreds of blini recipes out there but I wanted to make what I thought of as a traditional buckwheat blini using buckwheat flour just because they are naturally gluten free.
I'm always cautious to name foods as traditional or authentic. I've learned that a few minutes of research always brings up variations among families and regions of even the most basic recipe and these Russian pancakes were no different. I found blini recipes made with wheat flour alone or a combination of buckwheat flour and wheat flour. Some recipes for this so called leavened pancake don't even use a leavening agent.
I also found Russian blini made pan size with the claim, "the traditional blini we make in my family". So recipes change over time and you can make whatever you want in your own kitchen.
The buckwheat blini I set out to make would be all buckwheat flour with yeast for leavening. I wanted a nice small appetizer size, about two to four inches in diameter. Blini can be served with a variety of savoury toppings but smoked salmon seems the most common. I like smoked salmon so that's how I made them.
PIN for later…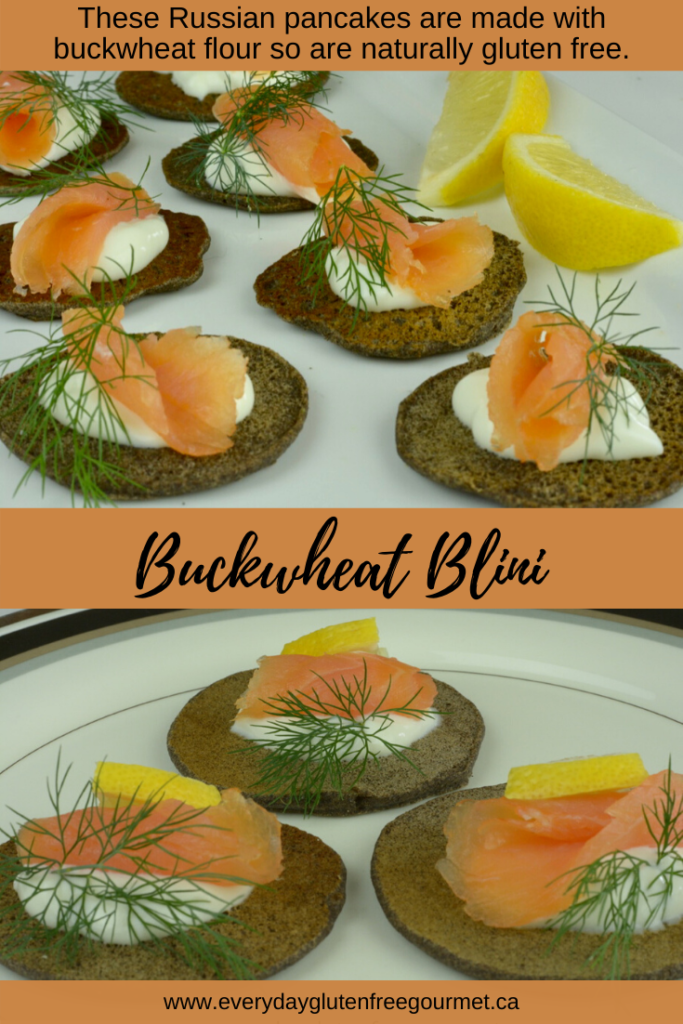 This post contains affiliate links. When you purchase using these links your cost is the same, but I receive a few cents for every dollar spent. I appreciate your support for this website.
Buckwheat Blini vs Blintz vs Crepes
Blini, blintz and crepes are all just pancakes yet I'm intrigued by the differences. I like to hear where these foods come from and how they differ so I always do a little research to see what I learn.
If you've heard about these dishes from family, are interested in the history of food or just love pancakes you can try them all gluten free.
Blintz is a thinner version of blini that is not leavened. It's most often filled with sweetened cheese, folded and baked then served with sour cream or a sweet sauce.
French crepes are also thin pancakes, unleavened, typically made with wheat flour and served with or without filling. Savoury buckwheat crepes and the buckwheat galette are popular in northern France.
Crème Fraiche vs Sour Cream
Sour cream add a richness to these pancakes that goes well with smoked salmon but if you like sour cream you'll really love homemade crème fraîche. I've never even seen it in a store but I've been making this easy recipe for years. I don't make it often but I know you can't go wrong by adding whipping cream to anything so if you're in the mood, and whipping cream to your sour cream and wait for the magic to happen.
Crème Fraîche – Stir together 1 cup whipping cream with ½ cup sour cream (full fat). Cover and let sit overnight at room temperature to thicken. Stir and store in the fridge.
Get The Tools
Every kitchen needs a few tools. I made these buckwheat blini in a regular non-stick skillet and my pancake griddle to compare them and get the job done quickly. For cooks using yeast it's important that your warm water or warm milk isn't too hot that it kills the yeast. They are inexpensive and will last for years.
Do you have buckwheat flour in the cupboard? If you can't remember what you bought it for then try these blini and let me know in the comments below what you thought. I'd also love to hear any family story about blini.
---
More Recipes with Buckwheat Flour
Click on the text to go to the recipe/blog post.
Ingredients
1¼ cups buckwheat flour
1 tsp active dry yeast
½ teaspoon salt
1 cup warm milk (110°F)
2 Tbsp melted butter
1 egg, separated
1 cup (240 ml) buttermilk
Additional melted butter or oil for cooking
TOPPINGS - thinly sliced smoked salmon, sour cream or crème fraîche, fresh dill and lemon
Directions
1

In a medium bowl mix buckwheat flour, yeast and salt.

2

Add warm milk and stir. Cover and set in warm place to rise for 1 hour. (Can be prepared to this point and kept in the fridge over night. Bring to room temperature to continue.)

3

Stir in the butter, egg yolk and buttermilk.

4

Whisk egg white to soft peaks and gently fold into batter. Cover and let sit 30 minutes.

5

Heat a large skillet or pancake griddle over medium heat.

6

Brush with melted butter.

7

Pour 2-3 Tbsp batter onto griddle or pan depending on the size of pancake you want.

8

Cook until bubbles form on the surface, about 1 minute. Flip pancakes and cook a little less on the second side.

9

Remove from pan and keep warm while you cook them all.

10

Serve warm with smoked salmon, sour cream or crème fraîche, fresh dill and lemon.