This Holiday Appetizer Roundup is a collection of my favourite appetizers for the festive season. You can always click over to the RECIPES TAB and click on any CATEGORY, like Appetizers, to scroll through the images. When you do that you get the whole year of appetizers. In this post I'm sharing only ones I serve at this time of year and how I make a holiday version of those recipes.
Like so many things we do once a year, the challenge is keeping recipes organized so you can find them and remember to make them. Starting a blog certainly helped me with that but I've also got a few tips for you at the end of this post.
Year after year I add new and old favourites (in every category) and keep growing my collection. If there's one thing I know for sure I'll never run out of recipes!
Presentation Ideas for Platters
My best tip for serving appetizers is to choose less dishes and focus on a beautiful presentation of the ones you make. That's what I mean when I say "Go Big or Go Home."
Look through the back of your cupboards for large or unusual platters, pedestal trays and giant martini glasses. Dust them off and create a WOW presentation.
Smoked Salmon Pate
I can't count how many times I've shared the recipe for my 4-ingredient Smoked Salmon Pate. Always standing right over top of it on a buffet table.
Vegetable and Dip Christmas Tree
The best Christmas version of vegetables and dip! The tray is spread with dip so it holds the veggies in place and people get some with every bite.
Stuffing Balls and Sushi Pizza are two more favourites that take a little effort but are worth it every time. Set on the right tray the food can be beautiful itself so doesn't need much of a garnish.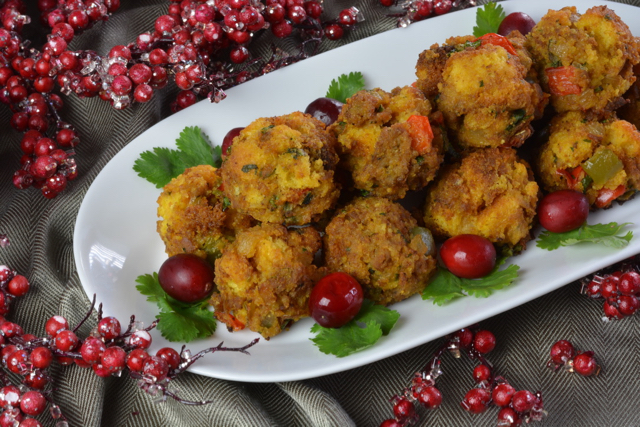 Food Presentation Ideas for Dips
Everyone has a short list of favourite dips but for the holidays you want to dress them up. For an almost instant appetizer layer three store bought dips in a giant martini glass. Some of my favourites are Roasted Red Pepper dip, Spinach Artichoke, Olive Tapenade and of course guacamole.
They all look fabulous but for the holidays this guacamole is my absolute favourite!
Pomegranate Pear Guacamole
Serve this Pomegranate Pear Guacamole in an oversized martini glass, sprinkled with brilliant red pomegranate seeds for any holiday party.
For a smaller crowd fill martini glasses with individual portions of dip, a perfect way to avoid the risk of cross contact. At the last minute put a cracker or nacho on top for an inviting presentation.
A more rustic presentation use half-cup Mason jars! They're perfect for warm dips and can be microwaved or even warmed in the oven.
This post contains affiliate links. When you purchase using these links your cost is the same, but I receive a few cents for every dollar spent. I appreciate your support for this website.
Appetizers in Shot Glasses
Gluten free eaters always appreciate individual servings so shot glass appetizers are perfect! Any soup can be served in a shot glass turning a regular recipe into an impressive appetizer for a crowd. People might bypass a veggie tray but serve veggies and dip in shot glasses and watch everyone dig in.
Little Bites
Even the most simple foods like fried potatoes and mini pancakes can make it to the list of impressive Holiday Appetizers. Make a small version of your favourite fried cakes like latkes, potato cakes, blinis or vegetable fritters and present them with love for a holiday worthy appetizer.
Spanish Tapas: Holiday Appetizers
Little morsels on a toothpick are perfect for stand up entertaining and that's what many tapas are. These little dishes from Spain can be as simples as olives and pickles or cheese cut with quince jam or paste. Find it with the cheese in the deli section with other jam and chutney in a small tub or jar.
Warm tapas are winners too and these bacon-wrapped dates stuffed with chorizo sausage can be made well in advance.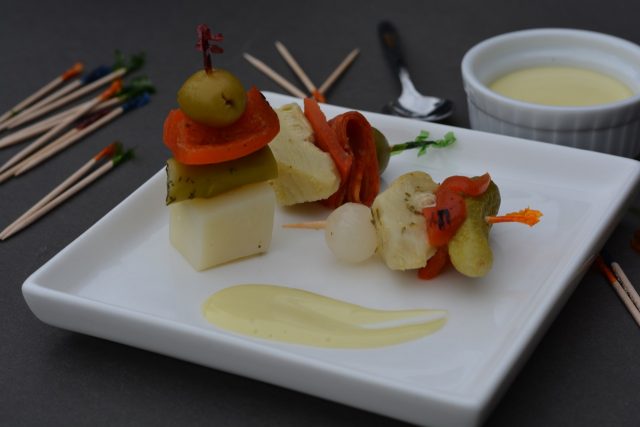 Tapas range from simple to complex, hot or cold and the array is endless. The more you learn the more you realize you need a vacation to Spain to really know tapas. Here's how I serve these two favourites for the holidays.
The frittata can be cut into small squares with a toothpick in each square. I serve this on a pedestal tray to make it stand out on a buffet table.
This simple Rice Salad is one of those recipes that is greater than the sum of it's parts. Serve it in individual spoons for a small group or decorate it red and green for a buffet. The homemade mayo is what makes it!
Lastly is a meatball recipe I make all fall and winter. Put little toothpicks in them and watch them disappear.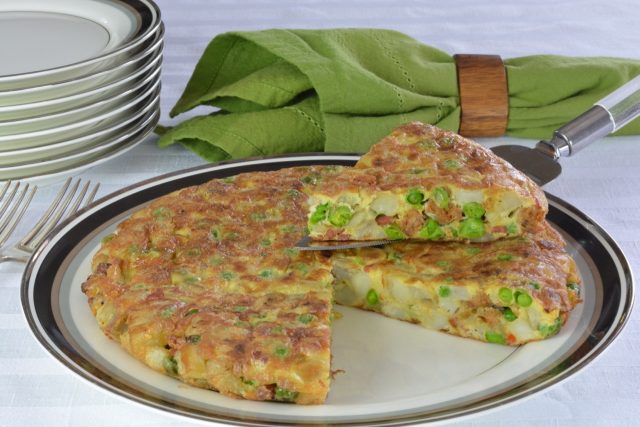 How To Organize Recipes So You Can Find Them
The holidays sneak up on us, right? If that sounds familiar then take one small step to organize some of your favourites. Whether it's a note on your phone, an envelope in a drawer or a list on a board (shout out to all of you who do that on Pinterest) get a short list and keep it.
For me, an avid collector of recipes, it's always a mix of dressing up some of the recipes I make throughout the year plus making those once-a-year holiday favourites. I've saved them in different ways but these are the two systems that still work for me.
I have an envelope filled with recipe cards, the kind we used to exchange with handwritten recipes from friends.
My most significant effort is a three-ring binder I put together one year with the majority of my favourite recipes for Thanksgiving and Christmas. There are recipe cards, cut out magazine recipes taped to pages and typed recipes too. It isn't pretty but it's all there.
I hope I've inspired you to try some new recipes. Remember to save your absolute favourites!
Holiday Appetizers with Pizzazz
Don't feel left out thinking everyone else has all the fancy serving dishes. You too can purchase whatever you like and use it for special occasions. That's what makes them special!
Follow me on social media to see my Pomegranate Pear Guacamole and more! I can't wait to see what appetizers you're making.
Originally posted December 2017, updated November 2022.
---
More Recipe Roundups