Description
This Lemon Kulfi is my go-to Indian dessert. Often referred to as traditional Indian ice cream, this dessert is said to be more dense and creamier than other ice cream. With so many options for fabulous homemade and store bought ice cream available now I think that comment would be hard to measure. For me Lemon Kulfi is simply a nice dessert that is my favourite to serve at the end of an East Indian meal.
There are other Indian desserts but three popular ones are Gulab Jamun, Barfi and Kulfi. When I first discovered and fell in love with the exotic flavours of East Indian cuisine I experimented with desserts too. But over time I learned that I'm just not a fan of rose water, cardamom or saffron in dessert. I encourage you to investigate other Indian desserts if that sounds interesting. If not then this make-ahead, frozen Lemon Kulfi has stood the test of time in my kitchen. If you are inspired to host a Gourmet Dinner Club meal, click here to see my East Indian menu.
Strawberry Kirsch Sauce or Orange Rose Sauce
This sweet strawberry sauce definitely appeals to the typical North American palate. If you prefer something more exotic try the Orange Rose Sauce. Just a tiny amount of rose water gives this sauce a definite East Indian taste. Let me know what else you make with rose water since I have a bottle in my cupboard.
PIN for later…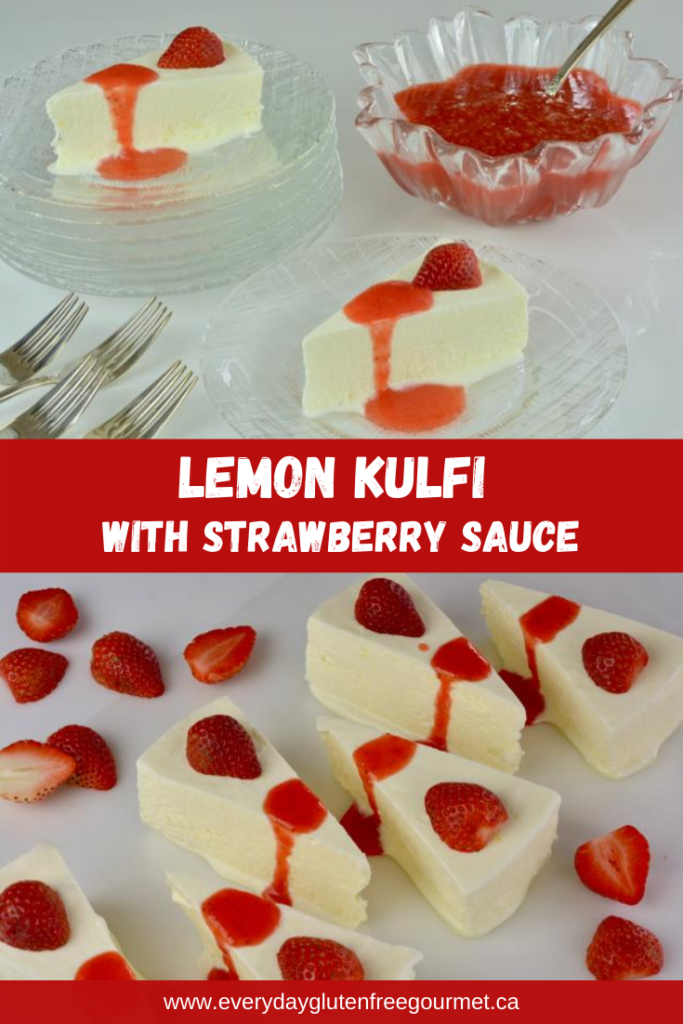 This post contains affiliate links. When you purchase using these links your cost is the same, but I receive a few cents for every dollar spent. I appreciate your support for this website.
Get The Tools – Bakeware for the Everyday Cook
Every kitchen needs a few tools and they will vary based on the kind of cooking you do. I have both round and square cake pans that I use to make everything from a brownie ice cream cake to my sushi pizza. But some desserts, like this one, call for a springform pan.
This special baking pan has removable sides, the base and the sides are two separate pieces. It is specifically made for desserts that cannot be flipped upside down, like a cheesecake with a crumb crust on the bottom. It is also helpful for desserts that would be difficult to remove from a typical cake pan. This kulfi is perfect for a springform pan but that isn't the only choice.
If you search images on the internet you will find beautiful interpretations often made into single serve kulfi on a stick. If that appeals to you try it. I made my tried-and-true recipe in the same 9-inch springform pan I have always made it in. I cut my kulfi in wedges then took two pictures to show how you could serve it differently; on a pedestal tray like a cake, or cut into wedges placed end-to-end on a long rectangular tray. Serve it anyway you like.
Let me know in the comments below how you served your kulfi and if you made an entire East Indian Menu.
---
More Recipes – An East Indian Menu
Ingredients
LEMON KULFI
4 eggs, separated
1 cup sugar
6 Tbsp lemon juice (2 big lemons)
⅛ tsp salt
2 cups whipping cream
STRAWBERRY-KIRSCH SAUCE
4 cups cut up strawberries
¾ cup sugar
½ cup red currant jelly or crab apple jelly
¼ cup kirsch
1 tsp lemon juice
ORANGE-ROSE SAUCE
2 11-oz cans mandarin oranges in light syrup
2 Tbsp orange marmalade
½ tsp rose water (optional)
GARNISH – whole strawberries
Directions
1

LEMON KULFI

2

In a stand mixer beat egg white until stiff but not dry.

3

In another bow, beat egg yolks, sugar, lemon juice and salt until thick and light, 2-3 minutes.

4

Spoon egg whites on top of yolk mixture.

5

In another bowl beat whipping cream to soft peaks then spoon on top of yolk-egg white mixture. Gently fold together until the mixture is evenly combined.

6

Pour into a 9-inch springform pan. Cover and freeze until solid, preferably overnight.

7

STRAWBERRY-KIRSCH SAUCE

8

Puree strawberries and sugar in food processor until smooth, 2-3 minutes.

9

In a small saucepan heat jelly and kirsch over low heat, whisking until melted and smooth. Allow to cool for a few minutes before adding to strawberry mixture.

10

Add lemon juice and cool completely. Refrigerate until ready to serve.

11

ORANGE-ROSE SAUCE

12

Strain syrup from oranges into small saucepan, set oranges aside.

13

Add marmalade to orange syrup and bring to a boil on medium heat. Simmer until reduced by half, about 10 minutes.

14

Stir orange sections and rose water into sauce. Cover and refrigerate until chilled.

15

SERVING

16

Using a knife or spreader go once around the inside of the springform pan to loosen the kulfi. Remove the sides of the pan. Working quickly cut into wedges and garnish with strawberries. Serve with either sauce on the side.

17

TIP – This can be served as a whole cake on a pedestal tray or as pre-cut wedges arranged on any serving tray. Either of these can be done in advance but the kulfi must go back in the freezer before serving.