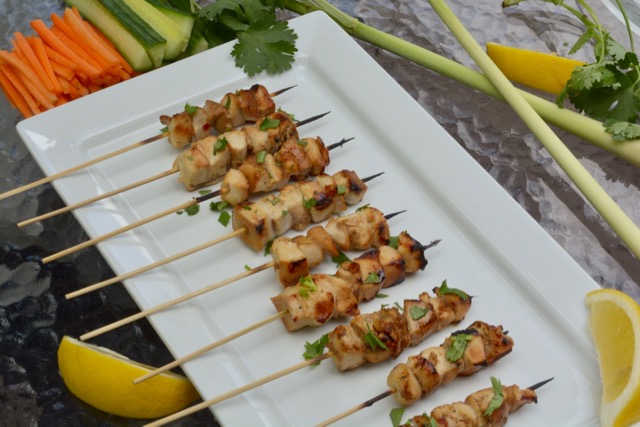 Description
This Lemongrass Chicken can be part of a Thai or Vietnamese meal or simply an everyday dinner. I serve it on it's own, add it to my Rice Noodle Bowl or tuck it into a bun for a Vietnamese Sub. With so many options this versatile recipe can be made year round.
The marinade is a mixture of lemon juice, fish sauce and soy sauce but the key ingredient is lemongrass. It has a unique flavour that must be tasted to be understood. It is no longer hard to find fresh lemongrass but my hack is using the frozen variety.
Organize For Success – Frozen Lemongrass
Kitchen Tip – I enjoy the convenience of having frozen lemongrass in my freezer. There is an ingredient list on the package so you need to figure out what's best for you. Fresh lemongrass can also be trimmed and finely chopped then frozen.
PIN for later…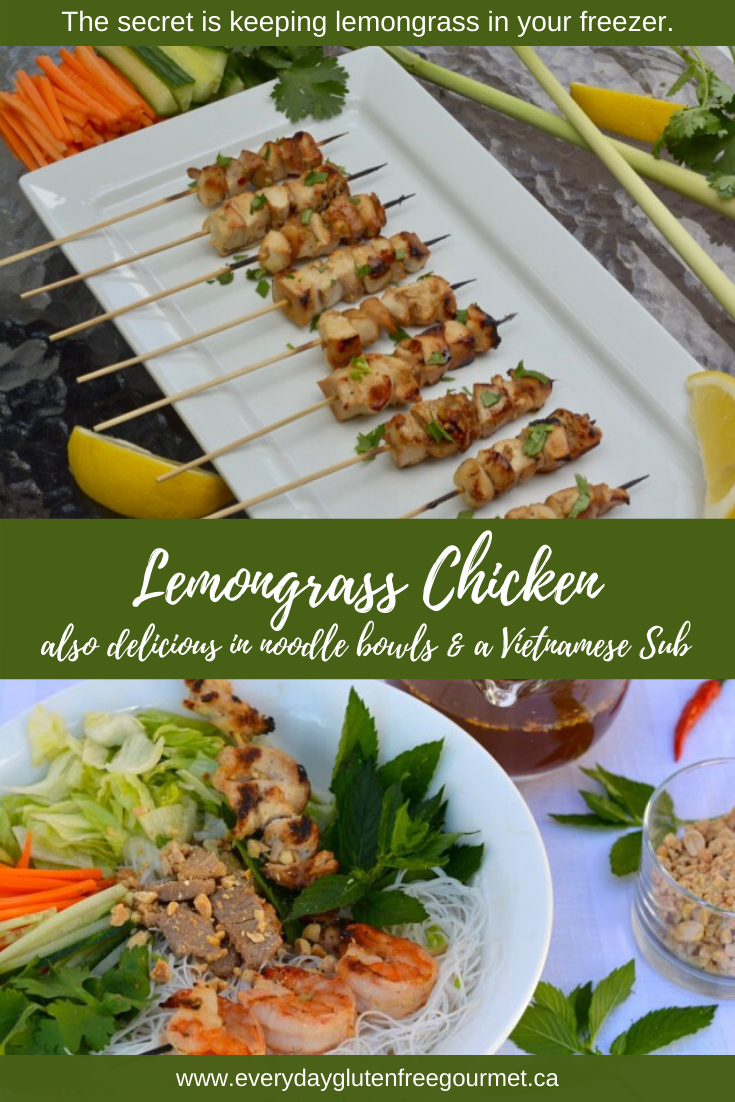 This post contains affiliate links. When you purchase using these links your cost is the same, but I receive a few cents for every dollar spent. I appreciate your support for this website.
The Gluten Free Asian Pantry
If you like Asian cooking or want to do more of it you need a well stocked pantry. For Thai and Vietnamese cooking fish sauce and lemongrass are both common ingredients. I do lots of Asian cooking and over time have written separate posts on all of these ingredients. It may seem daunting when you're new to gluten free cooking but over time I assure you it gets easier. Just keep cooking.
Get The Tools
Every kitchen needs a few tools, these are for grilling.
A Reusable Grilling Sheet is ideal for ensuring you have a safe, uncontaminated surface to cook on. Consider the opposite too. At home if someone needs to grill a wheat filled hamburger bun how about have them use the grilling sheet and keep your grill safe.
I have some

study metal skewers

but I also keep a supply of bamboo skewers. The long

10-inch skewers

look nice sometimes and I like both

4-inch and 6-inch skewers

for any number of uses.
Let me know in the comments below if you tried this Lemongrass Chicken recipe.
---
More Recipes with Lemongrass
Check out these related BLOG posts
Add lemongrass to your pantry so you can start enjoying all the amazing dishes you've been missing.
Click on the text in the photo to go to the recipe.
Ingredients
LEMONGRASS MARINADE
6 Tbsp lemon juice
4 Tbsp fish sauce
2 Tbsp GF soy sauce
3 Tbsp sugar
1 tsp chile sauce (I like Sambal oelek)
½ tsp black pepper
3 cloves garlic, minced
3 Tbsp chopped ginger
2 Tbsp frozen, chopped lemongrass (or 4 fresh stalks trimmed and finely chopped)
THE MEAT
3 boneless, skinless chicken breasts cubed OR 8 boneless, skinless chicken thighs
12-18 bamboo skewers
Directions
1

LEMONGRASS MARINADE

2

Combine all ingredients and pour marinade over chicken. Marinate at least 30 minutes or overnight.

3

Soak bamboo skewers for 4 hours or overnight.

4

COOKING & SERVING

5

Thread chicken pieces onto skewers. Discard marinade.

6

GRILLING METHOD - Preheat barbecue. Oil grill and cook chicken until nicely charred, about 3 minutes. Turn and cook another 3 minutes until cooked through.

7

BROILER METHOD - Preheat oven broiler. Line baking sheet with foil and top with metal rack(s). Broil chicken until nicely browned, about 3 minutes. Turn and broil another 3 minutes until cooked through.

8

Serve hot.