Description
Vietnamese Cabbage Chicken Salad is a beautiful, refreshing main course salad. It's perfect for summer entertaining or simply served as an everyday dinner. Either way it's a recipe I make year after year, always in the summer.
A Seasonal Strategy
People often tell me they feel like they make the same recipes over and over. My strategy is a seasonal approach to naturally add new dishes as the produce comes into season. This keeps the menu changing yet allows me to repeat favourite dishes with enough time going by that it never gets boring. I'm reminded of this recipe when the weather is warm and there's mint growing in my garden.
If the idea of a seasonal strategy is new for you try making a short list of some seasonal favourites you'd like to try. Then tape that list inside a cupboard door and challenge yourself to make them before the end of summer. Once you've made those three or four recipes, make a new list with the next season in mind. Over time this habit will slowly add more variety to your meal choices.
PIN for later…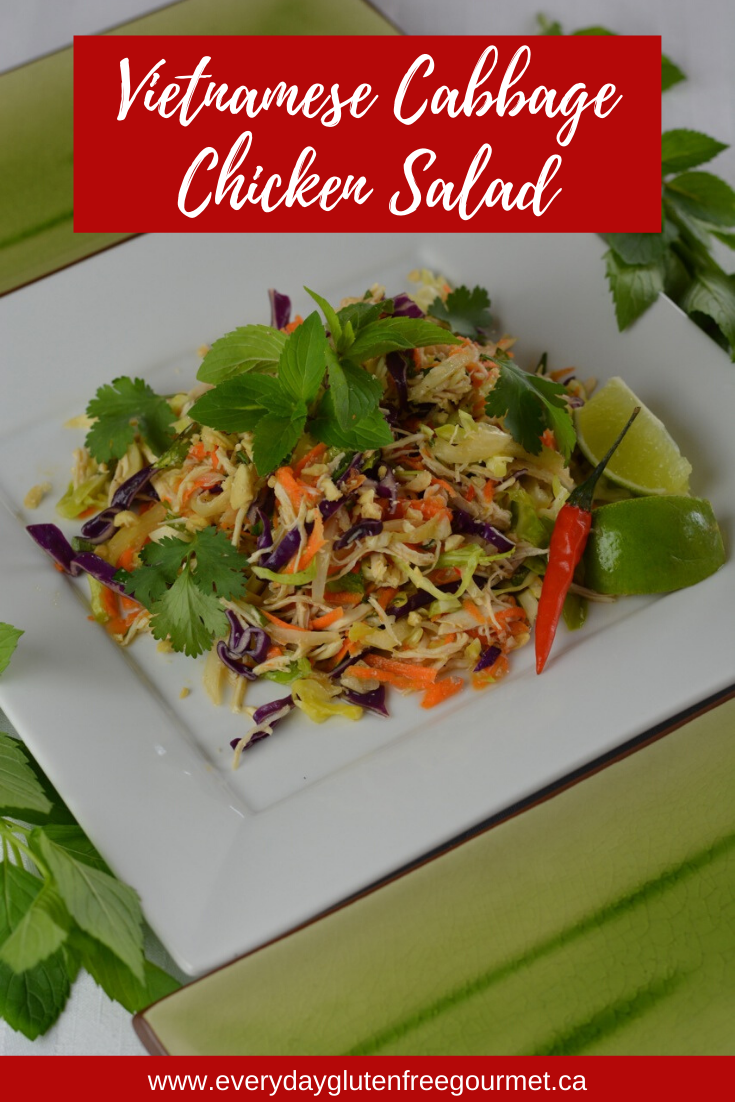 This post contains affiliate links. When you purchase using these links your cost is the same, but I receive a few cents for every dollar spent. I appreciate your support for this website.
A Canadian Celiac Podcast
Thanks to Sue Jennett for sharing this photo of her version of my Vietnamese Chicken Salad. Sue is the host of A Canadian Celiac podcast and I'm a follower of hers. Listening to podcasts is a great way to keep up with the changes in the gluten free space. The only thing we know for sure is that things are always changing so continuous learning needs to be part of a gluten free lifestyle.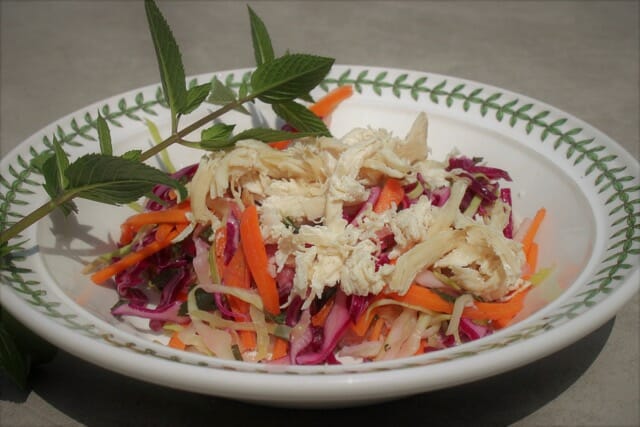 Fresh Herbs for Vietnamese Cabbage Chicken Salad
Going out to the garden to pick fresh herbs for cooking might sound romantic or perhaps challenging, but it doesn't have to be. Many herbs are easy to grow and mint is one of them. You don't need a green thumb or even a garden. You put a pot on the deck with a small mint plant in the spring and enjoy mint all summer. The cost is often not much more than the price of a single package of fresh mint.
Here are a few more recipes with fresh mint and some other ways to use it.
Make ice cubes with a mint leaf and put them in any summer drink.
Add small bouquets to a table setting.
Cut long stems and add them to a bouquet of flowers for fragrant greenery.
Let me know in the comments below if you tried this recipe and if you grow mint.
---
More Recipes – Summer Salads
Ingredients
DRESSING
1 Thai bird chile*, seeded and finely chopped
3 cloves garlic, minced
2 Tbsp sugar
1 Tbsp rice vinegar
3 Tbsp lime juice
3 Tbsp fish sauce
3 Tbsp vegetable oil
1 medium onion, thinly sliced
Freshly ground black pepper
SALAD
2 small chicken breasts, cooked and shredded (about 2 cups)
2 cups shredded green cabbage
2 cups purple cabbage
1 cup shredded carrot
½ cup shredded fresh mint
GARNISH – cilantro sprigs, fresh mint and crushed peanuts
*Thai bird chiles are tiny and hot. Substitute a jalapeno or serrano chile to suit your taste.
Directions
1

DRESSING - Combine all dressing ingredients. Set aside for 30 minutes.

2

SALAD - Fill a large frying pan with water and bring to boil over high heat.

3

Add chicken, put lid on and turn heat down to maintain a low boil. Poach for 10 minutes, turn chicken and continue poaching until cooked through, another 10 minutes depending on the thickness. Remove from water and cool.

4

While still warm shred the meat using 2 forks or cut into thin slices.

5

In a large mixing bowl combine chicken, cabbage, carrot and mint. Sprinkle dressing over and toss well. Transfer salad to serving platter or plates.

6

Garnish with cilantro springs, mint and chopped peanuts.