Easy gluten free homemade Halloween treats are every parents dream! Everyone gets to express their creativity at Halloween with pumpkins, costumes and spooky decorations inside and out. The food ideas are unlimited too but as Halloween gets closer, quick and easy treats is where it's at.
At my recent virtual cooking class called a Kids Gluten Free Halloween Kitchen Party we made four treats in one hour. Everyone got to mess around with melted chocolate, icing, cookies, candy and pretzels and we got to see how everyone made their treats in a slightly different way. Here's what we made:
Oreo Mummies
Rice Krispie Monsters
Witch's Broomsticks
Cookie Spiders
Virtual Cooking Classes
In a virtual cooking class everyone buys their own food so there's no worry about what's safe. Even if you're tired of virtual meetings it can still be a fun way to connect with friends, cousins or grandparents who are far away. My tip is to plan what you'll do, keep it short and make it fun. You can make any or all of these treats is less than an hour.
Oreo Mummies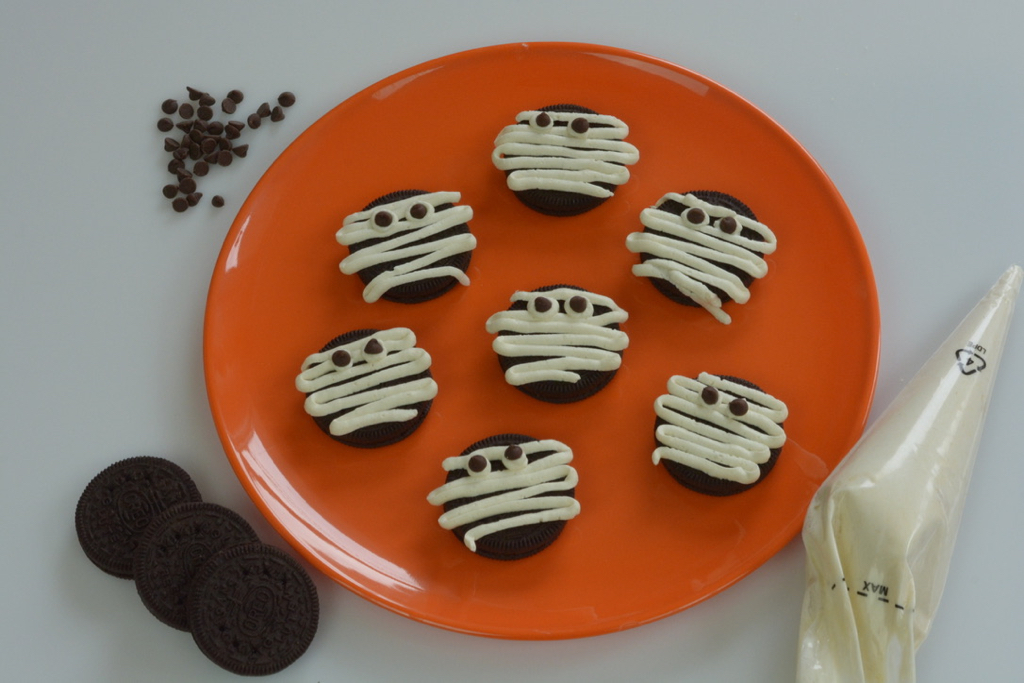 I bought brand name gluten free Oreo cookies but any dark coloured cookie would do. I made butter icing from the recipe on the bag of icing sugar and showed the kids how to use slight pressure to squeeze the icing out while they went back and forth across the cookies wrapping it like a mummy.
Some people found tiny candy eyes in different colours that were super cute. I piped on icing eyeballs then pushed a mini chocolate chip into each one for the pupil. Done!
Rice Krispie Monsters
Even if you don't use brand name gluten free Rice Krispies just using the brand name makes it seem like the same treats all the other kids get to enjoy. I bought a gluten free rice cereal and made bars with the recipe I remember from the inside of the cereal box. If you need a recipe you can see mine in this post, Rice Krispie 'Smores. Simply omit the graham crumbs and you have the basic recipe.
I made them in a 9″ x 13″ pan and cut them into 3 rows by 7 to give me 21 potential monsters.
For this treat we used coloured candy melts, melted chocolate chips or the butter icing from the Oreo Mummies. It's easy to burn chocolate in the microwave so my tip for melting chocolate is to use a small bowl and fill it quite full. Microwave for one minute, stir vigorously and microwave another 30 seconds if needed.
We dipped the bars into the chocolate about a third of the way, laid them on a wire rack and added the candy eyes before the chocolate hardened. Volia!
PIN Homemade Halloween Treats for later…
Witch's Broomsticks
This one was for the youngest kids and it was the easiest of the easy gluten free homemade Halloween treats! The broom end is a peanut butter cup and a pretzel broom handle finishes it off. For the large peanut butter cups I carefully twirled the pretzel into the chocolate. For the mini peanut butter cups I used a blob of icing to hold the broom handle in place.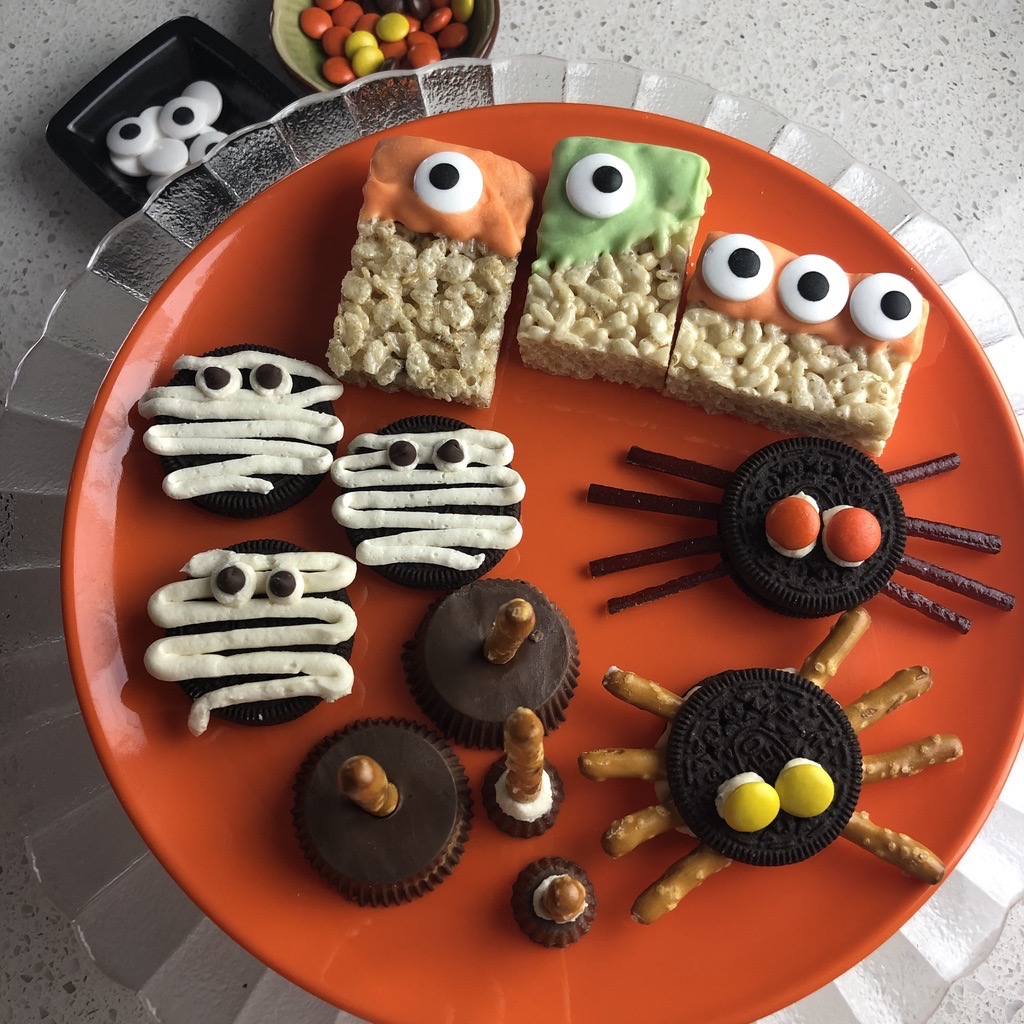 Cookie Spiders
Our Cookie Spiders had an Oreo body with legs of Fruit To Go strips or pretzel sticks. Layken used gummy worms for her spider legs and they looked awesome!
I liked the colourful Reese's Pieces for eyes and fixed them to the body at a slight angle using icing. Everyone's looked a bit different and that is always part of the fun!
Get The Tools for Homemade Halloween Treats
The hardest part of so many kitchen projects is getting the right supplies. Making sure they are safe for a gluten free diet is the extra work we're all used to. My best tip here is think of what you might do for Halloween, Christmas, Valentine's and Easter and just go for it! Buy a few kinds of candy sprinkles, candy melts in colours you think would be fun and get a little bucket tucked away to be pulled out for these special occasions. If I had planned further in advance I would have bought some fun sprinkles and a variety of candy eyes.
That's it for my easy gluten free homemade Halloween treats! If you make any of them let me know what you made and how they turned out in the comments below.
---
More Homemade Halloween Treats
Click on the (hard to see) text on the bottom of each image to go to the recipe/blog post.