We eat a lot of Caesar salads at our house so when we heard about a Grilled Caesar Salad we thought we'd try it. Now if you're going to grill a salad, you first need to deconstruct it. That's what led to this recipe for a Deconstructed Grilled Caesar Salad.
Best Lettuce for Grilling
Romaine lettuce is a sturdy green that stands up to a brief minute or two on the grill and that's why this is the perfect salad for grilling. I found that the slightly more compact Romaine hearts, sold in bags of three at my grocery stores, worked best for me.
The Dressing
There's nothing like homemade dressing and I live by that. The secret to a thick dressing is the same secret for making homemade mayonnaise, start slow. Many recipes suggest you slowly drizzle in the oil. Whether you are using a hand blender or a food processor, adding the oil slowly at the very beginning is the most important step.
The dressing will last us for two or three salads so I have a few salad dressing bottles for this purpose. Sometimes I even label the bottle.
PIN for later...
Get The Tools - Parmesan Cheese Wafers
These cheese wafers may have been what intrigued me to try a Deconstructed Grilled Caesar Salad the first time. They are pure Parmesan cheese, melted to perfection so what could be bad about that?
To make the wafers I got set up at the stove and grated a huge pile of Parmesan cheese with my favourite Microplane grater. I compared 1½ tablespoons of cheese to 2 tablespoons, several flippers and two frying pans. I had a non-stick frying pan and a ceramic one. It was tricky but I did it so here are my tips if you are up for the challenge.
Measure the cheese so you can drop it in the center of the pan all at once
Use the smoothest, most flexible small flipper you have
Flip it with confidence so it doesn't fold over itself in the pan
For the look of a French tuile (a baked cookie or wafer named after the look of a roof tile), lay the hot wafer over a rolling pin and allow it to cool completely. I have a nice

marble rolling pin with a base

which makes this job easy.
Full disclosure, these are not exactly easy to make. If you find yourself in the kitchen, cursing and swearing at these little cheese wafers think of me. Because when I was making mine, I was thinking of you.
Garlic Croutons or No Croutons
To make any salad gluten free it's always easy to simply skip the croutons, especially if you are serving a crunchy Parmesan cheese wafer. But for this Deconstructed Grilled Caesar Salad I wanted to make all the elements. I used a loaf of gluten free bread and trimmed the ends off after it was toasted and brushed with oil. I chose to cut them into small triangles to be slightly different from the typical square croutons. You can make yours however you like. I reserved all the leftover bread edges to make breadcrumbs for some savoury dish like meatballs, meat loaf or breaded pork chops.
So there you have it, a gluten free Deconstructed Grilled Caesar Salad to try this barbecue season. I'd love to hear if you tried this recipe and what changes you made.
---
More Recipes - Summer Salads and Grilling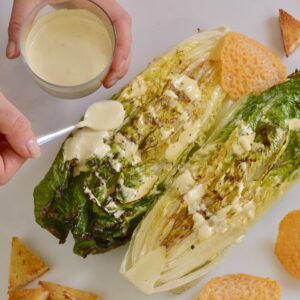 Deconstructed Grilled Caesar Salad
Wow your friends with this Deconstructed Grilled Caesar Salad. The crispy Parmesan cheese wafers and gluten free toast points take this salad to the next level.
Ingredients
SALAD DRESSING
2

egg yolks

1

garlic clove, chopped

1

teaspoon

anchovy paste

2

tablespoon

red wine vinegar

1

tablespoon

lemon juice

¼

teaspoon

dry mustard

½

cup

olive oil

salt and pepper to taste
PARMESAN CHEESE WAFERS
1

cup

grated Parmesan cheese
CROUTONS
3-6

slices gluten free bread

olive oil for brushing

2

garlic cloves, halved
LETTUCE
3

heads romaine lettuce hearts

olive oil for grilling
Instructions
SALAD DRESSING
Add egg yolks, garlic, anchovy paste, red wine vinegar, lemon juice and dry mustard to a tall blender cup. Using a hand blender mix for 30-60 seconds until well combined.

With the blender running, slowly drizzle in the olive oil until all incorporated.

Season to taste with salt and pepper.
PARMESAN CHEESE WAFERS
Heat non-stick pan over medium high heat. Do not oil.

Drop 2 tablespoon cheese into the center of the pan and let it melt completely, 30-60 seconds. Using a flexible flipper gently loosen the wafer from the pan and flip it over. Cook 30-60 seconds. Gently remove and place over a rolling pin to achieve the classic shape of a French tuile. Cool completely.
CROUTONS
Toast bread on both sides in toaster.

Brush both sides of warm toast with olive oil and rub cut garlic all over.

Trim crusts and cut into small triangles. Set aside.
LETTUCE & SERVING
Trim ends of Romaine leaving root attached. Cut heads in half lengthwise.

Preheat barbecue. Brush cut side of lettuce with oil and immediately put cut side down on the grill. Cook 1-2 minutes until slightly blackened. Transfer to a platter, cut side up.

Drizzle with salad dressing. Garnish with Parmesan cheese wafers and croutons. Add fresh cracked pepper if desired.
Notes
Prepare salad dressing, cheese wafers and croutons up to 1 day in advance.