We all love easy recipes for entertaining. Using store bought ingredients make this Chicken with Tapenade and Tomato Basil Sauce a winner.
Gluten free cooks want to enjoy all the amazing flavour combinations from cuisines around the world just like everyone else. Sometimes that means making it at home (okay, most of the time), but it can still be easy.
Late summer means vine-ripened tomatoes at the market and I'm going to enjoy them no matter who made the sauce. The Mediterranean flavours come together with the fresh basil. It's fragrant, delicious and makes all the difference.
Olive Tapenade vs Olivada
Olive tapenade, also called olivada, is a paste or slightly chunky condiment made of black olives and capers or anchovies. It has a pleasant salty taste and comes from the Provençal region of France.
I learned to love olives after eating them every day on vacation in southern Europe. If you can't make that work just buy a jar of tapenade and give it a try.
You can make olive tapenade from scratch but it's easy to find in large supermarkets and specialty shops. It may be called olive tapenade, olive paste or olive spread.
It should be gluten free but always check the label…famous last words.
PIN for later...
Entertaining Tips
Entertaining can be a lot of work; it takes planning, organization and execution. Yet if you have seasonal menus you love, you'll be able to repeat them year after year and look forward to enjoying them with friends.
Here's an easy September menu for enjoying the last weeks of summer.
A Late Summer Menu
***
Chicken with Tapenade and Tomato Basil Sauce
Oven Roasted Baby Potatoes
Garden Green Beans
***
What Can I Make with Olive Tapenade?
Here are a few ways to use the rest of your olive tapenade.
Spread on crackers with goat cheese.
Serve on a charcuterie board with fancy cheeses.
Fold into scrambled eggs with cream cheese and fresh chives.
Try it on a Mediterranean pizza or pasta dish.
Make stuffing by adding some to cooked rice and filling the cavity of a whole chicken.
Spread tapenade under the skin of a whole chicken and bake.
Let me know in the comments below if you tried this recipe and what you thought.
Originally posted September 2015, updated September 2022.
Recipes with Fresh Basil
Click on the text on the image(s) to go to the recipe/blog post.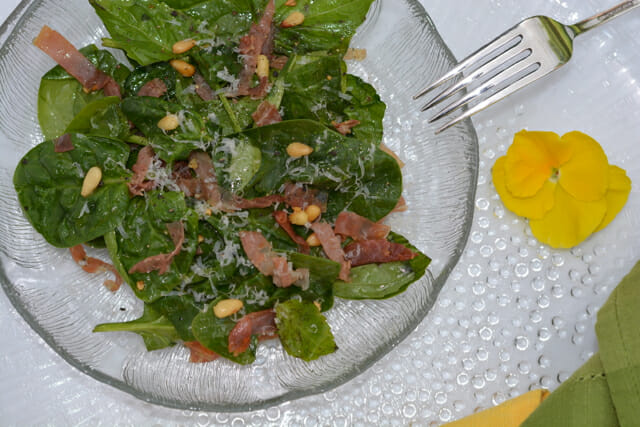 Chicken with Tapenade and Tomato Basil Sauce
With store bought tomato sauce and olive tapenade (also called olivada) this an easy recipe for entertaining. Fresh basil is the secret and a few minutes on the presentation make this look like a gourmet meal.
Ingredients
4

chicken breast halves

salt and pepper

1

tablespoon

olive oil

2

cups

store bought tomato sauce

½

cup

fresh basil leaves, thinly sliced

2-3

tablespoon

olive tapenade

GARNISH – fresh basil leaves
Instructions
Sprinkle chicken with salt and pepper.

Heat oil in a sauté pan. Fry chicken until cooked through turning once, about 8 minutes total. Cover chicken with foil and rest for 5 minutes before slicing.

While chicken is cooking heat tomato sauce and add basil.

Spoon warm tomato sauce onto individual plates or a platter and lay chicken slices on top. Spoon dots of olive tapenade on the chicken. Garnish with fresh basil and serve.

Serve with roasted baby potatoes, green beans and a gluten free baguette.
Notes
Olive Tapenade: Store bought tapenade should be naturally gluten free but check the ingredient label. Alternately, pit and slice Kalamata olives for a similar salty taste.Enter
Entertaining Tip: People always eat less meat when you serve it sliced. Simply add a salad or dessert (or both) to your menu and this recipe can serve 6 people.