Everyone needs a good gluten free tart pastry recipe, right? I'm the person who loves a good tart and when I'm assigned to dessert I'll chose a tart over pie every time.
Until I started blogging I never paid much attention to all the terms. This recipe makes a tart shell, using tart pastry (not pie pastry). All pastry can be called dough when it's raw so when you search the terms pie pastry dough and tart pastry dough you should get something different. I just never thought about it.
Because I never thought about it I have unknowingly contributed to any confusion. The first recipe I posted for a tart crust I called pie pastry. Then when I made a gluten free pie I realized, of course, there's a difference between pie pastry and tart pastry. I simply didn't give it much thought.
The Difference Between Tart Pastry and Pie Pastry
People love tender, flaky pie and you probably have memories of someone in your family who was known for their pies. When people are new to gluten free they want to know all the secrets for making gluten free pies to make quiche, pot pies, hand pies, meat pies, whole pies and all the other fun and delicious things you can make with pastry.
Check out my cooking class, Master Gluten Free Pastry, it you haven't nailed that yet. Visit this post, Cherry Hand Pies, if you're confident enough to just get in the kitchen and make pie. Tonight!
Tart pastry is more like shortbread than pie pastry. It has a buttery flavour, fine texture and the crust should be crisp and crumbly. Here's what makes this gluten free tart pastry a step up from the original recipe I posted a few years ago.
An egg and an extra yolk add structure to the dough
Icing sugar gives the crust that shortbread like taste
Brown sugar makes a slightly softer pastry than white sugar
Gluten Free Tart Pastry 2.0 - Bake and Learn
Life is all about learning and if you want to be a happy gluten free baker that's the mindset you need. There are enough challenges to living gluten free beyond the kitchen so if you can master baking you're on your way to creating a gluten free lifestyle you love.
Many of you saw pictures of the Bourbon-Caramel Pumpkin Tart I made for Thanksgiving and asked for the recipe. This pastry is the first step.
When I was making pumpkin tarts I had the chance to compare my old dough recipe to a new recipe incorporating the gluten free baking tips I've learned. I'm calling this recipe Gluten Free Tart Pastry 2.0 so the old recipe has become Tart Crust 1.0. I'm not ready to get rid of the old recipe and here's why.
How many tarts do you make in a year? I only make a few and I don't typically do a side-by-side comparison. That's a lot of work and it's the best way to learn, yet it just isn't practical for most normal people (right?). When I'm making a nice dessert I want to know, before I start, that it's going to turn out. The old recipe turns out every time and I've made many beautiful desserts with it. Some of my followers tell me it works for them and they've also made beautiful desserts.
So the message is, make what works for you. Be open to experimenting and don't worry about everything you read. If you do take the time to do a side-by-side taste comparison I want to see pictures, I want to know what you made and I want to hear what you learned.
PIN for later...
Get The Tools
Tarts are also made in baking pans with a removable bottom so they look special simply because of that. If you want to make tarts you've got to get a pan with a removable bottom.
When I first started baking I poured over magazine photos and wanted to buy every new tart pan I saw. Over time I collected many different pans and made all the beautiful desserts I wanted to. You don't need to do that, but you can it you want. Here are some of the pans you might buy depending on what you want to make.
If you're sold on making a tart dessert pick the pan now and order it. I hope you'll come back here when you're ready to bake. Then you can tell me in the comments below what you made and how it went.
__________________________________________________________________________________________
New here? Join our community and get your FREE resource, the tips I wish I knew when I started cooking gluten free.
Yes, I need 29 Tips For Cooking with Gluten Free Flour.
Still haven't mastered gluten free cooking? Check out our online Cooking Classes.
More Recipes Using Tart Pans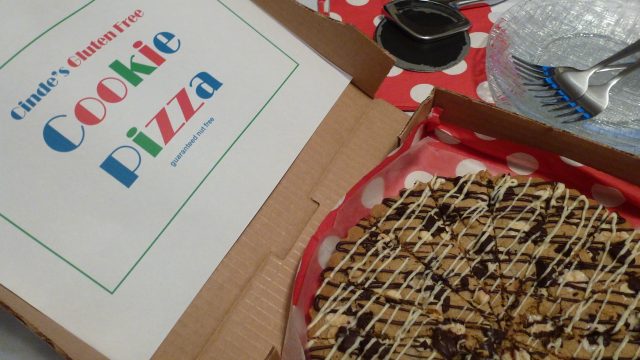 Tart Pastry
Everyone needs a good gluten free tart pastry recipe, right? I'm the person who loves a good tart and will make a tart over pie every time.
Ingredients
1

egg yolk

½

teaspoon

vanilla

300

grams

EGFG gluten free flour blend*

(1⅓ cups + ¼ cup)

⅓

cup

firmly packed brown sugar

¼

cup

icing sugar

1

teaspoon

xanthan gum

⅛

teaspoon

salt

½

cup

cold butter,

cut into ¼-inch pieces

2

teaspoon

cold water
Instructions
Whisk egg and vanilla together, set aside.

In a food processor add flour blend, brown sugar, icing sugar, xanthan gum and salt. Pulse a few times to combine.

Scatter butter pieces over top and pulse the mixture until there are no butter pieces larger than a pea. Don't over mix.

With the processor running and egg mixture and mix until it just starts to form a dough.

Add cold water, 1 teaspoon at a time, pulsing a few times until you have dough.

Turn dough out onto wax paper or plastic wrap and push it into a large disk or two disks if making individual tarts. Wrap well with plastic wrap and refrigerate for 1 hour. (Can be made 1-2 days in advance up to this point.)

Take cold dough out of the fridge. Lightly spray or brush tart pan(s) with oil.

Top dough with a second piece of wax paper or plastic wrap and roll into a large circle 1 or 2 inches larger than your baking pan.

If the dough is sticky put it back in the fridge until cold or use a small amount of sweet rice flour to continue rolling. Use as little extra sprinkling flour as possible since gluten free flours take time to absorb liquid and too much can affect the taste and texture of your pastry.

Remove top sheet of wrap and place tart pan upside on pastry. Push it into the dough then flip the whole thing over with the aid of a large cookie sheet or cutting board. The dough will be in the bottom of the pan. Remove the wrap.

Lightly press scraps of dough into the edges of the pan to make the sides. Using a flat bottom glass or measuring cup, gently run it over the entire bottom and up against the sides of the pan to ensure the dough is as even as possible.

Refrigerate for 15 minutes before baking.
PREBAKING TART DOUGH
Place tart on a baking sheet. Line tart with foil and top with pie weights (raw rice or dried beans). Bake for 15 minutes then carefully remove foil with pie weights. Return to oven and bake until firm, about 10 minutes.

Cool on wire rack and continue as directed in your recipe. Some recipes, like a Lemon Tart or my Bourbon-Caramel Pumpkin Tart, require additional baking time to cook the filling. For a Fresh Fruit Tart simply add filling, top with fruit and chill before serving.

To serve, gently remove outer ring of cooled pan. Using a thin metal spatula/icing spreader slide it between the bottom of the pan and the cooked tart. Gently transfer to serving platter or cutting board. Cut and serve.
Notes
*EGFG flour blend: 300g sweet rice flour, 300g potato starch, 200g sorghum flour, 200g millet flour (makes ~ 8 cups)
To serve, gently remove outer ring of cooled tart pan. Slide a thin metal spatula between the bottom of the pan and the cooked tart. Gently transfer to serving platter or cutting board. Cut and serve.
Use only as much sprinkling flour as you need. Too much can affect the taste and texture of your pastry.