I've been making this recipe for deep fried Vegetable Fritters forever. I call them pakora but they're also called pakoda, bhajji or bhajia. The recipes and process vary among different parts of India but the main thing to know is that they're easy to make and delicious. Chickpea flour is the main ingredient so these fritters are naturally gluten free.
Chickpea Flour vs Besan vs Gram Flour
Hummus, that delicious chickpea dip, has taken North America by storm over the last several years. Perhaps not so common in the North American kitchen is chickpea flour. Made from dried chickpeas it is a staple ingredient in the cuisines of the Indian subcontinent. Like many ingredients this flour goes by more than one name. If you are searching through recipes or shopping for flour it is also called garbanzo bean flour, gram flour or besan. I see that Bob's Red Mill sells their flour as garbanzo bean flour.
Get The Tools for Deep Frying at Home
I use my wok as a deep fryer and I have a system that works for me. IMany years ago when I had a much smaller kitchen I created a system to use my wok for frying. Now it doesn't seem worth it to buy a deep fryer but I'm sure there are advantages to owning one. The most significant being that it likely controls the temperature more accurately. Regardless of whether you use a wok or a deep fryer there are many delicious foods to be fried so I highly recommend having some set up to do it.
In my kitchen my flat bottom wok wok lives in the cupboard just above the fridge so it's convenient to grab when I need it. My wok came with a long-handled wire strainer that I use to turn and remove food from the hot oil. A deep frying thermometer is a helpful little tool that is inexpensive and easily clips to the rim of a wok.
The clean up is equally important. I explain fully how I do that in this post on Calamari with Ancho Chile Mayo.
PIN for later...
Gourmet Dinner Club: An East Indian Menu
Do you ever get bored of your usual meal rotation? My best tip to fix that is to look for inspiration in the food of other cultures. Tandoori Chicken and Butter Chicken are well known East Indian dishes but I encourage you to expand your knowledge of this cuisine. It relies heavily on spices so if you don't have one of them make a point of adding it to your pantry.
These Vegetable Fritters are part of my collection of favourite East Indian recipes from over the years. When I want to cook this cuisine for friends many of the dishes in this East Indian Dinner Club menu will be included.
Are you going to give these a try? If so let me know in the comments below what you thought.
---
__________________________________________________________________________
New here? Join our community and get your FREE resource, the tips I wish I knew when I started cooking gluten free.
Yes, I need 29 Tips For Cooking with Gluten Free Flour.
Still haven't mastered gluten free cooking? Check out our online Cooking Classes.
_________________________________________________________________________
More Deep Fried Recipes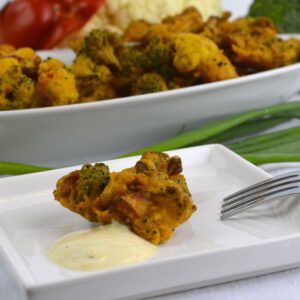 Vegetable Fritters (Pakora)
These Vegetable Fritters are made with chickpea flour so are natually gluten free. Serve this East Indian snack with raita or chutney.
Ingredients
1¼

cups

gluten free chickpea flour

1

teaspoon

mustard seeds

½

teaspoon

cornstarch

½

teaspoon

salt

½

teaspoon

poppy seeds

¼

teaspoon

turmeric

¼

teaspoon

cumin

¼

teaspoon

coriander

¼

teaspoon

cayenne pepper

¼

teaspoon

baking powder

¾

cup

water

1

teaspoon

vegetable oil

3

cups

vegetables cut into bite size pieces

(any combination of broccoli, cauliflower, red pepper, green onion, squash, eggplant, mushrooms)

salt
Instructions
Heat oil in deep fryer or wok to 350°F. Line a plate with paper towel and set aside.

In a medium bowl add chickpea flour, spices, cornstarch and baking powder. Stir with a whisk until evenly mixed.

Add water and oil whisking until smooth.

Fold in chopped vegetables.

When oil is at 350°F begin cooking. Using a large spoon slowly add big blobs of fritter mixture to the oil. Work in batches cooking only as many fritters as you can manage, starting with 3 or 4 at a time.

Cook fritters for 4-5 minutes then gently roll over using a slotted spoon. Cook another 4-5 minutes until golden brown. Remove fritters to paper towel lined plate.

Repeat until all fritters are cooked. Sprinkle with salt while still warm.

Serve with chutney (mango chutney is my favourite).