Affogato is one of those food words that sound fun. If you haven't heard of it you want to know what it is, and if you like coffee you want to try it.
This is a simple dessert that doesn't require a recipe. Just a dish of ice cream with espresso poured over it, topped with grated chocolate and hazelnuts if you like. When there's nothing for dessert if I have vanilla ice cream in the freezer I can make affogato.
I have an inexpensive, stovetop style espresso maker in the back of a cupboard in my kitchen. I've had it for thirty years, it doesn't take up much room and if I want a latte or cappuccino I can make one. I also keep espresso beans because you never know what you might want to make, so that's how affogato became my favourite pandemic dessert.
Espresso vs Coffee
The topic of coffee goes deep and I'm no expert but I'm a consumer and I own a few different coffee makers.
Espresso is made with finely ground beans and then brewed with a high ratio of grounds to water. Coffee is more coarsely ground and less concentrated so has a more mild flavour.
Affogato is made with espresso but part of the joy of cooking is that you can make whatever you want and you can call it whatever you want. So you can pour any kind of coffee on any kind of ice cream and I don't have a problem with you calling it affogato. Just for fun.
In case you're wondering you can buy decaf espresso beans, whole or ground.
PIN for later...
This post contains affiliate links. When you purchase using these links your cost is the same, but I receive a few cents for every dollar spent. I appreciate your support for this website.
Get The Tools
Coffee lovers probably have more than one way to make coffee at home and you might even own a fancy stainless espresso machine with steam wand, many people do. But for the everyday cook who wants to make espresso for the occasional dinner, a mocha flavoured recipe or affogato you can buy a simple stovetop espresso maker for less than twenty dollars.
Use the largest ice cream scoop you have so there's enough time to snap an Instagram photo before you eat.
Everyday to Gourmet
Quality ingredients and presentation are a large part of what makes a meal special or gourmet. Affogato is a perfect example of a simple dessert worthy of serving to friends.
I write about starting a Gourmet Dinner Club and share some of my favourite menus. Here is an idea for a simple Italian menu, spend a few minutes on the presentation and it will be worthy of the word gourmet.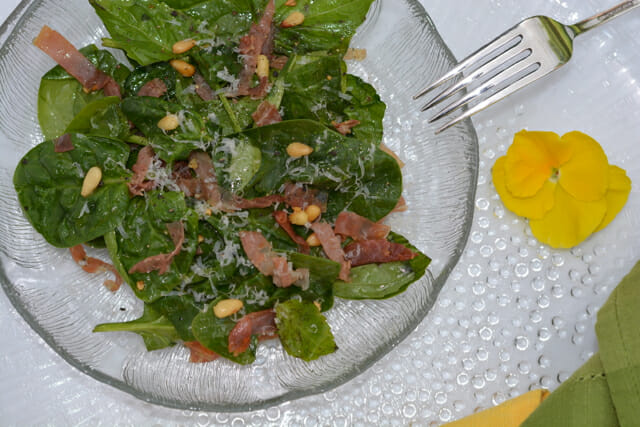 Let me know in the comments below if you tried affogato.
---
__________________________________________________________________________________________
New here? Join our community and get your FREE resource, the tips I wish I knew when I started cooking gluten free.
Yes, I need 29 Tips For Cooking with Gluten Free Flour.
Still haven't mastered gluten free cooking? Check out our online Cooking Classes.
More Recipes with Coffee
Affogato
I call this a "no-recipe recipe". You need the ingredients if this dessert is new to you but you don't need specific amounts. It is so simple it became my go-to COVID dessert for any night of the week.
Ingredients
vanilla ice cream

freshly brewed espresso

OPTIONAL GARNISH - grated dark chocolate, toasted hazelnuts
Instructions
Put a large scoop of vanilla ice cream into a small coffee cup or dessert dish.

Pour 3 tablespoon hot espresso over the ice cream.

Sprinkle with grated chocolate and chopped hazelnuts if desired.