Everyone loves caramel sauce and it's simple to make. Whether you whip it up for a sweet treat late at night or keep it hidden in the back of your fridge, there are many ways to enjoy caramel sauce.
It's also one of my favourite last minute gifts!
The process of melting butter and adding sugar seems magical to young cooks so it's perfect for anyone new to gluten free cooking. Of course you can easily buy gluten free sauces but reading labels and learning about food manufacturing is what makes people curious enough to try and make anything at home.
How To Caramelize Sugar
The typical process to caramelize white sugar is in a pot on the stove over low heat without water. Some recipes instruct you to use a brush dipped in water to push the sugar crystals down the sides of the pot as they slowly caramelize into a golden sauce.
It's a straight forward process but takes time and attention to make sure it doesn't burn. I've caramelized sugar many times (and burnt it a few too) but over the years this recipe has become my go-to.
I make my caramel sauce with brown sugar, butter and whipping cream. It's an easy no-fail recipe anyone can make and it won't burn.
PIN for later...
This post contains affiliate links. When you purchase using these links your cost is the same, but I receive a few cents for every dollar spent. I appreciate your support for this website.
7 Ways to Serve Caramel Sauce
The possibilities for caramel sauce are endless. In the time it takes to make this caramel sauce I'm sure you could come up with a dozen more ideas. Here are a few of my favourites: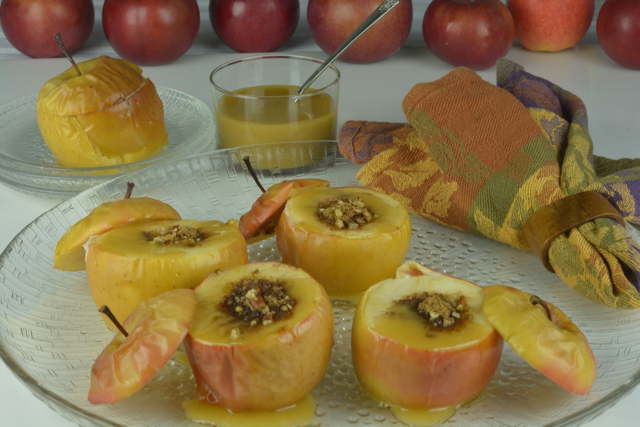 Spooned over ice cream, brownies or cookies for a gooey delicious treat.
One spoonful right out of the jar when no one is looking.
Baked Apples With Caramel Sauce for a homey dessert.
As a topping for mug cakes.
Caramel sauce is the sticky in Sticky Date Pudding.
Drizzled over Banana Bundt Cake, with or without the chocolate glaze.
Add a dot to these tiny cheesecake cupcakes, or make cheesecake in small Mason jars and top with a more generous amount. Add salt flakes for the salted-caramel taste everyone loves.
Easy Edible Gifts
Everyone loves to get a homemade gift, especially when it's delicious. Homemade caramel sauce can be made weeks in advance or an hour before you go somewhere. It might even be faster to make this than going to the store to buy a last minute gift!
I love Mason jars for many uses in the kitchen and beyond. I don't mind parting with them and some of my friends even return the jar filled with their homemade treats. You can buy any pretty container but I've always got one-cup and half-cup size Mason jars ready to go.
Caramel sauce looks yummy so I put my jars of sauce into a clear cellophane bag to show it off. Tie it up with pretty ribbon and personalize it with a handwritten label.
If you've got young kids be sure to have them write their name on the tag and give their caramel sauce to family, friends and teachers any time of the year.
Let me know in the comments below if you gave your sauce away or just ate it.
Originally posted in 2015, updated December 2022.
---
__________________________________________________________________________________________
New here? Join our community and get your FREE resource, the tips I wish I knew when I started cooking gluten free.
Yes, I need 29 Tips For Cooking with Gluten Free Flour.
Still haven't mastered gluten free cooking? Check out our online Cooking Classes.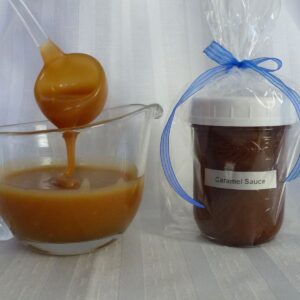 Homemade Caramel Sauce
Homemade caramel sauce is super easy to make and can be enjoyed in so many ways. Smart cooks keep this recipe in their back pocket for the kind of last minute gift anyone would love to receive.
Ingredients
¾

cup

brown sugar

1

cup

whipping cream

7

tablespoon

butter
Instructions
Combine all ingredients in a small saucepan over medium heat. Bring to a boil then reduce heat and simmer for 2 minutes stirring a few times.
Notes
HALF RECIPE - Follow the same instructions using 6 tablespoon packed brown sugar,

½

cup whipping cream, 3

½

 Tbsp butter.