Whether you call it Sticky Date Pudding or Sticky Toffee Pudding, it's really a cake. The dates make it moist, the caramel sauce makes it sticky and that's what makes it holiday worthy!
Sticky Date Pudding is popular in Australia, New Zealand and the UK. The British fondly call it STP, short for Sticky Toffee Pudding. When an entire country has an acronym for a dessert it's probably worth making so that's what I did.
Often referred to as a modern British classic most sources follow the roots of this dessert all the way back to Canada. Who knew! I can trace my relatives back to England and Scotland but my mom never made this dessert and I hadn't either.
Baking Inspiration
It was on our trip to Australia that my friends served us Sticky Date Pudding so when I got home I wanted to try it. Making it gluten free was a piece of cake!
After a bit of research I often try new recipes using my EGFG flour blend. When it works I celebrate my success and quit experimenting. That's what happened with this recipe, it was perfect to my taste the first time I made it.
The more recipes I can make with my flour blend the easier it is to bake gluten free. It feels like I do 80% of my baking with this blend and I'm happy about that.
Understanding Gluten Free Flour Blends
If you're not happy with the flour blend you're baking with you need to learn a little more about flour. On my blog I have several posts about gluten free flours and you can start by looking at these two.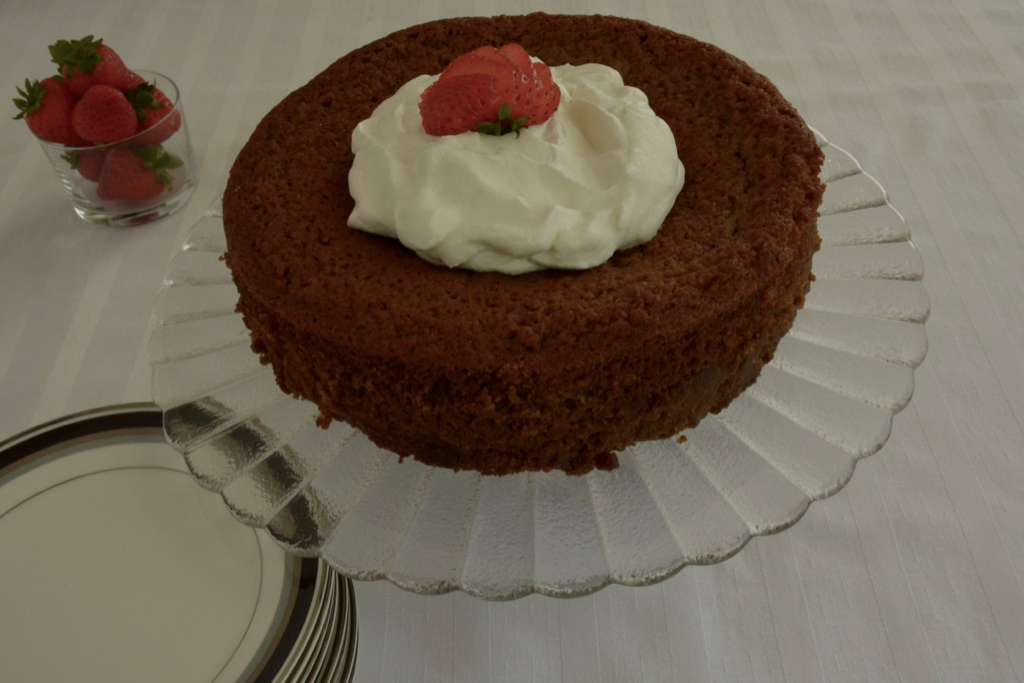 Pudding vs Cake
When I hear pudding I think of the creamy smooth, often milk-based, desserts my mom made. As we got older she spooned them out of a can or sometimes we made them from a box. Some countries refer to that dessert as a custard but to me it's still pudding.
Of course you've heard of Christmas pudding, plum pudding, figgy pudding and even Yorkshire pudding. Clearly there is more than one definition for pudding. This dessert is a moist date cake. It's a traditional dessert in many countries served with caramel sauce and topped with whipped cream. (My Australian friend insists the strawberry is mandatory.)
I'm calling this dessert Sticky Date Pudding but you can call it anything you want.
PIN for later...
This post contains affiliate links. When you purchase using these links your cost is the same, but I receive a few cents for every dollar spent. I appreciate your support for this website.
Homemade Caramel Sauce
Caramel sauce is what makes this cake sticky and I love this easy version. With only three ingredients it can be made in a jiffy and makes a great last minute gift! Kids can make it so if you're looking for a homemade gift that's easy and edible, here it is.
Technically toffee is cooked to a higher temperature than caramel and will get to the hard, brittle stage. Next time I visit the UK I'll be sure to have my own Sticky Toffee Pudding tasting. In the meantime I'm sticking with this easy caramel sauce that I use on many desserts.
Get The Tools
For the best presentation I like to use a pedestal serving tray whenever possible. I think it elevates your dessert (pun intended)!
Let me know in the comments below if you have a story about Sticky Date Pudding, STP or if you tried it for the first time.
Originally posted November 2016, updated December 2021.
---
More Recipes with Caramel Sauce
Click on the text on the image(s) to go to the recipe/blog post.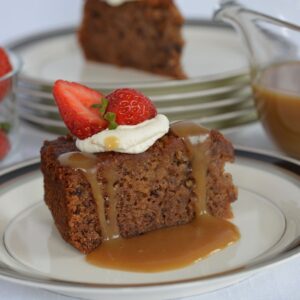 Sticky Date Pudding
Whether you call it Sticky Date Pudding or Sticky Toffee Pudding, it's just cake. The dates make it moist and the sauce makes it sticky and this is a cake worth making!
Ingredients
STICKY DATE PUDDING
1⅓

cups

pitted dates, chopped

1

teaspoon

baking soda

1¾

cups

boiling water

1

cup

butter, room temperature

1

cup

sugar

1

teaspoon

vanilla

3

eggs

2

cups

EGFG gluten free flour blend*

1

tablespoon

baking powder

½

teaspoon

salt
CARAMEL SAUCE
¾

cup

brown sugar

1

cup

whipping cream

7

tablespoon

butter
GARNISH – whipped cream, whole strawberries
Instructions
STICKY DATE PUDDING
Combine dates and baking soda in a bowl. Pour boiling water over dates and let stand for 10 minutes.

Preheat oven to 350°F. Grease 9" round springform pan or cake pan and line with parchment paper.

In food processor blend date mixture until smooth.

Add butter, sugar and vanilla to processor, pulse until combined.

Add eggs one at a time, pulsing after each addition.

Add flour, baking powder and salt. Process until combined.

Pour mixture into prepared pan. Bake in preheated oven for 50-55 minutes until the cake pulls away from the sides and looks done. Cool completely on wire rack.
CARAMEL SAUCE
Combine all ingredients in a small saucepan over medium heat. Bring to a boil then reduce heat and simmer for 2 minutes until combined.
SERVING
Slice cake and top each piece with whipped cream and a whole strawberry. Drizzle caramel sauce on or around cake. Garnish with whipped cream and a strawberry. Serve.
Notes
*EGFG flour blend: 300g sweet rice flour, 300g potato starch, 200g sorghum flour, 200g millet flour (makes ~8 cups)
NOTE - To make in a stand mixer use a blender to puree the dates then proceed as directed.