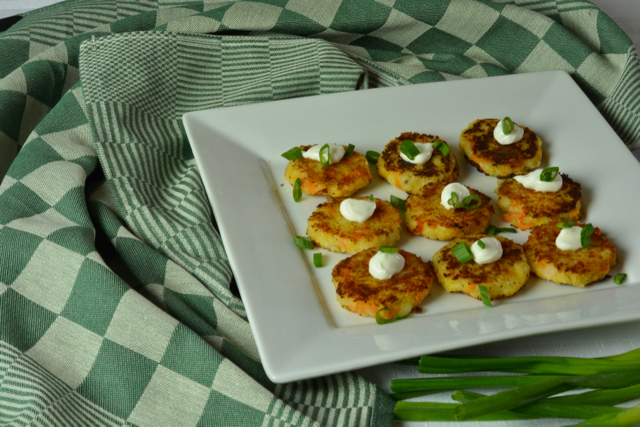 Description
Bubble and Squeak Patties is my appetizer version of the potato and cabbage dish called Bubble and Squeak. Created to use up leftover mashed potatoes and vegetables, the name of this British favourite comes from the bubbling and squeaking sounds heard during the cooking process.
I never heard any squeaking when I made them, but that's how the story goes.
As with most dishes there are numerous variations. Potatoes and cabbage are the two constant ingredients with some versions including cheese as well as additional vegetables like carrots, peas and Brussels sprouts. The Irish call their dish Colcannon but Bubble and Squeak is the name in England and Scotland. Traditionally a simple hash made in a frying pan, I turned them into dainty patties creating an appetizer worth sharing.
PIN for later…
This post contains affiliate links. When you purchase using these links your cost is the same, but I receive a few cents for every dollar spent. I appreciate your support for this website.
Cooking Bubble and Squeak Patties
Every kitchen needs more than a few basic tools. Most of those tools will last a very long time in your kitchen so go for quality. Fry up these patties any way you like using:
My Scottish Heritage
My husband and I both have ancestors from Scotland and England but I feel most connected to Scotland. During our visit to the Orkney Isles many years ago we were introduced to local specialties including haggis, neeps and tatties, fish and chips, mushy peas, lager shandy and of course Scottish shortbread cookies. I don't specifically remember having Bubble and Squeak but this is the appetizer we chose to represent our heritage for an Around The World Pot Luck dinner.
Around The World Themed Potluck
The dinner theme was any dish that represents your heritage. It was a fun idea and the diverse selection of dishes created a lot of interesting conversation. Our hosts were appropriately dressed; one in her embroidered Ukrainian folk shirt and the other in his Bavarian Lederhosen. She served her mom's recipe for cabbage rolls, both regular and sour, while he cooked up the famous Swiss potato dish, rösti. Other selections included Swedish meatballs, Indonesian Gado Gado, East Indian samosas, French Canadian tourtiere and these Bubble and Squeak Patties. One of the talented teenage cooks in this crowd brought a beautiful Italian dessert, sfogliatelle. (Way to go Sophia!)
Dressing up wasn't mandatory but two dedicated sports fans wore their jerseys. One soccer fan cheering for Scotland, and a French Canadian in his Montreal Canadiens hockey jersey. Go Habs!
Potato Dishes Around the World
Around the world people love potatoes, especially fried potatoes, and the number of different preparations is mind-boggling. Regardless of tradition recipes change over time. Whether you make these Bubble and Squeak patties, potato pancakes, rösti or latkes people are sure to enjoy them.
In your kitchen you get to tweak the recipe to your liking and name it anything you want. Serve them for breakfast, lunch or dinner and let me know how it went in the comments below.
---
If you're new here join our community and get your FREE resource for baking and cooking, 29 Tips I wish I knew when I started.
Yes, I need 29 Tips For Cooking with Gluten Free Flour.
New to gluten free? Check out our virtual and in-person Cooking Classes or visit NEW TO GLUTEN FREE.
---
More Potato Recipes
Poutine with Ancho Chile Gravy
Bubble and Squeak PHOTO CREDIT – A special thanks to Shirley who brought me this beautiful pre-shrunk, 100% cotton, machine-washable Dutch tea towel from a trip to Holland last year. It finally made it's way into a photo.
Ingredients
1 lb potatoes, peeled and cut into chunks
2 cups finely grated cabbage
1 carrot, finely grated
½ cup onion, grated*
1 tsp prepared mustard
½ cup grated old cheddar cheese
1 tsp salt
½ tsp pepper
FRYING - vegetable oil
SERVING – sour cream and sliced green onion
Directions
1

Put potatoes in saucepan, cover with cold water and bring to a boil. Reduce heat to medium, put lid on and cook until soft, 10-12 minutes. Drain well and mash. Transfer to a large bowl. Refrigerate until ready to use.

2

Put grated cabbage and carrot in a saucepan. Add just enough water to cover the bottom of the pan, bring to a boil. Reduce heat to medium, put lid on and cook until soft, 5-7 minutes. Drain well and let cool. Add to potatoes.

3

Add all remaining ingredients to potato mixture and stir.

4

Line a baking sheet with waxed paper. Using a metal portion scoop measure mixture onto baking sheet. A scoop that holds 2 tablespoons will make 28-32 patties.

5

Heat oil in large frying pan** on medium-high heat. Fry potato cakes until well browned, about 3 minutes per side. Add more oil as needed.

6

Serve with sour cream and green onions.

7

*Grated onion is best, finely chopped onion didn't always cook fully.

8

**I used both a non-stick pan and a cast iron pan for comparison. They both worked well and resulted in nicely browned patties.