Add this easy Edamame Bean Snack to your list of healthy snacks. These immature soybeans are soft and delicious with a sort of nutty, buttery unique flavour.
Like all beans they're full of fibre, vitamins and nutrients making them a great addition to any gluten free diet.
Fibre and the Gluten Free Diet
Everyone on a gluten free diet (and possibly everyone) needs more fibre so don't give up on beans. Try different beans, try different recipes and just keep trying. You're bound to find something you like.
Most of us aren't tracking how much fibre we eat but if you are, edamame beans have 8 grams of fibre per cup. That's almost a third of the recommended daily amount.
Check out this post for 33 High Fibre Gluten Free Recipes.
How to Buy Edamame Beans
You can find edamame in the freezer section sold in bags of whole pods or shelled beans. If you haven't bought them before, add them to your grocery list right now.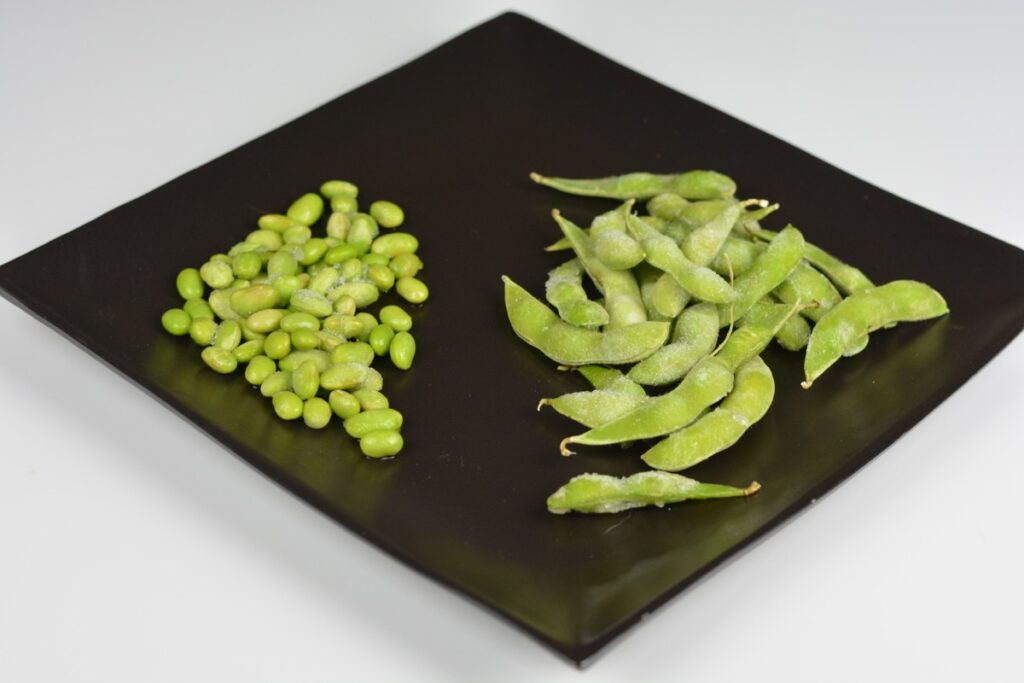 I've never bought anything frozen online but you certainly can. Seapoint Farms sells frozen edamame soybeans in pods as well as dry-roasted beans.
Once you've got edamame in your freezer follow the package instructions to boil them on the stove or in the microwave. It's quick and easy.
How to Serve an Edamame Bean Snack
Whether you buy beans shelled or in the pod, edamame can be prepared and served right at the kitchen counter. Having a tasting party is a fun way to actually figure out what you like best.
In this YouTube video from Taiji's Kitchen he cooked edamame pods four different ways. Although I'm not likely to thaw my frozen beans I love learning how different cultures prepare foods and Taiji's video was informative and entertaining.
Shelled Edamame Beans
For an easy edamame bean snack toss cooked beans with a dash of gluten free soy sauce and a pinch of sea salt. Taste one plain so you can see how a little seasoning really transforms the taste.
Edamame Beans in Pods
If you like to eat with your fingers then cook the whole pods. Boil them according to the package directions then dry roast in a frying pan with a sprinkle of salt. If you want a messy snack toss the whole pods with a quick sauce (like Taiji did in his video) then bite on the pod to squeeze out the beans and lick the sauce off each pod. Deliciousness!
PIN for later...
Snacks vs Treats
What's the difference between a snack and a treat? With so much processed food and fast food available this is a fun topic for around the dinner table, especially with kids.
Food manufacturers seem to have combined these two categories over time. Young people are often shocked to learn that adding the word healthy in front of any food doesn't make it healthy. That's just marketing.
Come up with your own definitions and have fun with it. I intentionally combined 'Snacks & Treats' into one category on my blog to visually demonstrate the difference.
Grab a tablet or laptop and open the RECIPES tab on my website. Choose the category Snacks & Treats then scroll through the image gallery and it's easy to see the difference.
You're more likely on your phone so here are eight recipes under Snacks & Treats.
My preference is to choose homemade snacks and treats as often as possible. The sooner your kids learn this the healthier they'll be in the long run.
Recipes Using Edamame Beans
Edamame beans aren't just for snacking. Challenge yourself to incorporate them into recipes you already make.
I cook one or two cups of shelled beans and put them in a clear container at the front of the fridge. Then I use them in the following recipes.
When you make a habit of trying new foods, over time you're guaranteed to add more variety to your diet plus find new dishes you love to make. A gluten free diet should never be boring.
I'd love to hear in the comments below if you made an easy edamame bean snack or what else you did with them.
---
__________________________________________________________________________
New here? Join our community and get your FREE resource, the tips I wish I knew when I started cooking gluten free.
Yes, I need 29 Tips For Cooking with Gluten Free Flour.
Still haven't mastered gluten free cooking? Check out our online Cooking Classes.
_________________________________________________________________________
Easy Edamame Bean Snack
Add this easy edamame bean snack to your list of go-to snacks. They're full of fibre so are a great addition to a healthy gluten free diet.
Ingredients
SHELLED EDAMAME BEANS
1

cup

frozen, shelled edamame beans

sea salt to taste

gluten free soy sauce
WHOLE EDAMAME BEAN PODS
2

cups

frozen, edamame bean pods

sea salt to taste
Instructions
SHELLED EDAMAME BEANS
Bring 4 cups of water to a boil in a medium pot.

Add shelled beans and boil for 2-3 minutes.

Drain well. Season with sea salt and soy sauce.
WHOLE EDAMAME BEAN PODS
Bring 4 cups of water to a boil in a medium pot.

Add whole pods and boil for 5-6 minutes.

Drain well. Season with sea salt and serve.
Notes
For spicy edamame saute a bit of garlic in sesame oil. Add bean pods and stir. Sprinkle with sugar, soy sauce and dried chili flakes if desired. Toss and serve. Refer to Taiji's Kitchen YouTube video for his exact recipe.