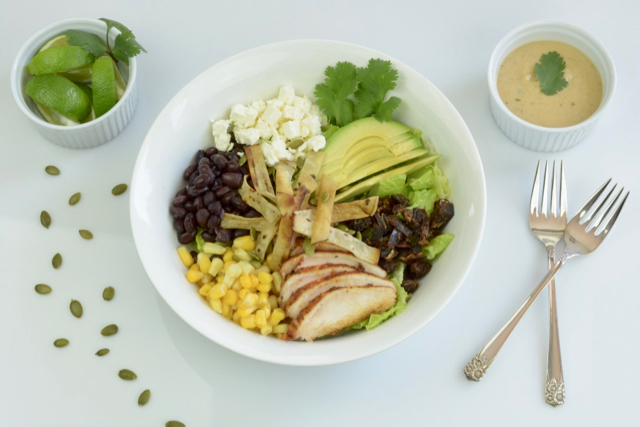 Description
I love a good salad and this Santa Fe Salad highlights the possibilities of unique combinations and the wide variety of ingredients that can be included. You can always 'wing it' when making salad but not all creations will be worth repeating. This one is!
Salads can be made with or without meat, tossed or composed, and can represent cuisines from around the world. This salad is a twist on the typical foods from the American southwest. I often recommend trying a new recipe as it is written to get the idea, then you can tweak it to suit your own taste.
Organizing Recipes
Recipes are a dime a dozen, as my dad would say, so finding the ones you love is worth the effort. During the current pandemic while we are all trying to Stay Home as much as possible, organizing recipes might be a worthwhile project. Sure, you can Google anything in the moment but over time it is helpful to have a collection of recipes you think are worth repeating.
PIN for later…
This post contains affiliate links. When you purchase using these links your cost is the same, but I receive a few cents for every dollar spent. I appreciate your support for this website.
Vegetarian Santa Fe Salad
When I make a vegetarian version of this salad I still want the flavours that come from the blackened spice mix. I have tried two variations; sautéing the corn in butter with blackened seasoning and roasting butternut squash cubes with the seasoning. Both were great options.
The Spice Cupboard
Everyday cooks need a good variety of spices so it's worth the effort to keep them organized the way you like. I have a lot of spices so to keep them reasonably fresh and avoid the collection from expanding even more this is my tip.
KITCHEN TIP – Make your own spice combinations. If you want pumpkin pie spice, pizza spice, Cajun spice or a blackened spice mix go to the spice cupboard and make it. Those spices are probably all there.
Get The Tools
SPICES – These are the items I use to store my homemade spice mixes.
PREP – Salads can take a lot of time, especially when you're using several different ingredients like the ones in this Santa Fe Salad. Organizing yourself in the kitchen is the key. I assemble the ingredients into a large, flat marinating container with a lid so it all comes together quickly in the end. I like that it's large enough to hold some small dishes with the pumpkin seeds and dates.
SERVING – This composed salad needs a nice bowl. A large angled bowl would be beautiful for this salad but I've got a stack of inexpensive white bowls that I bought at the Asian store. These bowls get a lot of use in my kitchen yet they look nice enough to serve to company.
Thanks to Earl's, a Canadian restaurant chain, for the inspiration for this salad. There are many versions of it online and it's probably in their cookbook too. This is my take and I'd love to hear what you thought of it in the comments below .
_________________________________________________________________________
More Salad Recipes and a recipe for Blackened Spice Mix
If you made the blackened spice mix then put this Blackened Steak Salad on your list for fair weather dining.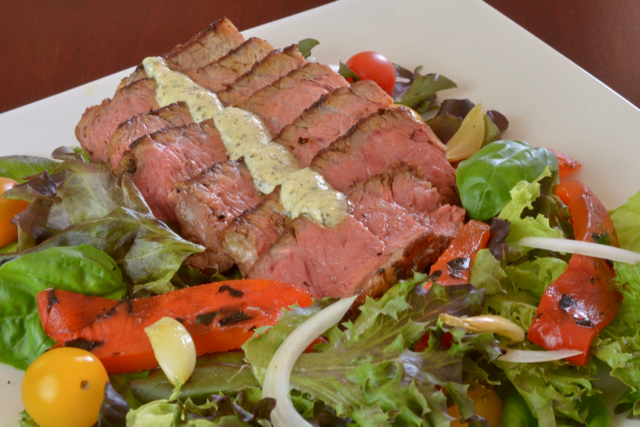 Ingredients
BLACKENED SPICE MIX
3 Tbsp paprika (regular or smoked)
2 tsp onion powder
1½ tsp salt
1 tsp garlic powder
1 tsp black pepper
1 tsp dried thyme
1 tsp dried oregano
½ tsp cayenne
PEANUT LIME DRESSING
¼ cup olive oil
¼ cup lime juice
¼ cup chopped peanuts
zest of 1 lime
1 Tbsp peanut butter
1 tsp GF soy sauce
1 tsp sugar
1 garlic clove
CHICKEN
2 boneless, skinless chicken breasts
SALAD
8 cups chopped Romaine lettuce
1 avocado, sliced
1 cup chopped dates
¾ cup frozen corn kernels, thawed
¾ cup canned black beans, rinsed and drained
¾ cup feta cheese, crumbled
¼ cup toasted pumpkin seeds
TORTILLA STRIPS
2 tsp oil
2 corn tortillas, cut in half then into ½ inch wide strips
Directions
1

BLACKENED SPICE MIX - Combine all ingredients thoroughly. Store in a jar.

2

PEANUT LIME DRESSING - Put all ingredients in blender cup and process until smooth. Serve on the side.

3

TORTILLA STRIPS – Heat oil in sauté pan on medium high heat. Add tortilla strips and cook until lightly browned.

4

CHICKEN - Sprinkle both sides of chicken with blackened seasoning mix.

5

Heat oil in pan, sauté chicken until cooked, about 4 minutes per side. Cool slightly and slice.

6

SALAD - Divide lettuce among 4 large bowls.

7

Top with remaining salad ingredients; sliced chicken, avocado, dates, corn, black beans and feta.

8

Sprinkle with pumpkin seeds and garnish with tortilla strips.

9

Serve Peanut Lime Dressing on the side.