This easy Rice Noodle Stir Fry is a budget-friendly, everyday recipe that can be made as dinner or a side dish. I vary the recipe based on what's in the fridge and what I feel like making.
Who doesn't need a recipe like that?
Rice noodles are inexpensive and easy to use. Simply pour boiling water over them to cover, let sit five minutes, drain and use. That's it!
Buying Rice Noodles
Dried rice noodles keep like any dried pasta, almost forever. I buy two widths; thin and thick.
There are many more widths available but this system keeps it simple and I can make any Asian dish I want with just two sizes.
I use thin vermicelli noodles for soup recipes and salad rolls plus a wider noodle for stir fry dishes. Interchange widths in almost any dish but stick to thin vermicelli noodles for making salad rolls or deep frying.
PIN for later...
Easy Recipes with Rice Noodles
I can Google almost any recipe and make it gluten free but I save recipes. Building a collection of your favourites is the best way I know to add variety to your everyday meal rotation.
You just need a few rice noodle recipes to get started. Over time you'll vary these recipes because you're missing an ingredient, you have something you need to use up or you're getting adventurous.
The gluten free diet is not boring; if you're bored with your meal rotation you just need a few new recipes and ingredients.
Here's a short list of favourite rice noodle recipes I've collected over the years.
For more tips on cooking with rice noodles, rice paper wrappers and bean thread noodles check out this post, How To Use Rice Noodles.
Gluten Free Asian Ingredients
There may be a few ingredients you don't have yet like gluten free oyster sauce or sesame oil. No matter what the reason a good solution is to set a date to cook with friends.
Make a grocery list of new ingredients together and share what you buy. Go shopping together if you're intimidated. This is a great idea to make you try new recipes and ingredients with the bonus of having your pantry stocked for another delicious stir fry anytime.
Don't forget to put rice noodles on your list too.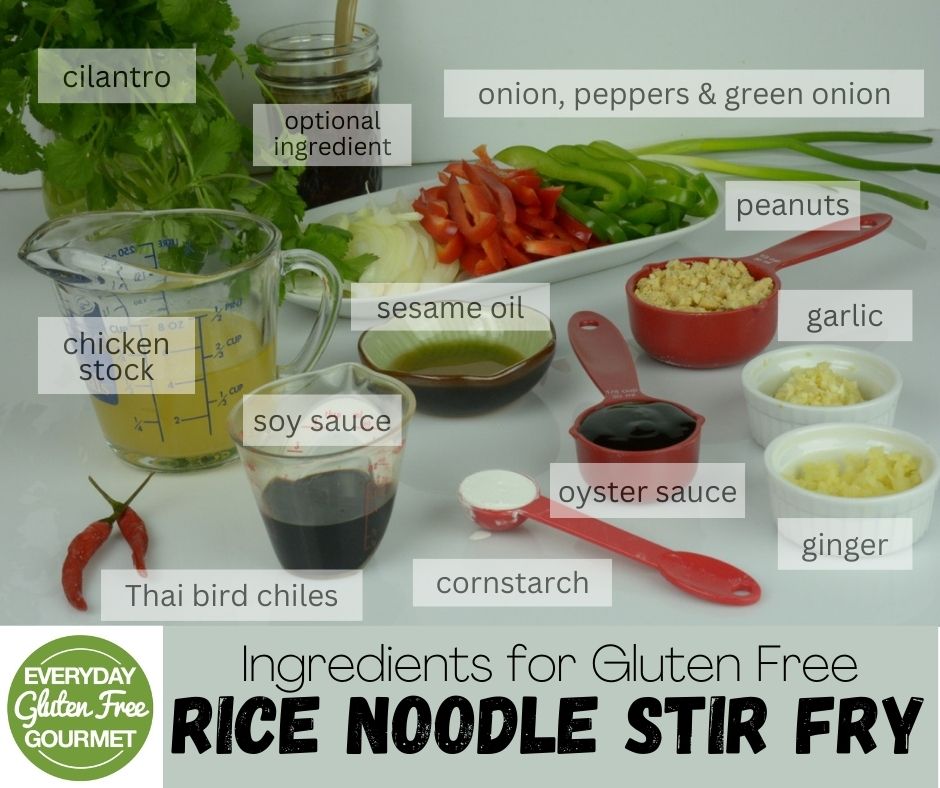 Plan to make a rice noodle dish soon or let me know what's holding you back. I'm sure I've got a substitute for that! Even one that doesn't include rice.
__________________________________________________________________________________________
New here? Join our community and get your FREE resource, the tips I wish I knew when I started cooking gluten free.
Yes, I need 29 Tips For Cooking with Gluten Free Flour.
Still haven't mastered gluten free cooking? Check out our online Cooking Classes.
More Asian Posts/Recipes
Easy Rice Noodle Stir Fry
This budget-friendly rice noodle stir fry can be served as a main course or a side dish. Add your favourite meat or tofu if you like and use any vegetables you have on hand. This is a recipe you can tweak to perfection or make it different every time!
Ingredients
8

oz

dried wide rice noodles

(250 g package)
SAUCE
½

cup

gluten free chicken stock

1½

tablespoon

gluten free soy sauce

1½

tablespoon

gluten free oyster sauce*

1

teaspoon

sesame oil

½

teaspoon

cornstarch
VEGETABLES
1

tablespoon

cooking oil

2

Thai bird chiles**

or serrano chiles

½

onion, thinly sliced

½

red pepper, thinly sliced

½

green pepper, thinly sliced
AROMATICS
1

tablespoon

cooking oil

½

tablespoon

ginger root

grated or finely chopped

2

garlic cloves

finely chopped

2

teaspoon

sambal oelek***

½

teaspoon

sugar
FINISHING
⅓

cup

salted peanuts

2

green onions

thinly sliced
Instructions
Soften Rice Noodles
Pour boiling water over dry rice noodles to cover. Let sit for 5 minutes. Drain and set aside.
Make Sauce
Measure all sauce ingredients directly into a measuring cup. Whisk to combine and set aside.
Cook Vegetables
Heat oil over medium high heat. When hot, add chile peppers, turning once, until blistered and oil is flavoured. Remove and set aside.

Add onion and peppers, stir fry until onions are translucent, about 3 minutes. Transfer to a bowl and set aside.

Return pan to heat and add another tablespoon of oil. When hot add ginger and garlic, stir fry 30 seconds.

Add chile paste, stir fry 1-2 minutes. Sprinkle with sugar, stir and scrape the mixture on top of the cooked vegetables.
Finishing
Heat remaining oil in wok on medium heat. Add noodles and gently stir fry, until softened and separated, about 1 minute.

Stir sauce and pour over noodles. Gently stir until sauce begins to thicken.

Add reserved vegetable mixture and half the peanuts. Stir to combine and transfer to serving dish.

Sprinkle with green onion and remaining peanuts. Garnish with fried chiles and serve.
Notes
*O

yster sauce has a unique flavour so it's worth searching out the gluten free one. (Lee Kum Kee makes Panda brand Oyster sauce, the gluten free version has a GREEN label.) Substitute with hoisin sauce or Chinese black bean sauce for a different but delicious noodle dish.
**Thai bird

chilies can be frozen. I keep a small ziplock of them in my freezer because I most often find them packaged in a bag with more than I need.
***S

ambal oelek is chile paste with no garlic or other seasonings. Substitute with any hot sauce recognizing they are all slightly different.