Everyone needs a recipe for gluten free flaky pastry that works for them. Then you can make anything you want with pastry, anything!
Until now I've posted this exact recipe within each recipe post for quiche, pot pie, hand pies, lemon meringue pie and pumpkin pie. Doing this makes for a long recipe that is hard to follow so it's time to post just the pastry recipe alone. I will leave the recipes mentioned as they are but going forward I'll refer readers back to this recipe for the pastry.
PIN for later...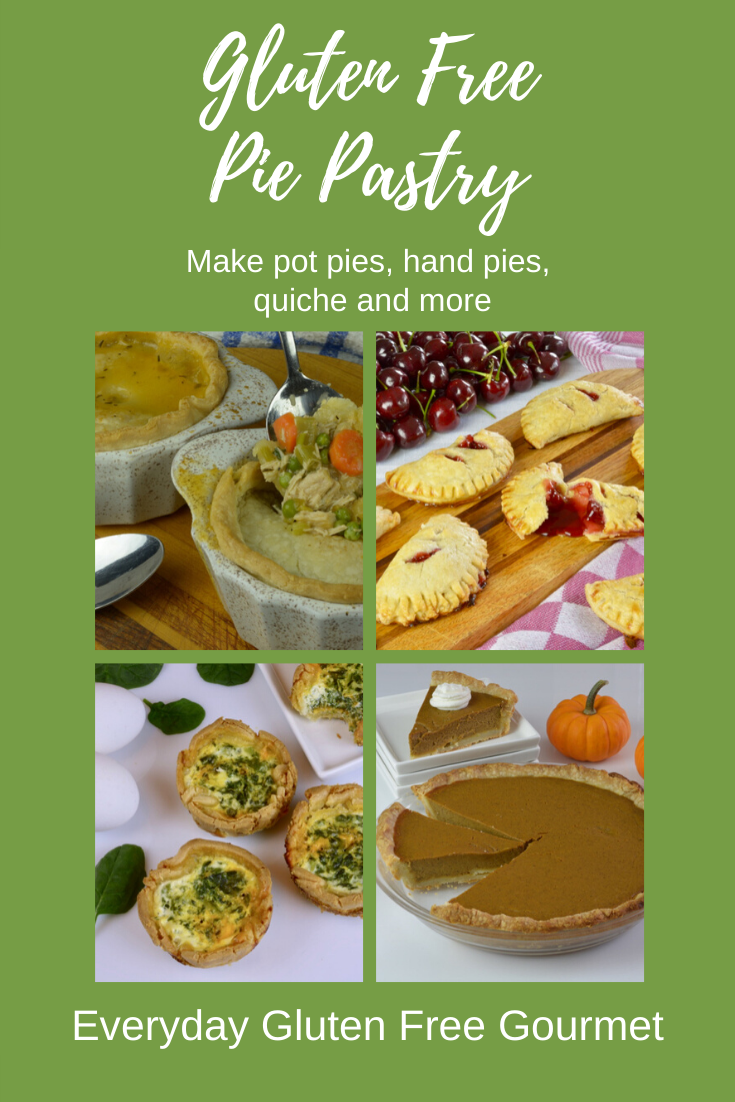 This post contains affiliate links. When you purchase using these links your cost is the same, but I receive a few cents for every dollar spent. I appreciate your support for this website.
People often think pastry is challenging but that's simply because they so rarely make it. Some families are lucky enough to have a pie expert and that's another reason for everyone else not to make pastry. My mom was the pie expert in our family and although I have made pies over the years I was more likely to choose another dessert since we could be guaranteed to have pie throughout the year.
If you want to become the pie expert in your family I guarantee you can make gluten free pies just as delicious as any pie you've ever had.
YouTube Tips To Master Gluten Free Pastry
The New Basics For Gluten Free Baking
There's a lot to learn about gluten free baking but simply being willing to accept new rules is a good place to start. So although my mother would say that lard makes the flakiest pastry she never baked with gluten free flour. American's Test Kitchen has done more recipe testing than any home cook could ever imagine and I trust them. They have published these two excellent resources and I highly recommend them to anyone interested in learning lots about baking gluten free.
Here are a few things I've learned from the test kitchen about gluten free pastry that my mother wouldn't know.
all butter with sour cream contributes to a tender pastry
rice vinegar makes pastry more tender than either baking soda or lemon juice
xanthan gum is important for structure
gluten free pastry does not stand up to freezing
Many everyday cooks have told me that they freeze their pastry and are happy with the results. Remember, what happens in your kitchen is all that really matters.
Get The Tools
You don't need much more than a pie plate and a rolling pin.
I'd love to hear how your pastry turned out. What did you make? Was it easier than you thought? Let me know in the comments below or tag me with your photos on social media.
---
More Recipes and Help With Pastry
Tips For Making Gluten Free Pastry
Gluten Free Flaky Pie Pastry
This gluten free flaky pie pastry can be used in recipes from quiche to pot pies, meat pies, hand pies and whole pies. With this flour blend it works every time.
Ingredients
WET INGREDIENTS
6

tablespoon

cold water

3

tablespoon

sour cream

1

tablespoon

rice vinegar
DRY INGREDIENTS
390

grams

EGFG gluten free flour blend*

(2¾ cups plus 2 Tbsp)

1

tablespoon

sugar

½

teaspoon

salt

½

teaspoon

xanthan gum

1

cup

butter, cut into ¼-inch pieces and frozen for 10-15 minutes

sweet rice flour for sprinkling
Instructions
MAKE PASTRY
While butter is chilling in freezer mix wet and dry ingredients separately.

In 1-cup measuring cup combine water, sour cream and vinegar. Set aside.

Combine flour, sugar, salt and xanthan gum in large bowl of stand mixer or a food processor. Whisk to evenly combine.

Add butter and mix until combined into uniform crumb-like mixture with no visible pieces of butter.

Add sour cream mixture, mix until it looks like dough and is sticking together.

Transfer dough to large piece of wax paper. Using your hands mix in any last bits of flour. *Lightly sprinkle the dough with sweet rice flour throughout the entire process to prevent it from sticking to either side of the paper or the rolling pin.

Divide the dough ball into 2 pieces for pie, or smaller pieces as desired for other recipes.

Place each dough ball onto a piece of wax paper large enough to wrap completely. Flatten pastry into a disk and wrap. Refrigerate for 20 minutes.
ROLLING OUT PASTRY
Preheat oven as directed in recipe. Remove dough from fridge, unwrap and leave in the center of the wax paper.

Using a rolling pin start in the center of the dough, rolling out toward the edges. Lift the rolling pin at the edges. Avoid rolling off the pastry and making the edges thinner than the rest of the pastry.

Flip the pastry a few times sprinkling with flour to prevent sticking. Use a second piece of wax paper or a flexible cutting mat to support pastry as you flip it. Continue rolling until you have a large circle ⅛-inch thick. The circle should be 1 or 2 inches larger than your pie plate.

Remove wax paper and invert the dough into the pie plate. Working quickly, gently push the edges of the dough into the sloped sides of the pie plate before the pastry cracks. Trim the edges with a knife or scissors.

To make a thick edge crust tuck the excess dough under itself, crimping the edge into the rim as you go. Alternately, push the dough into the rim of the pan with your thumb and fingers.

Chill pastry in freezer for 15 minutes before baking.

Bake according to your recipe.
Notes
*EGFG flour blend: 300g sweet rice flour, 300g potato starch, 200g sorghum flour, 200g millet flour (makes ~8 cups)