The secret to making flaky gluten free pie pastry is to roll out the dough with wrap and use as little sprinkling flour as possible. There are more tips and tricks for gluten free bakers but you can master them. Then you'll be the one saying, "it's as easy as pie!"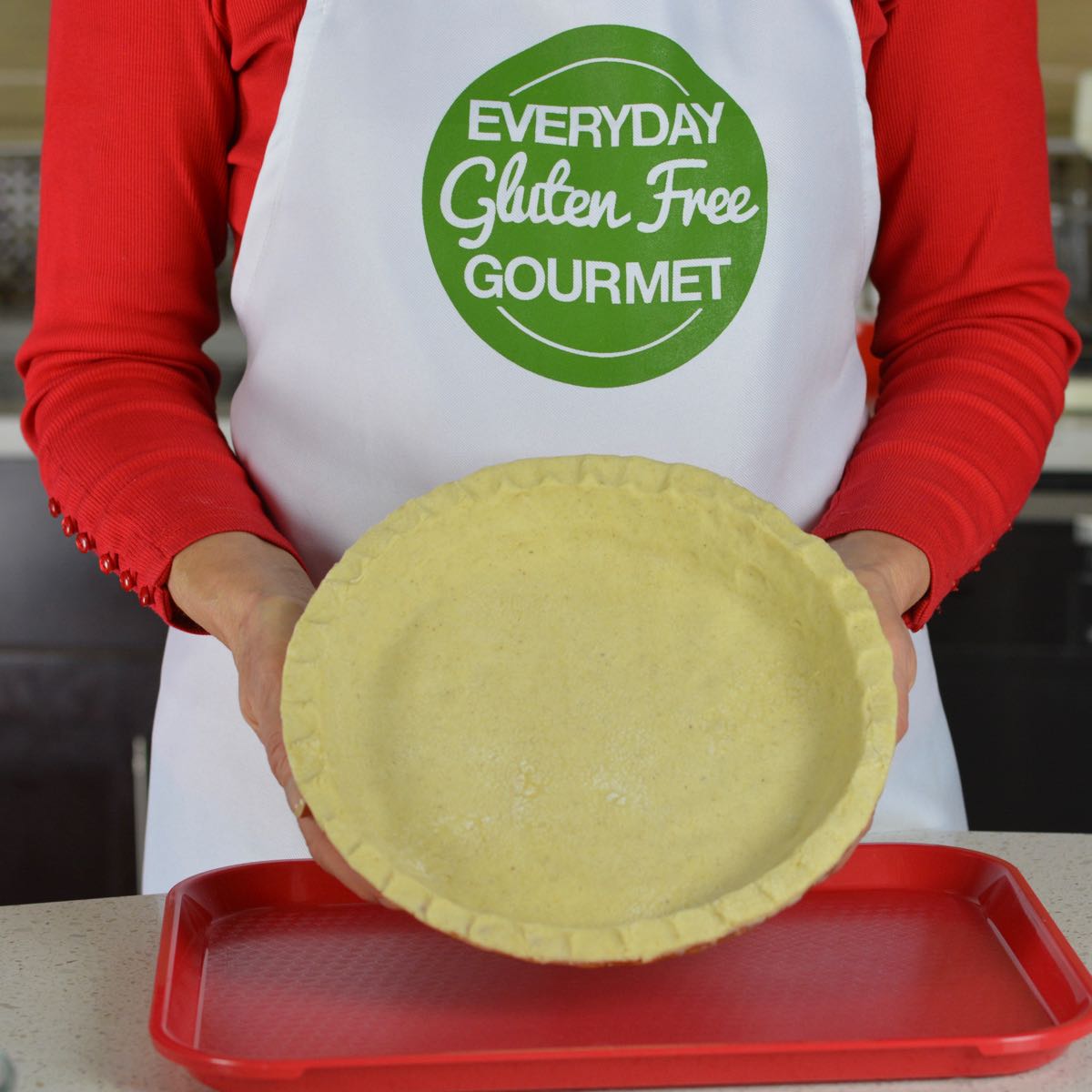 Pastry isn't challenging, the problem is that most cooks only make it for special occasions. Some families also have a pie expert so no one else bothers to make pie.
My mom was the pie expert in our family but when I started gluten free baking I wanted to master ALL of the usual recipes everyday cooks would want to make. Pie was on that list.
These are some pastry recipes you might want to try. If you challenge yourself to make pastry once a month you will become the family pie expert very soon.
Recipe Reading Tips
Everyone writes recipes a bit differently. When I started the blog I posted a handful of recipes each including the entire pastry recipe and instructions. That makes for a long recipe that feels intimidating (and uses several pages for those of you printing recipe).
Over time it made more sense to post this pastry recipe on its' own and link back to all the recipes I listed above.
For gluten free bakers the most important thing to remember is that each individual recipe has specific tips that make it work. My best advice is to read the recipe from top to bottom before you start baking. (I get caught NOT doing this all the time but if you do you'll have success the first time you make pastry.)
Gluten Free Baking Tips
Here are a few tips I learned from America's Test Kitchen and making a lot of pastry.
Using all butter with sour cream creates a nice workable dough.
Rice vinegar makes the pastry more tender than either baking soda or lemon juice.
Xanthan gum is important for structure.
This gluten free pastry does not stand up to freezing (although many of my followers disagree). I freeze the cooked pastry items with success but people tell me they freeze the dough and are happy with the results too.
The flour is another topic gluten free cooks can't avoid. I didn't like the taste of America's Test Kitchen flour blend, but using my EGFG flour blend I can make any of their recipes and they work the first time. Plus they don't taste gluten free.
YouTube Tips To Master Gluten Free Pie Pastry
Resources for Gluten Free Bakers
Cookbooks are not a thing of the past. Many cooks like a reliable resource and there are plenty of gluten free cookbooks. I recommend any of the American's Test Kitchen gluten free books.
Each recipe has a section explaining why the recipe works. They've done all the work, we just need to follow their tips and keep baking.
They've published three excellent resources that I highly recommend.
Best Kitchen Tools for Pie Pastry
If you're going to make pastry you might as well get the tools you want starting with a pie plate and a rolling pin.
Let me know in the comments below if you made this pastry and if you thought it was as easy as pie!
__________________________________________________________________________
New here? Join our community and get your FREE resource, the tips I wish I knew when I started cooking gluten free.
Yes, I need 29 Tips For Cooking with Gluten Free Flour.
Still haven't mastered gluten free cooking? Check out our online Cooking Classes.
_________________________________________________________________________
Flaky Gluten Free Pie Pastry
The secret to making flaky gluten free pie pastry is to roll out the dough with wrap and use as little sprinkling flour as possible. There are more tips and tricks for gluten free bakers but you can master them. Then you'll be the one saying, "it's as easy as pie!"
Ingredients
WET INGREDIENTS
6

tablespoon

cold water

3

tablespoon

sour cream

1

tablespoon

rice vinegar
DRY INGREDIENTS
390

grams

EGFG gluten free flour blend*

(2¾ cups plus 2 Tbsp)

1

tablespoon

sugar

½

teaspoon

salt

½

teaspoon

xanthan gum

1

cup

butter

cut into ¼-inch pieces

sweet rice flour for sprinkling
Instructions
MAKE PASTRY
Put butter cubes in a bowl and freeze for 15 minutes. Meanwhile measure the wet and dry ingredients separately.

In 1-cup measuring cup combine water, sour cream and vinegar. Stir and set aside.

Combine flour, sugar, salt and xanthan gum in the bowl of a food processor. Turn on briefly to combine.

Add cold butter to processor and turn on until combined into uniform crumb-like mixture with no visible pieces of butter.

Add sour cream mixture, mix until it looks like dough and is sticking together. If it looks dry continue mixing it.

Transfer dough to large piece of wax paper. Using your hands mix in any last bits of flour.

Divide the dough ball into 2 pieces for pie, or smaller pieces as desired for other recipes.

Place each dough ball onto a piece of wax paper large enough to wrap completely. Flatten pastry into a disk and wrap. Refrigerate for 20 minutes.
ROLLING OUT PASTRY
Preheat oven as directed in recipe. Remove dough from fridge, unwrap and leave in the center of the wax paper. Top with a second piece of paper to decrease the amount of sprinkling flour needed.

Using a rolling pin start in the center of the dough, rolling out toward the edges. Lift the rolling pin at the edges. Avoid rolling off the edge of the dough making the edges thinner than the rest of the pastry.

Use a thin cutting board or flexible cutting mat to support pastry and flip it over. Lift the paper to see how sticky it is. Sprinkle with a small amount of flour only if needed. Put the paper back on the dough and continue rolling until you have a large circle about ⅛-inch thick. The circle should be 1 or 2 inches larger than your pie plate.

Remove wax paper and invert the dough into the pie plate. Working quickly, gently push the edges of the dough into the sloped sides of the pie plate before the pastry cracks. Trim the edges with a knife or scissors.

To make a thick edge crust tuck the excess dough under itself, crimping the edge into the rim as you go. Alternately, push the dough into the rim of the pan with your thumb and fingers.

Chill pastry in freezer for 15 minutes before baking.

Bake according to your recipe.
Notes
*EGFG flour blend: 300g sweet rice flour, 300g potato starch, 200g sorghum flour, 200g millet flour (makes ~8 cups)
**Gluten free bakers use wax paper, plastic wrap or a thicker plastic like a freezer bag to minimize the amount of flour used when working with dough. Too much will make the dough tough and can contribute to a gritty texture.