This thin crust gluten free pizza dough recipe, made with individual flours, is easy to make. I almost can't believe I'm saying that but the key here is to be set up to bake with individual flours.
Gluten Free Pizza: Frozen, Precooked Crust or Homemade
When you're new to gluten free you'll find all the frozen pizza in a box and precooked pizza shells. Much like learning about gluten free bread you simply need to try them all and see what you think.
The reviews are mixed. Some people are happy with the choices available and some can live without pizza.
This post is for the everyday home cook who wants to make great pizza. Whether you miss Pizza Friday's or you're just ready to tackle pizza dough I've got lots of tips for you here.
Best Gluten Free Flour Blend for Pizza Dough
In my experience the best pizza crust is not made with an all-purpose gluten free flour blend. I don't remember how many recipes I tried but it was enough to put me off homemade pizza for another year.
There are many pizza crust recipes online calling for a 'gluten free flour blend'. They just didn't work for me. Can anyone relate to that?
I also know people who are using store bought bread flour or specific pizza flour blends and making delicious pizza. If it's working for you then keep doing it.
I'm always recipe testing so I'm organized to mix any combination of flours. It's still effort but that's the gluten free life. If you want tips to do that I've put links at the bottom for help with that.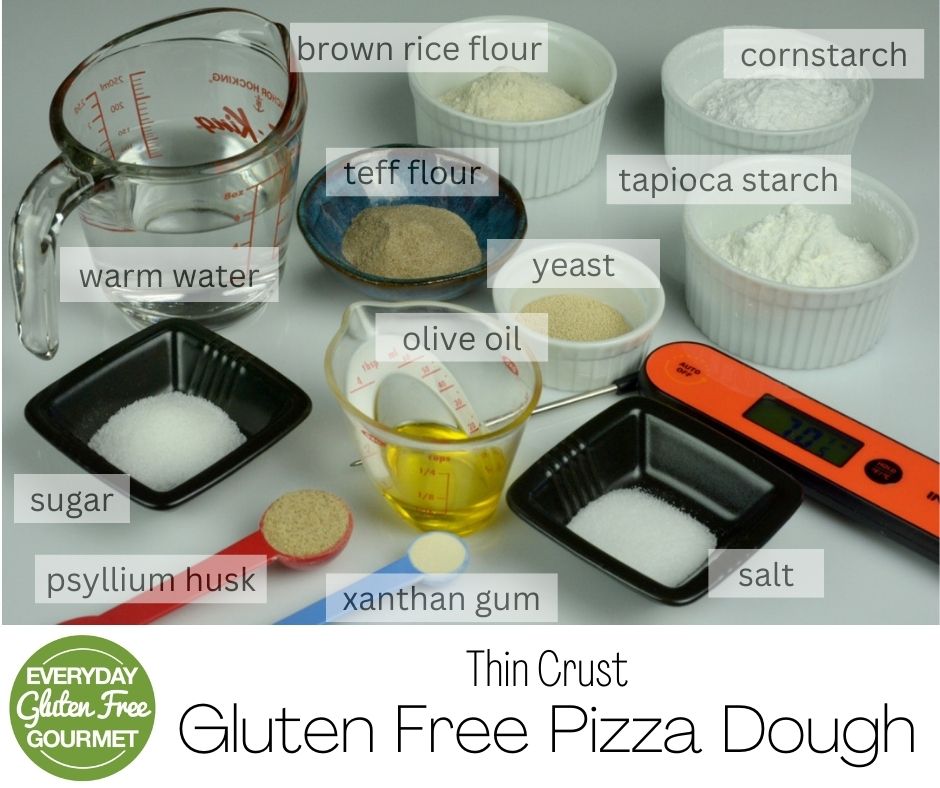 Learning the Gluten Free Lifestyle
No one would disagree that recipes asking you to blend several flours take time. Of course they do. And no one would say the gluten free diet is easy. Yet home cooks around the world are making everything gluten free and sharing what they learn.
When I bought the cookbook, No Gluten, No Problem Pizza, I learned more about pizza than I ever knew. In their beautiful book Kelli and Peter Bronski share 19 different recipes for pizza dough. That was news to me, 19 different kinds of dough! (How did I not know that?)
This naturally reminded me of a quote I love to share.
"The more I know, the more I realize I don't know."

Aristotle
The gluten free lifestyle requires learning and this is the kind of book I love to learn from. If you know someone who needs this book, buy it for them. If you're starting to think of all the different pizza topping combinations you love then buy it for yourself, that's what I did.
Best Tips for Making Gluten Free Pizza
In case you're not 100% with me yet I want to clarify. Finding a gluten free flour blend that works for 'most' of your baking is a game changer. I make everything from Yorkshire pudding to churros and cinnamon rolls to pie pastry with my EGFG flour blend.
What I couldn't make with any blend was excellent bread, bagels, soft pretzels, dinner rolls, pasta or pizza dough.
For me, the next game changer was getting organized to make recipes that call for individual gluten free flours. This is a mindset shift and I know it's not for everyone. If it's for you then get the equipment and let's make pizza.
PIN for later...
Stages of Gluten Free Pizza Dough
Gluten free baking often looks different than what you might expect. Here you can see that after the dry and wet ingredients are stirred together it looks very much like a batter. From teaching virtual cooking classes I know the time for this to turn into a dough varies from kitchen to kitchen.
I've made this recipe many times and in as little as five minutes I can scrape it out onto the counter and start pressing the dough. It takes patience and time so don't give up. I find that if I stop pressing for a few minutes and go organize other ingredients I don't make holes from forcing it.
Best Equipment for Homemade Pizza Dough
Kitchen equipment is an investment you make over time. You don't need top of the line equipment but you can't make great pizza in cheap pans in an oven at 400°F. A baking steel or pizza steel is an important piece of equipment to make perfect pizza crust.
Pizza Steel
A pizza steel (also called a baking steel) conducts heat better than a pizza stone so when your pizza stone breaks I suggest you buy a heavy, pizza steel. If you're still trying to make pizza on an inexpensive aluminum pan it's time to upgrade.
Measure your oven before you choose your pizza steel. Mine is made by Vermont Castings, measures 14 x 18-inches and even though it is only ⅛-inch thick it takes two hands to lift it. Thicker is better but you have to store it and move it.
Here are three pizza steels I found online:
Pizza Peel
A pizza peel helps you move your pizza in and out of the oven so chose one at least 12-inches across. If you want the super long handle pizza peel like you see on TV, and you've got a broom closet to store, then I think you should buy it!
Pizza Gift Basket Ideas
Whether you're building a gift basket or getting your kitchen decked out to take your pizza to the next level, here are more items you may want.
I'd love to hear in the comments below if you tried this pizza dough recipe or what you've been making.
__________________________________________________________________________________________
New here? Join our community and get your FREE resource, the tips I wish I knew when I started cooking gluten free.
Yes, I need 29 Tips For Cooking with Gluten Free Flour.
Still haven't mastered gluten free cooking? Check out our online Cooking Classes.
More Recipes and Help Organizing in the Kitchen
Gluten Free Pizza Dough (Thin Crust)
This thin crust gluten free pizza dough recipe, made with individual flours, is easy to make if you're willing to mix the flours.
Ingredients
PROOF YEAST
157

grams

warm water

(110-115°F)

1½

teaspoon

sugar

1

teaspoon

active dry yeast
DRY INGREDIENTS
50

grams

brown rice flour

50

grams

cornstarch

50

grams

tapioca starch

12

grams

teff flour

1

teaspoon

psyllium husk powder

¾

teaspoon

salt

¼

teaspoon

xanthan gum
SPRINKLING FLOUR - Equal amounts of sweet rice flour and cornmeal
Instructions
PROOF YEAST and MAKE DOUGH
Run tap water until very hot. In a 1-cup measuring cup weigh water and check the temperature, 110-115°F.

Add sugar and yeast. Stir and let activate for 5-10 minutes until foamy.

Add 1 tablespoon olive oil to yeast mixture then pour into dry ingredients.

Stir vigorously until dough is smooth and has no lumps. It will look more like a batter. Let rest 5-10 minutes to hydrate and become a workable dough.
SHAPE, TOP and BAKE PIZZA
Place large sheet of parchment, about 15-inches square. Sprinkle with 1 tablespoon bench flour and turn dough onto parchment.

With oiled hands gently press dough into 12-inch circle forming a raised edge all around.

Spread pizza sauce evenly over dough leaving edges without sauce. Top as desired.

Slide pizza peel under parchment and transfer to preheated oven with pizza steel.

Bake in oven (550°F) for 2 minutes. Using a pizza peel lift pizza from parchment and remove paper. Continue cooking pizza for 5-6 minutes.

 Let rest 2 minutes then top with basil or arugula, slice and serve.
Notes
In my cooking classes I recommend using simple toppings like I suggest below. When you are 100% happy with your pizza crust you can add all your favourite topping combinations. This is what I served on this pizza.
PREPARE FLAVOURED OIL - Mix 1 tablespoon olive oil, 2 cloves minced garlic, ¼ teaspoon red pepper flakes.
PREPARE TOPPINGS - Spread ½ cup pizza sauce on dough. Top with shredded mozzarella and bocconcini balls. Scatter thinly sliced prosciutto on top. After it comes out of the oven top with a handful of fresh basil leaves and/or arugula. Cut and serve.