This Lemongrass Chicken Sandwich, what I call a Vietnamese Sub, is my gluten free version of the classic bánh mì. It's popular on Vietnamese restaurant menus and there are many variations. My favourite is the one made with lemongrass chicken but you can make it with satay beef or tofu.
The mention of a submarine sandwich does not get me excited, but a Vietnamese sub, now that's something to get excited about. There are five classic tastes of Vietnamese cuisine; sweet, sour, salt, bitter and hot. In this sub the unique flavour combination simply explodes in your mouth. The seasoned meat, fresh crunchy vegetables and cilantro with some heat from the Sriracha mayo all wrapped in a soft bun with a crunchy exterior make this sub a winner. If you haven't tried one yet you must.
PIN for later...
This post contains affiliate links. When you purchase using these links your cost is the same, but I receive a few cents for every dollar spent. I appreciate your support for this website.
Prep Once, Eat Twice
For anyone who cooks the majority of their own meals planning makes the whole process much more enjoyable so plan by habit. I don't always follow my own advice but if I did this is what I would do. Buy enough chicken for two meals and divide it into two separate dishes to marinate. Put one dish in the fridge for dinner and the other straight into the freezer. I always think it will marinate as it freezes and again as it thaws and that is perfect for me.
For some families you can't serve that dish the same way or people start whining. Since it is impossible to change the people in your family you can change the way you serve your dish the second time. Here are two ideas:
Serve the same boneless, skinless chicken thighs as part of a Rice Noodle Bowl or on

skewers

.
You could also buy some bone-in chicken pieces to go in the freezer and serve that meal with grilled vegetables and rice for a completely different look.
Gluten Free Sub Buns
It's your sub so use the bread that works for you. The Vietnamese subs I see in local restaurants use a traditional wheat baguette, in Vietnam they use a baguette made with a combination of wheat flour and rice flour. It is supposed to be soft on the inside and crunchy on the outside. I couldn't find a gluten free baguette (because I didn't even look for one) so I opted for hot dog buns from a local company, Care Bakery. I toasted the bun in the oven to make it a little crunchy on the outside and I was not disappointed.
I've heard that both brands, Shär and Promise Gluten Free, are selling gluten free baguettes in North America. I learned more about these two companies by listening to A Canadian Celiac Podcast by Sue Jennett and can't say enough good things about the value of listening to podcasts. It is an easy way to keep up on what's happening in the gluten free space, I learn something with every episode.
Get The Tools
Of course there are home cooks baking gluten free baguettes so if you're ready for that here's a link to Sue's baguette recipe over at Sue's Gluten Free Baking. Gluten free baking is a whole new world so new tools are required. Maybe one day I'll buy one of these baguette pans and try it. In the meantime I'm making Vietnamese subs using hot dog buns.
Frozen Lemongrass
You don't need lemongrass to enjoy a Vietnamese sub but I love it's unique taste. My tip for everyday cooking is to add frozen lemongrass to your pantry. I use it to make the Thai, Vietnamese and Asian recipes and don't have to make a special trip to the store.
If you want to learn more check out my post titled How To Use Lemongrass. If you already have it here's the quick conversion.
1 lemongrass stalk = 1 tablespoon finely chopped, frozen lemongrass
In the comments below I'd love to hear how you created your version of this Vietnamese sub.
---
More Recipes Using Lemongrass
Click on the text on the image(s) to go to the recipe/blog post.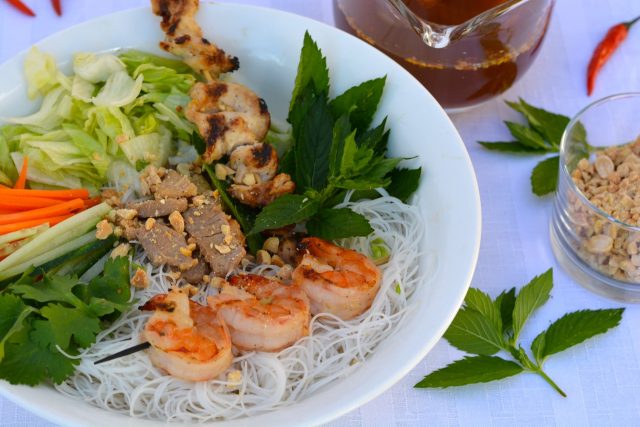 Vietnamese Sub (Lemongrass Chicken Sandwich)
This Lemongrass Chicken Sandwich, a Vietnamese Sub, is my gluten free version of the classic Vietnamese sandwich with fresh cilantro.
Ingredients
THE SANDWICH
6

gluten free hot dog buns

(or sub buns)

3

cups

cooked, cubed lemongrass chicken

(recipe below)

6

tablespoon

mayonnaise

(or Miracle Whip)

2

tablespoon

Sriracha hot sauce

1½

cups

long pieces of julienned cucumber

1½

cups

julienned or shredded carrot

12

long pieces of cilantro on the stem
OPTIONAL
thinly sliced onion and/or jalapeno
LEMONGRASS CHICKEN MARINADE
6

tablespoon

lemon juice

4

tablespoon

fish sauce

2

tablespoon

GF soy sauce

3

tablespoon

sugar

1

teaspoon

chile sauce

(I like Sambal oelek)

½

teaspoon

black pepper

3

cloves

garlic, minced

3

tablespoon

chopped ginger

2

tablespoon

frozen, chopped lemongrass

(or 2 fresh stalks trimmed and finely chopped)

8

boneless, skinless chicken thighs
Instructions
LEMONGRASS CHICKEN
Combine marinade ingredients and pour over chicken. Marinate at least 30 minutes or overnight. Grill until cooked through, 4-6 minutes per side depending on the thickness.

Cube or cut to fit the buns. Serve warm or at room temperature.
Make Sriracha Mayo
Combine mayonnaise and Sriracha. Set aside.
ASSEMBLY
Lightly toast buns. Spread one side with butter and the other with the Sriracha-mayo.

Add lemongrass chicken, cucumber, carrot and cilantro. Top with onion and jalapeno if using. Serve warm.
Notes
I always plan to make these subs with leftover Lemongrass Chicken.