Corn tortillas are easily made in just a few minutes using masa harina and water. Compared to the store bought tortillas I've tried these are soft and delicious, and so worth it.
Masa literally means dough in Spanish and is a type of flour made from dried corn and lime water. Masa or masa harina is available in Latin American or specialty food shops. It is used to make traditional corn tortillas, tamales and other Mexican dishes. I also use it as a thickener in my Ancho Chile Gravy. You can read more about masa harina in this post from my year-long series on How To Use different gluten free flours; How To Use Corn Flour, Cornmeal and Masa Harina.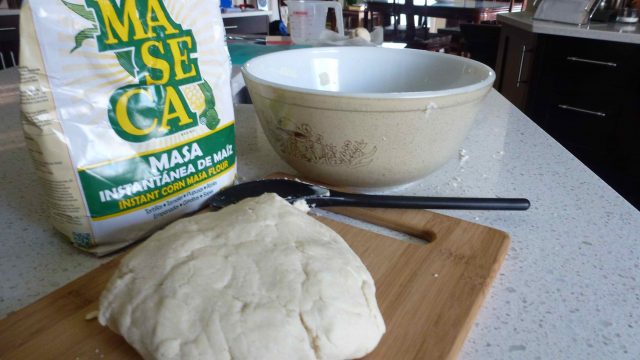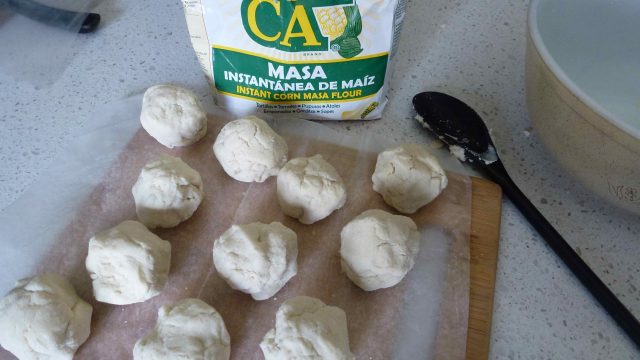 This post contains affiliate links. When you purchase using these links your cost is the same, but I receive a few cents for every dollar spent. I appreciate your support for this website.
Get The Tools - A Tortilla Press
Of course it takes a bit of time to make your own corn tortillas but to me it's all about the organization and set up. Although not mandatory a traditional tortilla press is designed for this job. It is the kind of thing you might buy on a trip to Mexico but you can also buy it online (tortilla press) or in kitchen stores.
The more often you make anything the easier it gets. Once you've made corn tortillas at least three times it's suddenly easier. This small effort helps you figure out the size of the recipe you want to make most often, what items you need and perhaps a place or container to store it all.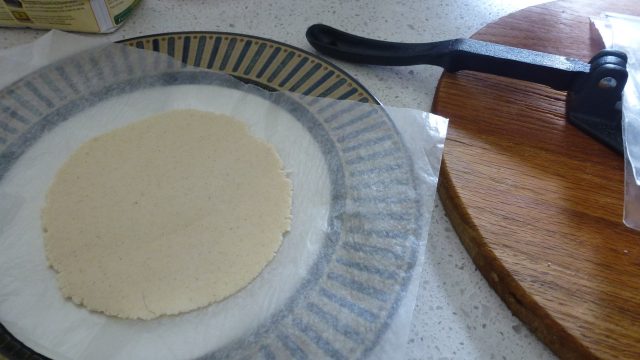 Organize For Success - Corn Tortillas
I store my tortilla press, sheets of wax paper, plastic zip bags and the masa harina all together in a clear container with fairly high sides. This recipe is on the bag of masa harina but I even printed it out, a full recipe and a half recipe, in large print and taped it to the side of the bucket. Okay, I didn't do that the first time I made these. This is the kind of idea I want to share with my readers, so obviously I had to go from idea to action and do it myself. And I'm pretty happy about that. Now I can pull it out and quickly make tortillas whenever I want.
As you can see by the photos these are the simple steps:
Mix masa harina, salt and water into a ball.
Divide the dough ball into smaller balls the size of golf balls.
Place the ball on the tortilla press between 2 sheets of waxed paper (or freezer zip bags) and gently push to flatten.
Close the press to evenly flatten the dough ball. Lift and rotate if not even. (If too thin take broken dough off and start again, you'll get the hang of it.)
Gently transfer to a tray separating tortillas between waxed paper. Keep covered with a damp cloth while you continue making them.
I'd love to hear if you make your own corn tortillas. Is your set up working for you? Please let me know in the comments below.
---
More Recipes - Corn Tortillas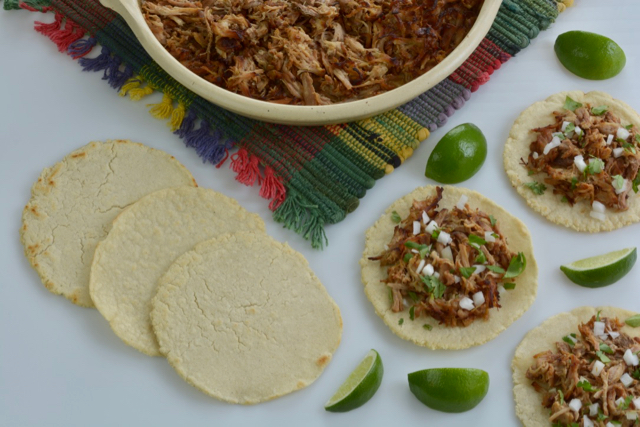 Homemade Corn Tortillas
Make these corn tortillas in minutes using masa harina and water. They're soft and delicious and better than store bought.
Ingredients
2

cups

Masa Harina

¼

teaspoon

salt

1

cup

water
Instructions
Combine masa harina and salt in a large bowl. Add water and stir until you have soft dough. If dough feels dry add more water, 1 tablespoon at a time.

Divide dough into golf balls size balls, makes about 16 balls. Place each ball between plastic and press until tortilla measures 5 to 6 inches in diameter. Peel off plastic wrap and store between waxed paper until ready to use.

Heat frying pan with a bit of oil and cook tortillas one at a time for about a minute until lightly browned. Turn and cook for another minute.

As soon as each tortilla is cooked place it in a folded tea towel to stay warm and soften.

Serve in holders for tacos or flat for street tacos, burritos or quesadillas.