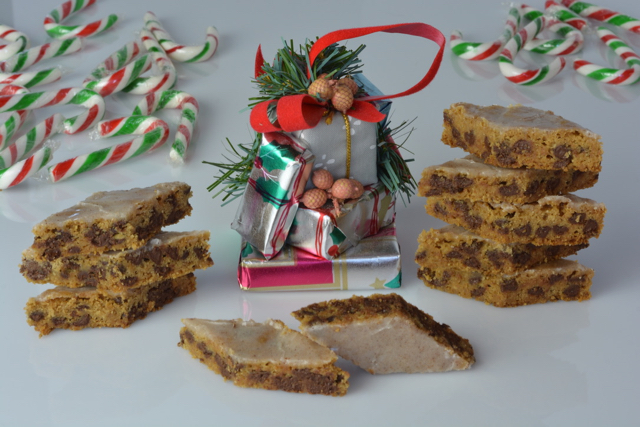 Description
If you like chocolate chip cookies, coffee and cinnamon these Cappuccino Cookies are for you. I happen to love all three.
I make these Cappuccino Cookies only at Christmas. They're baked on a baking sheet then brushed with a sweet cinnamon glaze and cut while still warm. I take the time to cut them into little diamonds so they look a little fancy. Some might call this tedious but for me part of the tradition is that I get to sample all those edge pieces that didn't make a full diamond.
PIN for later…
This post contains affiliate links. When you purchase using these links your cost is the same, but I receive a few cents for every dollar spent. I appreciate your support for this website.
Gluten Free Cookie Flour Blend
Here's my YouTube video on this topic or you can read more in the post (link at bottom of this page).
Some gluten free flour blends work well in some cookie recipes, just not all cookie recipes. I've had more success recently making cookies with this 'cookie blend'. It's important to remember there's no single flour or blend that works in every recipe. In my kitchen my homemade EGFG flour blend works for me in so many recipes; pancakes, crepes, waffles, muffins, quick breads, flat breads, Yorkshire pudding, Strawberry shortcake and even some cookies. But I wanted to improve my success with cookies and I've had great success with this combination.
If you like to mess around with recipes whip up a batch of this flour combo and give it a try. Brown rice flour and almond flour are both excellent in cookies. This recipe yields one cup but if you want to make more check out this post, Cookie Flour Mix. In it there's a pdf you can download that has the recipe written our doubled and quadrupled.
Tips For Making Gluten Free Cookies
If you are looking for more tips to improve your baking have a look at this blog post, Tips For Making Gluten Free Cookies.
For podcast listeners you can also listen to my interview on the same topic at A Canadian Celiac Podcast episode 43. For those new to podcasts they're the modern version of radio except you get to listen to exactly what you want when you want. They are a great way to stay up to date on all things gluten free.
Storing Cookies For Freshness
Gluten free baked goods go stale more quickly than items made with wheat flour so here are two tips for keeping your baked goods fresh.
Double wrap cookies as soon as they have cooled. (In the moment I have a very hard time bothering with this step but I do believe it to be true.)
Xanthan gum increases shelf life. America's Test Kitchen makes this recommendation in both of their books, The How Can It Be Gluten Free Cookbook and Volume 2 The How Can It Be Gluten Free Cookbook. They spent a lot of time figuring that out so I believe them.
Of course you can simply eat all the cookies in a day or two and ignore the storage step completely. I'd love to hear about that in the comments below.
---
More Recipes – Holiday Baking
Recipe Round Up – Holiday baking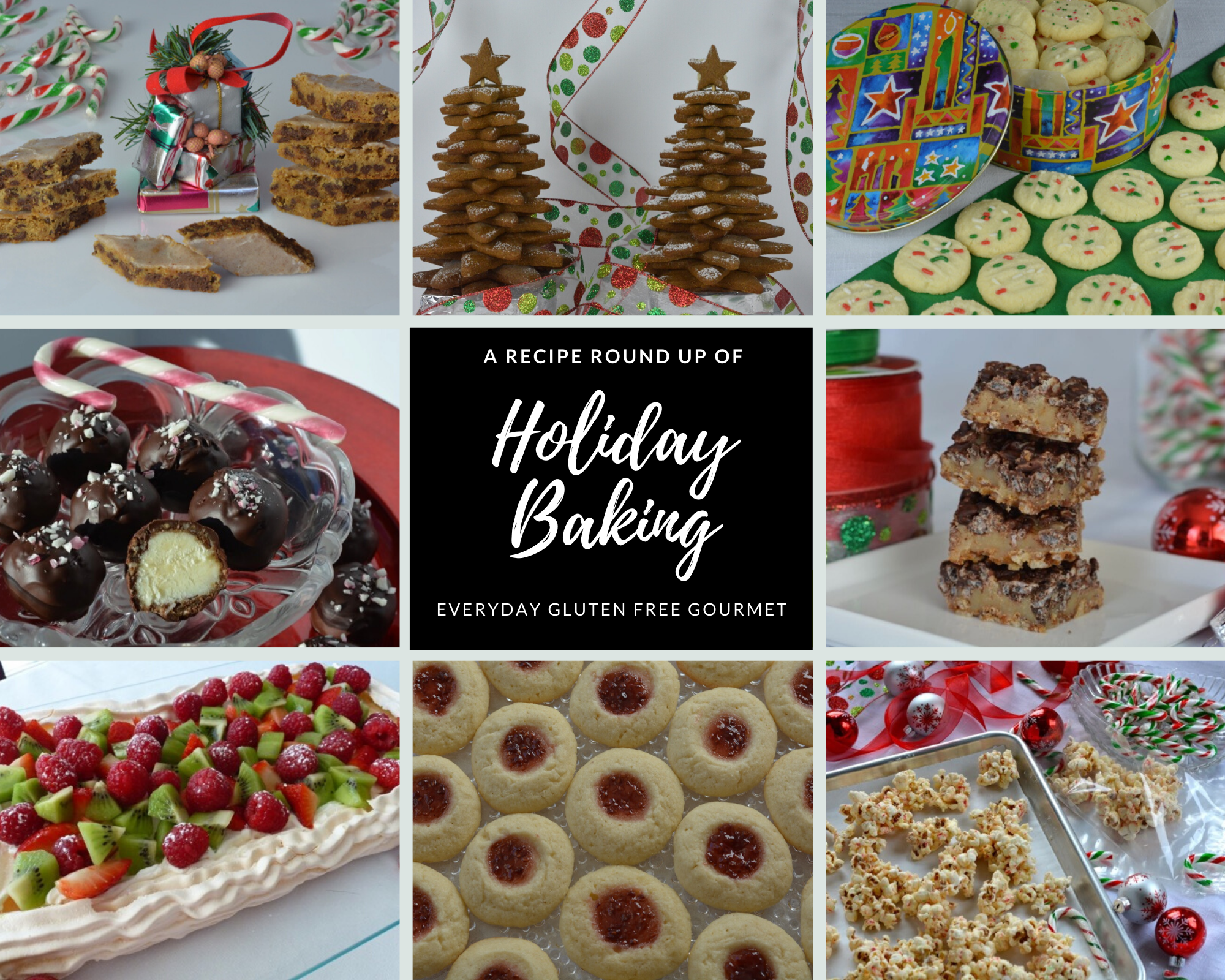 Cappuccino Cookies
If you like chocolate chip cookies, coffee and cinnamon these Cappuccino Cookies are for you! I love all three and can't wait to make them.
Ingredients
1

cup

butter, room temperature

1

cup

brown sugar

1

Tbsp

instant coffee, finely ground

1

tsp

vanilla

2¼

cups

cookie flour blend**

½

tsp

baking powder

1

package

semi sweet mini chocolate chips

(10 oz/300 g)
CINNAMON GLAZE
1

Tbsp

butter, melted

¼

tsp

cinnamon

¾

cup

icing sugar

2

Tbsp

milk
Instructions
Preheat oven to 350°F. Line a 9" x 13" baking pan with parchment.

In a stand mixer beat butter, sugar, instant coffee and vanilla until light and fluffy, about 3 minutes.

In a separate bowl combine flour, baking powder, xanthan gum and salt. Whisk until evenly mixed.

Turn mixer to low and slowly add the dry ingredients until combined.

Add chocolate chips then press dough into prepared baking pan.

Bake in preheated oven for 25 minutes or until the dough is just beginning to pull away from the sides of the pan.

Pour glaze on top of warm cookies and brush evenly over the entire surface.

While the cookies are still warm and before the glaze sets cut the cookies into bars or diamonds.

I use a long ruler and a knife to make marks across the pan 1-inch apart. Then cut the entire tray in 1-inch strips in one direction. Make a single cut on the diagonal across the pan. Using the ruler make 1-inch marks on both sides of the diagonal. Following the marks cut through the cookie creating diamond shapes. Let cool completely.

For maximum freshness double wrap any cookies you are not serving within two days.
CINNAMON GLAZE
In a small bowl combine butter, cinnamon, icing sugar and enough milk to make a thin glaze. Set aside until ready to use.
Notes
**Cookie flour blend: ⅔ cup brown rice flour, ¼ cup ground almonds, 3 Tbsp potato starch, 1 Tbsp + 2 tsp tapioca starch, ¼ tsp xanthan gum