Braised Beef Short Ribs in Coffee Ancho Chile Sauce is slow food! This is a perfect dish to make on a cold winter day.
I always have dried Ancho chiles in my pantry; leftover from the Ancho Chile Gravy I made to go with my Christmas turkey. I also have a few recipes to use up the not-so-common pantry ingredients I seem to acquire without trying.
Dried chiles fall into that category.
Seasonal Strategy
Part of my seasonal strategy includes cooking winter dishes in winter. In summer I cook beef on the barbecue but braising meat in the oven in a winter method. Slowly braising the ribs on a Saturday afternoon with the aroma filling your kitchen and the promise of an amazing meal to come. That's the beauty of slow food.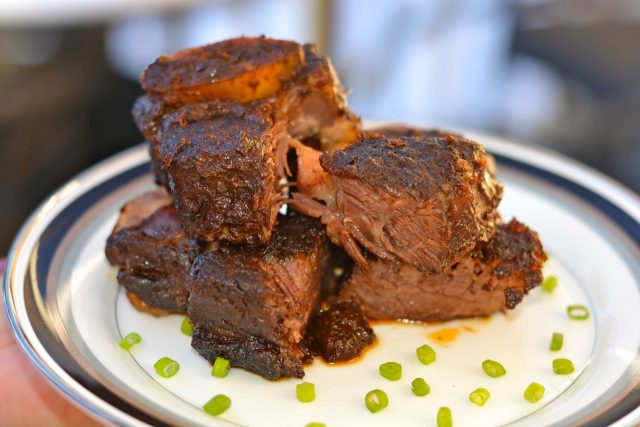 The Benefits of Braising - Braised Beef Short Ribs
Many people believe Alberta has the best beef in the world and I'd have to agree. I live here so it's easy to buy but you'll have to try it yourself if you want to weigh in on the debate.
In Alberta where I live we think we have the best beef in the world. No matter where you get your beef, braising is the method of cooking for winter. It is simply cooking meat in liquid over low heat for several hours and this method transforms less tender cuts of meat into fork-tender deliciousness.
The liquid in this recipe involves rich, dark coffee, soaking liquid from the ancho chiles and maple syrup. To me everything about this dish sounds delicious!
PIN Braised Beef Short Ribs for later…
This post contains affiliate links. When you purchase using these links your cost is the same, but I receive a few cents for every dollar spent. I appreciate your support for this website.
Buying Dried Ancho Chiles
With over a thousand varieties of chiles there's lots of room for confusion. I'm no expert but here's what you need to know plus my tip for buying the correct chiles on the first trip to the grocery store.
Fresh poblano chiles are a dark green colour with a rounded end. When they're dried the name changes and they become ancho chiles. I use both of these chiles for the Ancho Chile Gravy so since I've been writing this blog I have actually committed this to memory.
Maybe it sounds easy to you but when I'm making a grocery list I don't want a test. I simply want to come home with the right ingredient.
For many years I would make these ribs in winter then not look for those ancho chiles again until October. To help myself remember I write 'dried' or 'fresh' in front of the type of chile in my recipes. I'm sure someone will find that helpful.
Canned Chipotle Chiles for Coffee Ancho Chile Sauce
Another favourite of mine are chipotle chiles in adobo sauce. To learn more about these smoked jalapeños checkout this post, Chipotle Chiles in Adobo Sauce vs Chipotle Powder.
Stock Your Pantry for Braised Beef Ribs
Here are the two chiles I used in this recipe:
Chipotle chiles in adobo sauce - Sold in little tins they can be found in specialty food shops, Latin American stores, online and in my fridge year round. They don't need to contain gluten (but some brand do so read the label).
Dried ancho chiles - I use these in my Ancho Chile Gravy on turkey and poutine.
If you try these braised beef short ribs let me know how they turned out in the comments below. If you know where your beef came from I'd love to hear that too?
Originally posted February 2016, updated January 2022.
---
More Recipes - Ribs and Slow Food
Click on the text on the image(s) to go to the recipe/blog post.
Braised Beef Short Ribs in Coffee Ancho Chile Sauce
This is slow food at it's finest! The aroma is wonderful on a cold winter day, the ribs will be the icing on the cake.
Ingredients
Coffee Ancho Chile Sauce
2

dried ancho chiles

(or New Mexico chiles)

1½

cups

boiling water

½

onion, cut in 4

2

garlic cloves, coarsely chopped

1

tablespoon

pureed canned chipotle chiles in adobo sauce

(2-3 chipotle chiles)

1

tablespoon

maple syrup

½

tablespoon

lime juice

½

teaspoon

salt
BEEF SHORT RIBS
3

lbs

beef short ribs

salt and pepper

½

tablespoon

vegetable oil

½

cup

brewed coffee

reserved chile soaking liquid
Instructions
Coffee Ancho Chile Sauce
Pour boiling water over ancho chiles. Let soak until soft, about 20 minutes.

Remove chile from water. When cool enough to handle remove stem and seeds, discard. Set chiles aside. Reserve soaking liquid.

In a blender or food processor puree ancho chiles, onion, garlic, chipotle chile puree, maple syrup, lime juice and salt. Set aside.
Beef Short Ribs
Generously sprinkle ribs with salt and pepper.

Heat oil in pan with high sides over medium-high heat. Brown ribs in batches, turning as needed. As they are browned transfer them to a single layer in a large roasting pan.

When all ribs are browned add chile mixture and reduce heat to low. Cook stirring occasionally for 5 minutes.

Add reserved soaking liquid and coffee. Stir to combine and pour over ribs.

Cover roasting pan tightly with foil. Cook in preheated oven for 3-3½ hours until the meat is fork tender.

Skim some of the fat from pan juices if desired. Serve ribs with sauce.