Tomatillo guacamole with tequila, yes please!
This summer my 15-year-old son took a sudden interest in making guacamole and wanted to create his favourite recipe. So I dug out some recipes and started by making an old favourite. I knew it had too many ingredients to become the winner but it happened to have tequila. This seemed to create an exciting start to our summer of guacamole making.
For several weeks we mashed and pureed avocados to decide our favourite texture. We squeezed limes but also cheated with lime juice in a bottle. (I know, it's a food product not a real food. A personal area for improvement.) We chopped white onion and red onion, we tried finely diced tomato versus store bought salsa. We used tequila or we didn't. And then I tried roasted tomatillos.
I know tomatillos are not a typical guacamole ingredient but I can't resist anything out of the ordinary.
What Are Tomatillos
Tomatillos are NOT tomatoes. They are small round fruit with a husk sometimes called a Mexican husk tomato…thus the confusion. Tomatillos are most often green in colour and are common in Mexican cuisine. They can be eaten raw or cooked and are used in salsas and preserves. You've probably had them if you've eaten green salsa.
So why put them in guacamole? Why not! They are showing up in the produce section of grocery stores these days, usually with the husks on them but sometimes already husked. They are a little unique and they are a real food...so try them and see what you think.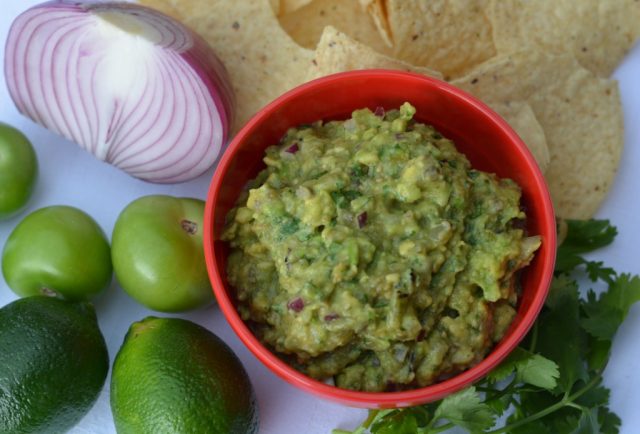 A Guacamole Tasting
Adding store bought salsa was easy but it turned our guacamole an unappealing brown colour. Diced fresh tomato or red onion both added a nice fleck of colour that I liked. Cilantro, lime, onion and chiles were all important.
The roasted tomatillos added a new dimension that everyone liked. The most basic guacamole is delicious but a splash of tequila adds some flair.
And the Winner is...chunky tomatillo guacamole with tequila.
Only you can call a recipe your personal favourite. It takes a bit of work to record what you did, adjust, taste and repeat. But this small effort can be fun and you'll make these all time favourite recipes for years to come.
We had so much fun I think we might do it again next year. Share your guacamole adventures in the comments below. Did you use tequila?
---
More Recipes - Mexican and Southwestern
Tomatillo Guacamole with Tequila
Tequila in guacamole, yes please! Tomatillos aren't a typical ingredient either because I just can't resist making recipes that are a little out of the ordinary.
Ingredients
6

oz

tomatillos, husked and rinsed

(about 4 large ones)

¼

cup

finely chopped red onion

2

serrano chiles, seeded and finely chopped

(or 3 jalapeno chiles)

½

cup

chopped fresh cilantro

1

teaspoon

salt

½

teaspoon

black pepper

2

large

avocados

1

tablespoon

tequila
Instructions
Preheat broiler and broil tomatillos on a baking sheet turning them until they are charred all over, 7-10 minutes. Alternately, this can be done over the flame of a gas stove using tongs. Set aside to cool.

Combine onion, chiles, cilantro, salt and pepper in a large bowl.

Coarsely chop the tomatillos and add them to the onion mixture mashing everything with a fork.

Pit and peel avocados. Add to the bowl and mash slowly incorporating the other ingredients until guacamole is evenly mixed but still chunky. Add tequila and stir.

Serve with tortilla chips.