I'm calling this my summer garden Harvest Jewelled Salad. This salad intrigued me because of its' unusual combination of vegetables and fresh berries. I also liked the exceptional look of candy cane beets and golden beets. This is the only time of year I can find all of those ingredients and this salad was perfect for my upcoming farm-to-table dinner.
In The Spirit of Farm-To-Table
My friend Kathy lives on an acreage just outside the city with beautiful gardens and a new grain bin transformed into an outdoor dining area. It has never had wheat in it but seemed a little ironic to be inviting my celiac friend to dine in a grain bin. She confirmed that she was comfortable eating with us in this new space.
Kathy has taken to hosting an annual Farm To Table dinner in August for our Gourmet Dinner Club. I would say our idea for this dinner is "in the spirit of farm-to-table". We use olive oil and spices, citrus fruit and any of the imported ingredients we rely on for cooking. None of those items will ever grow anywhere nearby. But we do focus on choosing dishes centered around local ingredients. Simply doing this is an exercise in awareness of where food comes from.
We all arrive early and are invited to harvest anything we need from the garden. While others dug up vegetables I picked a wide variety of greens for this Harvest Jewelled Salad. I brought fresh mint and raspberries from my own garden and easily found the remaining ingredients at a local Farmer's Market.
Harvesting Honey For Salad Dressing
The salad dressing for this recipe has a tablespoon of honey and Kathy's got honey. She has been raising bees for a few years now and I knew some of the guests hadn't yet see the hive. It is always an adventure to see her bee colony and watch the gathering of honey. Here's Kathy pointing out the Queen Bee.
Homemade Salad Dressing
This salad dressing recipe calls for sumac, a dried and powdered fruit used as a spice in Middle Eastern cuisine. I know that sumac trees do grow in North America but I don't know enough about foraging to even investigate if there are any in my area. But like I said, our dinner is "in the spirit" of farm to table. I bought my sumac at a local Middle Eastern grocery store.
The sumac added an interesting lemony flavour to our salad and I was happy to share some with anyone who wanted to try it. If finding a new ingredient doesn't interest you this salad will be equally delicious using a simple Shallot Vinaigrette like this one. I use it on my Salad With Beets, Goat Cheese and Pine Nuts.
SHALLOT VINAIGRETTE
1 small shallot, minced (or onion)
1½ tablespoon balsamic vinegar
¼ cup extra virgin olive oil
½ teaspoon sugar
salt and pepper to taste
Whisk ingredients together in a small bowl or shake in a jar.
PIN for later...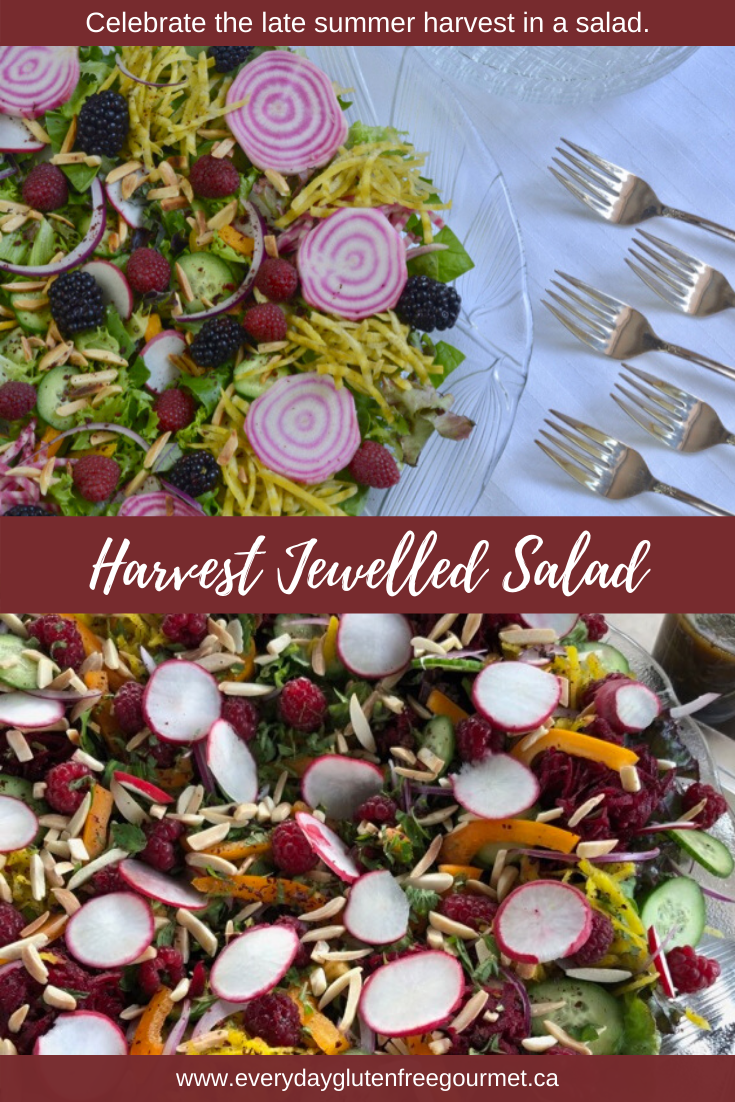 This post contains affiliate links. When you purchase using these links your cost is the same, but I receive a few cents for every dollar spent. I appreciate your support for this website.
Get The Tools
A simple boxed grater is perfect for everyday jobs like grating an apple or shredding cheese. In my first practice round of this salad I hand grated a golden beet and the colour was a beautiful contrast to the salad greens. The taste was also exceptional and I wondered if it was possible that I have never actually eaten raw beets. I'm not sure.
For many jobs it doesn't matter how fine or coarse your vegetables are, it's more of a personal preference about the texture. On the day I was taking this photo I wanted the beets to look especially nice so I used my food processor. When it was done I ended up with perfectly julienned beets, but I wanted coarsely grated ones. When you make this salad I recommend grating the beets on a boxed grater or some similar tool.
I adapted this recipe from Shelley Adams of Nelson, BC who writes the White Water Cooks series of cookbooks. Between the six of us in my Gourmet Dinner Club we own all of their fabulous cookbooks and have shared many of our favourites with each other. This recipe is my adaptation of Susie's Jewelled Salad.
Here are two final shots of our dinner. Let me know in the comments below if you tried this Harvest Jewelled Salad and what you thought.
__________________________________________________________________________________________
New here? Join our community and get your FREE resource, the tips I wish I knew when I started cooking gluten free.
Yes, I need 29 Tips For Cooking with Gluten Free Flour.
Still haven't mastered gluten free cooking? Check out our online Cooking Classes.
---
A Roundup of Summer Salads and A Farm To Table Menu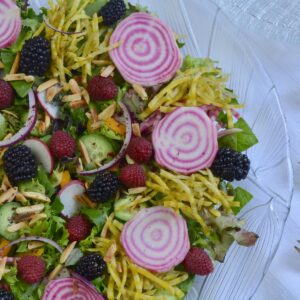 Harvest Jewelled Salad
This is a summer garden Harvest Jewelled Salad for anyone who likes something a little bit different. It has an unusual combination of vegetables and fresh berries with the spice sumac in the dressing.
Ingredients
4

cups

any mixed lettuce combination

2

cups

purple kale (ribs removed) or arugula

2

cups

spinach or a variety of mixed greens from the garden such as red shiso, sorrel, nasturtium leaves

¼

cup

finely sliced red onion

½

red, yellow or orange pepper, thinly sliced

2

mini cucumbers, finely sliced

5

radishes, finely sliced

1

small golden beet, grated raw

2-4

candy cane beets, half grated raw and half thinly sliced for garnish

1

cup

raspberries

1

cup

blackberries
FINISHING
¼

cup

finely chopped mint leaves

⅓

cup

slivered almonds, toasted

1

teaspoon

sumac*
SALAD DRESSING
⅓

cup

olive oil

3

tablespoon

lemon juice

(1 big lemon)

1

tablespoon

gluten free soy sauce

1

tablespoon

honey

½

cup

finely chopped mint leaves

½

teaspoon

sumac*

freshly ground pepper to taste
Instructions
SALAD DRESSING
Combine all ingredients in a jar and shake to combine. Set aside.
GREENS
Mix together all greens, onion, red pepper, cucumber and radishes and arrange on a large platter. If serving immediately you could toss this mixture with some of the dressing.

Going around the outside of the platter alternate the grated and sliced beets.

Arrange berries within the center of the salad.

Sprinkle with chopped mint leaves, almonds and sumac.
ALTERNATE DRESSING
This salad is also delicious with many basic vinaigrette dressings. See Shallot Vinaigrette in the recipe description or experiment as you like.
Notes
*Sumac is a dried spice that can be found at Middle Eastern grocery stores. Once you have it try the recipe for Pomegranate Salad Dressing that is part of my Falafel Bowl.