I love cookies, especially chocolate chip cookies. But some occasions call for something a little more than a cookie and cookie lovers know how to turn simple cookies into dessert. You might think of ice cream sandwiches as a mid-day frozen treat but they are perfect dressed up for dessert after a casual barbecue or any family meal.
This post contains affiliate links. When you purchase using these links your cost is the same, but I receive a few cents for every dollar spent. I appreciate your support for this website.
Assembling Ice Cream Sandwiches
What could be easier than two cookies sandwiched with ice cream? Here are a few tips to make the process simple and give you the results you expected.
Keep your cookies in the freezer and start the assembly with frozen cookies.
Scoop ice cream onto a wax paper lined baking sheet, or right onto a cookie, and spread it around to cover the cookie...OR
Use individually portioned cups of ice cream (they are already the right shape). Using a small

cheese knife

or

small spatula

loosen the round of ice cream out of the portion cup and onto a wax paper lined

baking sheet

. Slice the ice cream in half to give you two disks, each about the size of a cookie.
Working quickly lay an ice cream disk on top of one cookie. Spread it around if needed to completely cover the cookie. Top it with the second cookie and put it back in the freezer.
After assembling all the ice cream sandwiches wrap them or cover the container and put them back in the freezer for at least four hours.
Get The Tools
You hardly need tools to make an ice cream sandwich but there is always some little kitchen tool that makes a job easier.
Ice Cream Scoops - An obvious tool for ice cream desserts and a million other jobs in the kitchen. I have three sizes and use them all.
Cheese Knives - I have a few sets of tiny spreading knives sometimes called pate knives or cheese knives. These little spreaders are always a nice gift and can easily be found in kitchen stores and online:
I keep a small cup (like an Asian tea cup) of these tiny knives and another with espresso spoons for all sorts of little jobs. It encourages the single use habit and awareness of cross contamination.
Everyday to Gourmet - Ice Cream Sandwiches
To go 'gourmet' decorate your cookie ice cream sandwiches any way you like. Kids love to express their creativity so plan to do the decorating right after dinner. Here are a few ideas:
Roll the sides in colourful sprinkles, shaved chocolate, chopped nuts or crushed candies.
Drizzle melted chocolate over the top or dip the whole sandwich half way into melted chocolate. Let harden before serving.
Serve ice cream sandwiches on a

pedestal tray

with candles or sparklers for a fun birthday dessert.
Serve in a bowl like a sundae - drizzle with hot fudge,

caramel sauce

,

strawberry sauce

or

raspberry sauce

. Top with dollop of whipped cream and a cherry.
Yes, The Cookie Matters
Of course the cookie matters. Do you have a favourite chocolate chip cookie recipe yet? Below is a list of recipes to choose from so find a favourite recipe that works in your kitchen and stick with it. Chocolate chip cookies are a classic but use any favourite cookie.
If you haven't quite mastered making gluten free cookies here is a blogpost and a podcast interview all about cookies.
The Blog Post - Tips for Making Gluten Free Cookies
The Podcast - On A Canadian Celiac Podcast episode 43 Sue Jennett interviews me about my blog post Tip For Making Gluten Free Cookies. If you're not listening to podcasts yet give it a try. Like a modern version of radio, you can listen to what you want when you want. It's a great way to stay up to date on all things gluten free.
Let me know in the comments below how you served your chocolate chip cookie ice cream sandwiches and what cookie recipe you used.
---
More Chocolate Chip Cookie Recipes
Chocolate Chip Cookies made with my EGFG gluten free flour blend
These ones include teff - Chocolate Chip Cookies with Teff Flour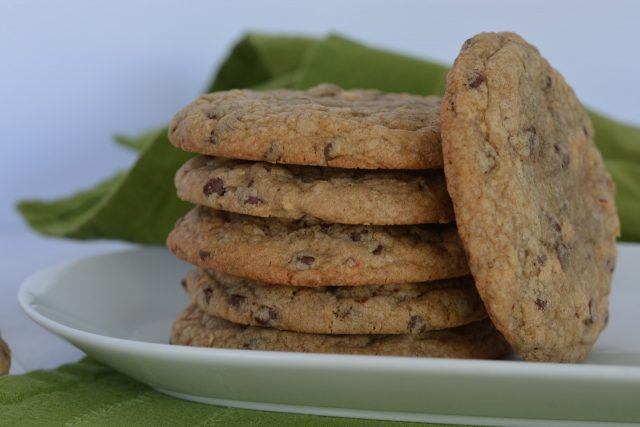 Chocolate Chip Cookie Pizza is a fun dessert but the recipe, that uses just quinoa flour, can be used to make individual cookies too.
I cut these Cappuccino Cookies into diamond shapes for a dainty treat over the holidays. For a cappuccino version of an ice cream sandwich I would cut them into larger squares or just add the flavouring to any chocolate chip cookie recipe.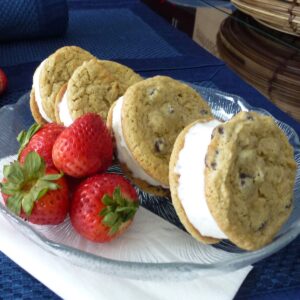 Chocolate Chip Cookie Ice Cream Sandwiches
Some occasions call for something a little more than a cookie and cookie lovers know how to turn simple cookies into ice cream sandwiches.
Ingredients
12

chocolate chip cookies*

(a sort-of-soft cookie works the best)

6

individual portion sized gluten free vanilla ice cream cups
GARNISH
colourful sprinkles, mini chocolate chips, chopped nuts or crushed candy
Instructions
Line baking sheet with waxed paper. Remove cookies from the freezer.

Remove 1 ice cream cup from the freezer. Using a small spreader knock the round of ice cream out of the portion cup onto the tray. Using a table knife slice the ice cream in half to make two disks. Place each disk on top of a cookie.

Top ice cream with another cookie. Immediately place both ice cream sandwiches in the freezer. Repeat until all 6 sandwiches are made.

The ice cream sandwiches can be individually wrapped in wax paper held together with an elastic band. Alternately store in an airtight container. Freeze for 4 hours or overnight.

Serve straight from the freezer or place in the fridge to soften slightly for 15-30 minutes before serving.

The sides of the ice cream sandwiches can be garnished with sprinkles after assembly or right when served.
Notes
*Any of these cookies work well: