If you're wondering what to use for good gluten free stuffing try a cornbread stuffing. There are a few steps but my Cornbread Chorizo Stuffing is worth it! Showcasing the flavours of the American southwest with spicy chorizo sausage, peppers and cilantro it's simply amazing.
On my plate I top my stuffing with ancho chile gravy and I wouldn't even notice if the turkey was missing!
Stuffing vs Dressing
The debate will never end but generally if you fill the cavity of your turkey with the mixture it is most often referred to as stuffing. This makes sense to me since it is stuffed into the bird. The additional casserole dish cooked on the side is called dressing. However, geography seems to play an important part in the name as well. In the south people are more likely to call it dressing, as you go north more people refer to it as stuffing. In my extended family no one cares what you call it, as long as there's plenty to go around.
To Stuff or Not To Stuff
For families who must have old fashioned stuffing made with wheat bread cooking it on the side ensures the turkey is safe for everyone including gluten free eaters. Surely this is a compromise you can convince family members to do for your safety.
If your stuffing is gluten free, like this cornbread stuffing, then there's no right or wrong. Stuffing cooked inside the bird will be nice and moist but it takes longer to cook the turkey. If you pack your mixture into a casserole dish, and cook it in the oven separately, it won't be as moist and some people prefer that.
I do both, stuff my turkey and cook an extra casserole dish on the side.
PIN for later...
Organize For Success
There's no doubt that cooking a turkey is a big job so organization is key. I make cornbread stuffing from scratch so it takes time but using my tried-and-true cornbread recipe makes it seem easy. I'm not wondering what pan to use or hoping the recipe will turn out. I know it works in my kitchen.
Once the cooked cornbread cools slightly I take it out of the pans to cool completely. I eat some while it's still warm then cut up the 12 cups of cornbread cubes I need for the recipe. I crisp the cubes in the oven then it can be set aside for the final mixing.
This can all be done the day before your turkey dinner or even one to two weeks in advance and frozen.
The final step is to make the sausage mixture, combine everything and put it in the fridge overnight. I'm never sure how much will fit into the turkey so I don't fill the casserole dish until I'm stuffing the bird.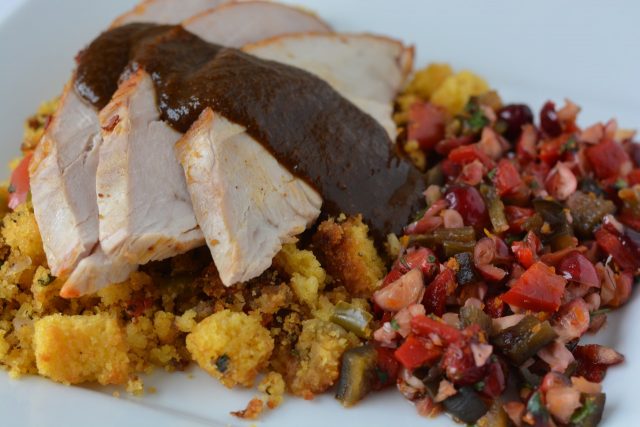 How To Make Stuffing Balls
I don't always make stuffing balls but if you've got some help everyone loves them. I once overheard someone say her family loves stuffing balls and that intrigued me. No one really needs a reason to eat more stuffing but here it is. I simply made a few tweaks to this recipe and turned them into Cornbread Sausage Stuffing Balls.
You can check out that post for the exact recipe but basically I added an egg to hold them together, used a portion scoop to make the balls all the same size and baked them in the oven. Served with cranberry sauce and gravy they're amazing. Who knew there was another way to eat stuffing!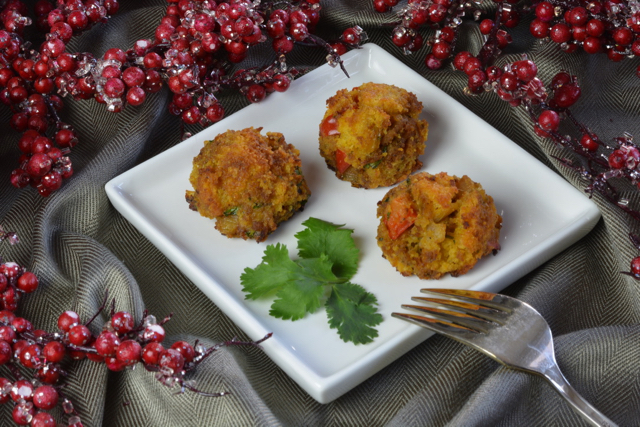 Get The Tools
The morning I'm cooking my big bird I fill it with as much stuffing as it will hold then transfer the rest into a casserole dish. For big meals it's worth owning a few BIG dishes and you'll find other uses for them. Here are some tools for cooking stuffing and making stuffing balls.
KITCHEN TIP - Write yourself a note! With so many things going on at a big dinner it's easy to miss something, like getting the extra casserole dish of stuffing in the oven on time. I only forgot it once and now I write myself a note. Make it big and put it in an obvious spot.
Let me know in the comments below your family stories about stuffing or dressing.
Originally published October 2015, updated December 2020
__________________________________________________________________________________________
New here? Join our community and get your FREE resource, the tips I wish I knew when I started cooking gluten free.
Yes, I need 29 Tips For Cooking with Gluten Free Flour.
Still haven't mastered gluten free cooking? Check out our online Cooking Classes.
More Recipes and Help with Gluten Free Gravy
Cornbread Chorizo Stuffing
In this recipe description I outline how to make sausage stuffing from scratch. Organize for success and enjoy Cornbread Chorizo Stuffing.
Ingredients
12

cups

cubed cornbread

(I double my cornbread recipe, link in notes)

1

lb

chorizo sausage, casing removed

2

large onion, chopped

2

red peppers, chopped

1

fresh Anaheim chile, chopped

¼

cup

chopped cilantro

1½

teaspoon

dried oregano

⅔

cup

gluten free chicken stock
Instructions
Cut cooked cornbread into ½ inch cubes and spread in a single layer on 2 baking sheets. Bake in preheated oven for 15 minutes. Cool. Put into a very large bowl.

Cook the chorizo in a large skillet over medium-high heat until brown, breaking the sausage meat into pieces while stirring, about 10 minutes. Remove from the pan. Cut with a knife if you prefer smaller pieces. Add to cornbread.

Put onion, red pepper and Anaheim chile in the same pan and sauté until tender, about 15 minutes. Add to cornbread along with the cilantro and oregano.

Pour chicken stock on cornbread mixture and stir until evenly combined. Reserve some to stuff the bird and put remaining into a greased casserole dish. Stuffing can be prepared to this point one day in advance and refrigerated.

Stuff the turkey, including the neck cavity, then cook according to directions for the turkey, in a preheated 325°F oven.

Spoon stuffing out of the turkey and into a serving dish. Cover with foil until ready to serve.

Cook stuffing casserole in the oven for 1 hour. This can be during the last 30 minutes of the turkey cooking time and the 30 minutes while the turkey is resting. Serve hot with Ancho Chile Gravy.
Notes
Click here for my basic cornbread recipe. A double recipe makes a little more than the 12 cups you'll need for the stuffing.