These gluten-free dairy free cappuccino brownies were my first adventure into dairy free baking. I'm always up for a challenge in the kitchen but I had a lot to learn. If this is new to you keep reading and I'll share what I needed to know before I even got into the kitchen.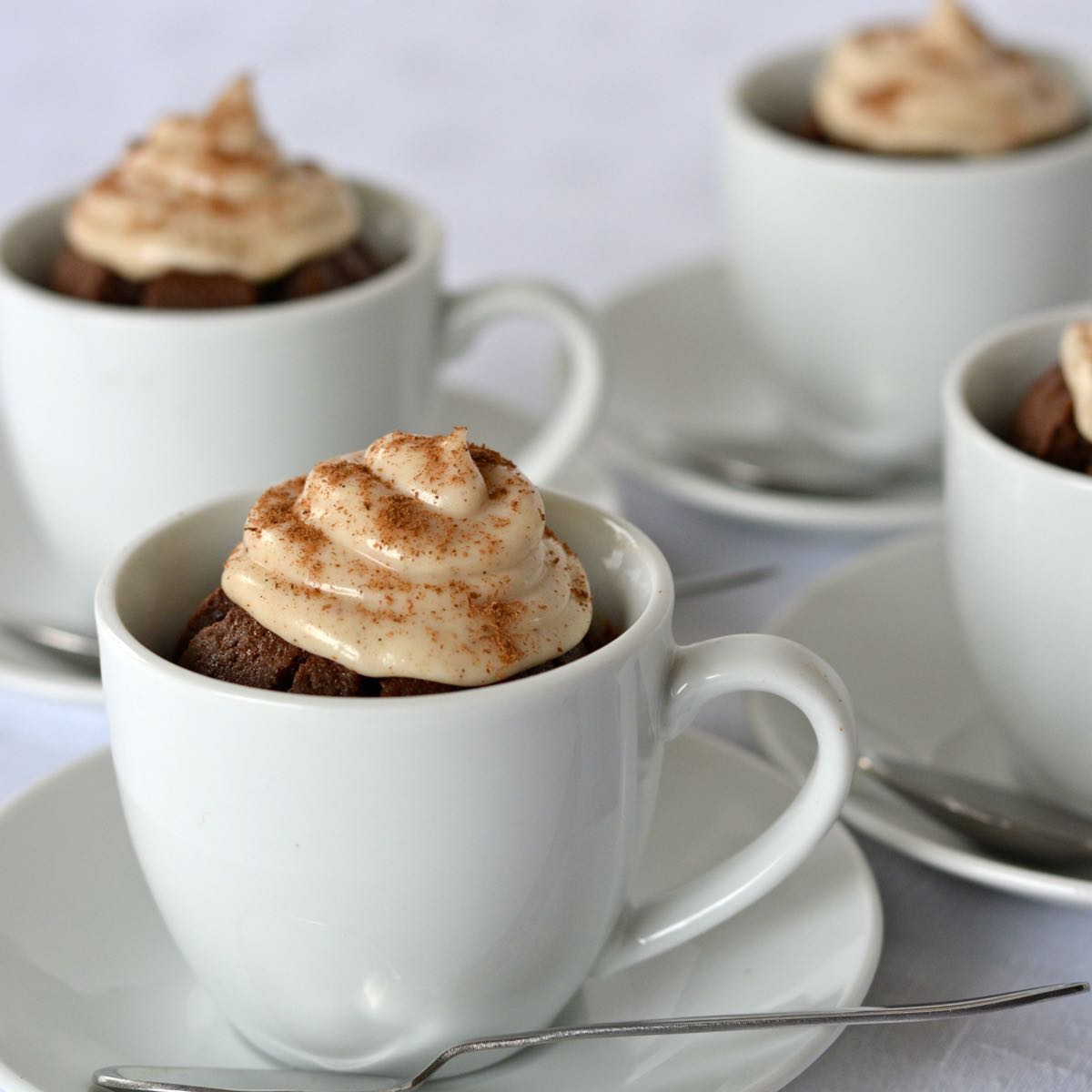 Dairy proteins cause difficulty for as many as 50% of people with celiac disease so it's smart to learn a little bit about dairy free (DF) cooking. Below are the notes I made for participants at my first dairy free cooking class.
From Everyday to Gourmet
My sister gave me these little espresso cups and I wanted to try baking something in them. I used a few different baking pans I had like the mini loaf pans and ramekins. Inspired by my Layered Cappuccino Brownies I used a tried-and-true recipe and created a unique presentation. I love doing this!
It seemed fitting to serve a cappuccino brownie in an espresso cup but I had to make a few more changes to my layered brownie recipe. For the cream cheese topping rather than making a second layer I simply whipped the dairy free cream cheese with cinnamon and piped it on top to look like the foam of a cappuccino. If you actually know how to do that I would LOVE to see a picture.
Rather than a layer of melted chocolate I simply grated dairy free dark chocolate on top, just like you might do on a cappuccino.
As small as the cups are this was a generous portion for dessert so make sure you're hungry when you serve these beautiful gluten-free dairy-free cappuccino brownies in a cup.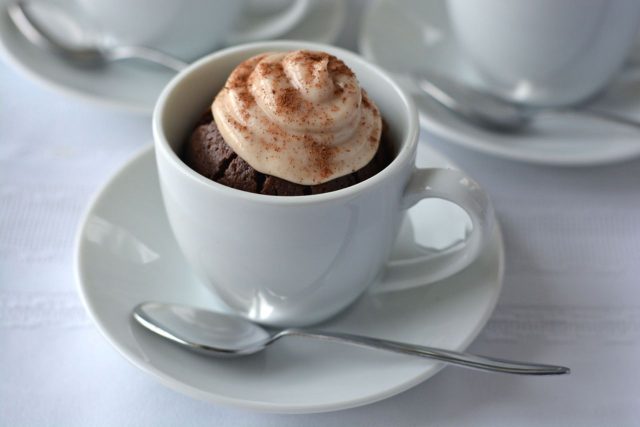 Introduction to Dairy Free Baking
Dairy Free Baking
Dairy includes milk, cheese, yogurt, butter and other products from cows, goats and sheep so must be avoided.
These products all come from animals. A vegan diet is free from animal products so if you see packaging that says vegan it will be dairy free.
Eggs are not a dairy product so can be used in dairy free baking.
Health food stores often have a better selection of dairy free products than grocery stores.
Butter Substitutes
Coconut oil, vegetable oil, shortening and margarine can all be substituted for butter.
Becel, Earth Balance, Spectrum Organics and Melt are brands that are both gluten free and dairy free.
You may need to add 2 tablespoon of water to each 1 cup of vegetable shortening when substituting for butter in baking.
½ cup oil plus ½ cup fruit puree can be used in place of 1 cup of butter.
¾ cup vegetable oil can be substituted for 1 cup of butter.
Non-Dairy Milk Substitutes
Almond milk, rice milk, soy milk, coconut milk and others are available at grocery stores and health food stores.
Large sizes are usually found near the milk section, smaller sizes are available with canned milk and other non-refrigerated milk products.
Dairy Free Chocolate
Baking chocolate and chocolate chips often contain milk.
Enjoy Life and Cuisine Camino are brands that are dairy free and gluten free.
In recipes calling for unsweetened chocolate you may need to adjust the amount of sugar called for if your dairy free chocolate has added sugar.
I'd love to hear in the comments below if you tried baking your brownies in something seasonal or unusual.
__________________________________________________________________________
New here? Join our community and get your FREE resource, the tips I wish I knew when I started cooking gluten free.
Yes, I need 29 Tips For Cooking with Gluten Free Flour.
Still haven't mastered gluten free cooking? Check out our online Cooking Classes.
_________________________________________________________________________
More Gluten Free Brownies Recipes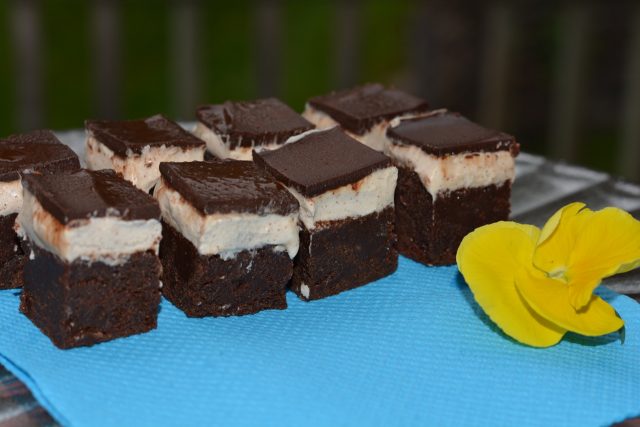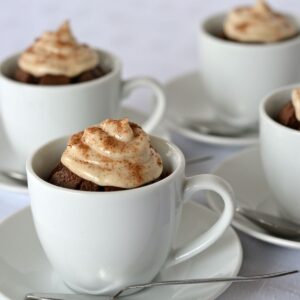 Gluten-Free Dairy-Free Cappuccino Brownies
Have fun baking brownies in different shapes; mini loaf pans, ramekins, bundtlet pans or cute little espresso cups. I love creating simple and fun presentations for brownies!
Ingredients
BROWNIE
4

oz

dairy free chocolate baking pieces

(chocolate chips)

¾

cup

dairy free margarine

1

cup

sugar

1

teaspoon

instant coffee granules,

lightly crushed in your hand

2

eggs

2

teaspoon

vanilla extract

1¼

cups

EGFG gluten free flour blend*

(163 g)

¼

cup

dairy free milk
DAIRY FREE CREAM CHEESE TOPPING
8

oz

dairy free cream cheese, room temperature

6

tablespoon

margarine, room temperature

1½

cups

icing sugar

1

teaspoon

vanilla extract

1

teaspoon

cinnamon
GARNISH** – grated dairy free chocolate and cinnamon
Instructions
BROWNIE LAYER
Preheat oven to 350°F and lightly grease baking pans (any size you like).

Put chocolate in a small bowl and microwave on high for 1 minute. Stir and heat for another 30 seconds if needed. Stir vigorously until almost smooth.

Add margarine to chocolate and microwave 30 seconds at a time, stirring until smooth. Watch closely so it doesn't burn.

Add sugar, stir and set aside.

In large bowl of an electric mixer beat eggs and vanilla. Add chocolate mixture and stir.

Add flour and dairy free milk, stir until combined.

Divide batter into espresso cups, mini loaf pans, muffin tins or an 8-inch square baking pan. Baking time will vary depending on the pans you choose.

Bake 20-25 minutes depending on the depth of the pan.

Let brownies cool completely before adding cappuccino topping.
CAPPUCCINO TOPPING
In electric mixer beat dairy free cream cheese and margarine until smooth.

Slowly add icing sugar, vanilla and cinnamon.

Transfer to piping bag. Pipe onto brownie in a way that looks like the cappuccino you would get in a cup. If you make a real cappuccino pattern on top you MUST tag me with your photo on Instagram. @everyday.gf.gourmet

Sprinkle with grated chocolate and an extra dash of cinnamon for the full effect.
Notes
*My EGFG flour blend: 300g sweet rice flour, 300g potato starch, 200g sorghum flour, 200g millet flour (makes ~8 cups)
**Add seasonal decorations for new creations year round.
This recipe can be made with regular dairy products if you are not baking dairy free.