If Saturday morning pancakes is a family tradition you can still keep that going. Have a gluten free pancake tasting to find a new family favourite.
People generally like to be included and feel normal (although some would say normal is highly overrated). Food allergies, intolerances and celiac disease challenge that. The easy way out is to do nothing, exclude yourself from these family traditions and just eat somewhere else or something else. Whether it's you or your child I encourage you to think about making an inclusive environment. Make finding new family favourites part of the tradition.
This post contains affiliate links. When you purchase using these links your cost is the same, but I receive a few cents for every dollar spent. I appreciate your support for this website.
The Best Gluten Free Pancake Recipe
With so many gluten free recipes available eating gluten free is no longer mediocre. Homemade gluten free food can be every bit as good as gluten containing foods. With all the challenges of eating in public, eating in someone else's home and eating food on the go, you do not need to add challenges at home. Finding that new favourite recipe is definitely possible and I'd say, worth the effort.
These yogurt pancakes are just one recipe. They may not be the best pancakes you've ever tasted but it's a good place to start. As you learn you can alter this recipe using different gluten free flours or mixes. If you're not happy with the flour mix you tried follow my year-long blog post series on How to Use different gluten free flours including How To Use A Gluten Free Flour Blend to improve your results. I use my homemade flour combination that I now call my EGFG gluten free flour blend.
A Saturday Morning Pancake Tasting
When someone goes on a gluten free diet you suddenly put a lot of thought into every recipe. Do you like your pancakes thin or fluffy? What flavouring do you like; the earthy hint of buckwheat flour or a burst of citrus from orange zest? Stacked high or spread out on the plate? How about fruit inside your pancakes or added on top? Served with bacon or sausages, or maybe pigs in a blanket. There is no end to the possibilities.
PIN for later...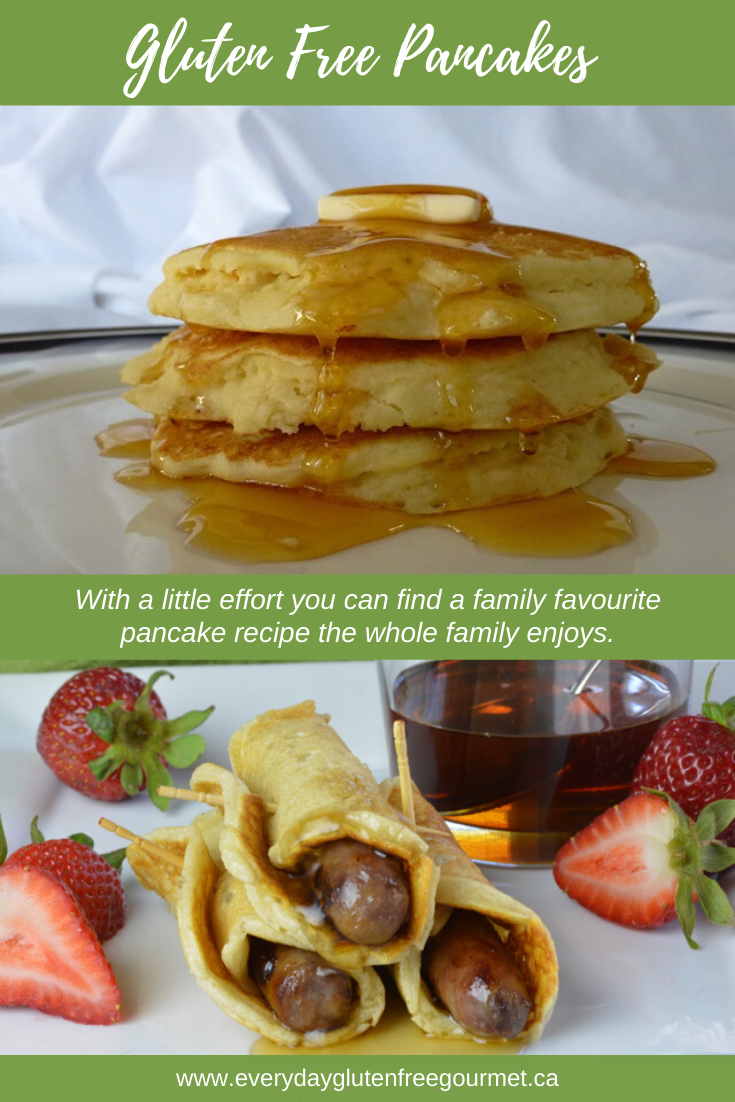 What about the toppings, is it maple syrup or corn syrup? Some would say whipped cream every time. In our house maple syrup is the favourite. For a photo to drool over the corn syrup wins hands down.
So many variations to try so plug in that pancake griddle and start cooking. Have a pancake tasting every Saturday for a month if you want. Compare two recipes side by side or just one at a time. You might pick a winner or you may just work your way around the world trying all the different ways people make pancakes.
Breakfast For Dinner
Although I wouldn't be the person choosing to make pancakes for dinner I know lots of people who like to do this. It reminds me of Opposite Day, an idea young kids use when they do things that challenge the norm. It can be frustrating or fun. Breakfast for Dinner is a fun Opposite Day idea.
When my son was a teenager the high school drama students would get together and make dinner, always Breakfast For Dinner. They had a lot of fun making those meals and needed no input from adults.
In the comments below let me know if you learned a thing or two about pancakes, or if you suggested your teenagers host a gluten free version of Breakfast For Dinner with friends.
---
More Breakfast Recipes
Yogurt Pancakes
If Saturday morning pancakes is a family tradition you can still keep that going. Have a gluten free pancake tasting to find a new favourite.
Ingredients
WET INGREDIENTS
4

eggs

1

cup

yogurt

⅓

cup

water
DRY INGREDIENTS
9

tablespoon

white rice flour*

(½ cup + 1 Tbsp)

1

tablespoon

potato starch*

¾

teaspoon

baking soda

pinch of salt
Instructions
Preheat pancake griddle to 350°F.
WET
Mix eggs in large bowl then add yogurt and water. Mix well. Set aside.
DRY
In a separate bowl combine rice flour, potato starch flour, baking soda and salt.

Add dry mixture to wet ingredients and beat until smooth.

Ladle batter onto lightly greased, heated non-stick griddle. Turn when puffed up and bubbles appear in the center. Cook until brown.

Serve hot with butter and syrup.
Notes
*Substitute rice flour and potato starch with ½ cup plus 2 tablespoon of your favourite gluten free flour blend.