Southwestern Quinoa Salad should be on your rotating list of healthy, high fibre salads to make year round. Although quinoa is technically a seed, it's classified as a whole grain and it's often referred to as a super food. If you've never tried it or don't regularly cook something with quinoa, buy some and give it a try.
This recipe features the classic southwestern combination of black beans, corn and cilantro with a little heat from jalapeño peppers or chipotle chiles. I love all these flavours so I make many recipes featuring them from quesadillas to grilled vegetables to pasta. And many different salads too.
Buying and Cooking Quinoa
Quinoa is available in red, black, white or golden colours and all varieties cook the same so can be used interchangeably. In the major grocery stores where I live I can now buy certified gluten free quinoa, grown in Canada.
Recipes and package directions for cooking quinoa vary so much that I just quit reading them. I cook quinoa like I cook rice;
put it in water (1 part quinoa, 2 parts water),
bring the water (or stock) to a boil,
cover and simmer 12-15 minutes for quinoa (20 minutes for rice).
Some recipes say let the cooked quinoa rest for five minutes with the lid on, some don't. I'm not that fussy since I've never been able to tell the difference when I do it and when I don't. Just figure out the time that works for you and stick with it.
PIN Southwestern Quinoa Salad for later...
This post contains affiliate links. When you purchase using these links your cost is the same, but I receive a few cents for every dollar spent. I appreciate your support for this website.
Cook Once, Eat Twice
Cook Once, Eat Twice is a strategy that can be implemented into your cooking in many different ways. The idea is to plan to serve it twice, the trick is to not make it look like sad leftovers.
What I love about salads like this is that they keep for a week. That means I can take them in my lunch, make them into a healthy bowl or light summer meal, or just serve it as a side dish. Here are three different ways I serve this salad to make the meal different.
Serve slices of Marinated Flank Steak over this quinoa salad for a summer meal.
Top your salad with half an avocado and a generous squeeze of Chipotle Mayo for a filling lunch.
Make quesadillas and serve this Southwestern Quinoa Salad as the side dish.
If you're cooking for one then pack some into a container as soon as you make it and give it to a friend who will be thrilled to receive it.
Organize For Success - The Pantry
To cook the foods you enjoy you need to balance keeping enough options that you have lots of variety, but not too much fresh produce that you have lots of food waste.
For this recipe the quinoa and canned black beans are staples in my cupboard, bottled lime juice in the fridge and corn is my freezer. I almost always have fresh red pepper too.
Cilantro is the only thing I must have fresh for this salad. I have a love-hate relationship with cilantro; can't live without it, can't live without it. I frequently keep it too long that it starts to go black yet the next day I'm running to the store to buy it again. Zero food waste is something I'm always working on.
My best tip for dealing with fresh herbs is to plant them in the garden. This way I have herbs available for the months of the year they grow. The rest of the year is a work in progress.
Chile Know How for Southwestern Quinoa Salad
I love chiles and use several kinds in different recipes. In this recipe it's either jalapeños or canned chipotle chiles (which are smoked jalapeños is adobo sauce).
Here are three ways I store and use jalapeños.
Buy fresh jalapeño peppers and freeze them whole, or halved and seeded. Either way you can slice or grate them from frozen into many dishes.
Another idea is to buy pickled, sliced jalapeños in a jar or small tin. Transfer to a Mason jar if needed, they'll keep for months and can be rinsed before using if you don't want the pickled taste.
Substitute chipotle chiles for jalapeños in any recipe. To learn how I use both of them check out my post, Chipotle Chiles in Adobo Sauce vs Chipotle Powder. The ones in adobo sauce are the chiles you need to make chipotle mayo.
I'd love to hear in the comments below if you made this Southwestern Quinoa Salad and what you thought.
Originally posted in 2015, updated April 2022.
---
More Recipes for Quinoa and Chipotle Chiles
Click the text to go to the recipe/blog post.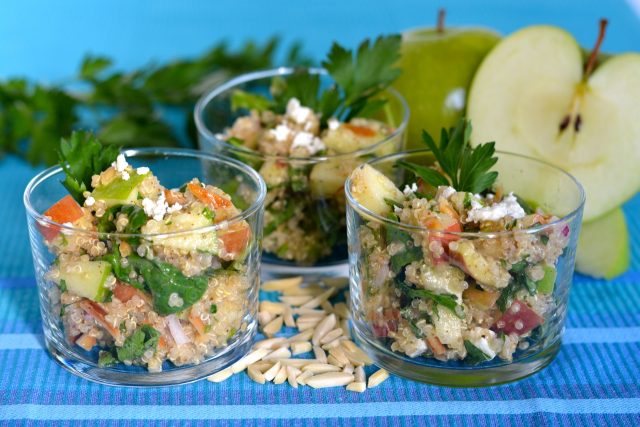 Southwestern Quinoa Salad
This healthy, high fibre quinoa salad has the classic southwestern combination of black beans, corn and cilantro. If you have homemade chipotle mayo in the fridge, a little squeeze on top makes it even better!
Ingredients
DRESSING
⅓

cup

olive oil

⅓

cup

lime juice

4

teaspoon

apple cider vinegar

2½

teaspoon

cumin

1

teaspoon

minced jalapeño

(or ½ teaspoon chipotle chile puree)
SALAD
3

cups

cooked quinoa

(1 cup uncooked quinoa)

1¼

cups

frozen corn kernels, thawed

1

cup

diced red bell pepper

1

can

black beans, drained and rinsed

(19oz / 540ml)

⅓

cup

chopped cilantro

salt to taste
Instructions
MAKE SALAD DRESSING
In a small bowl whisk together the oil, lime juice, apple cider vinegar, cumin and jalapeño or pureed chipotle chiles.
MAKE SALAD
In a large bowl, combine corn, red pepper, black beans and cilantro. Season to taste with salt.

Pour dressing over salad and mix to combine. Taste again and salt if needed.

Serve immediately or cover and refrigerate in a sealed container. Keeps up to 4 days.
Notes
Cooking quinoa - Combine 1 cup quinoa and 2 cups water in pot, bring to a boil over medium-high heat. Decrease heat and simmer, covered, on low for 15 minutes.
If you like sauce as much as I do, this homemade chipotle mayo is amazing on this salad.
Turn this salad into a main course or lunch by adding leftover slices of Grilled Flank Steak and or grilled or roasted vegetables.
For more recipes and ways to use chipotles read this blog post; Chipotle Chiles in Adobo Sauce vs Chipotle Chile Powder.