Late summer is the best time of year to create a Farm To Table menu. The basic idea is to cook food that comes from farms, not factories. #Eatlocal is the hashtag.
The menu I'm sharing here is a combination of some of my favourite late summer dishes. Consider it a starting point to create your Farm To Table menu or chose one dish and let your friends chose their own. Some of those menus can become favourites.
Eat Local, Visit a Farmer's Market
It seems impossible but year after year there are more and more choices for food. More processed food and more fresh food. It comes from local farms and it's also flown from half way around the world.
You've got all year to support local, national and international companies that supply the safe, gluten free packaged food we want and need. You definitely should support them.
Farm to table is to bypass the ingredients from far away and enjoy the bounty of the harvest from local gardens and markets.
When I make the effort to visit a Farmer's Market I'm often surprised to find interesting ingredients. Lesser know varieties of vegetables like candy cane beets, purple beans or carrots, every kind of potato, beautiful edible flowers and so much more.
Dinner Club Stories
At one of our annual Farm To Table dinner club nights I made this Harvest Jewelled Salad to show off candy cane beets. A vegetable you don't see at the grocery store everyday!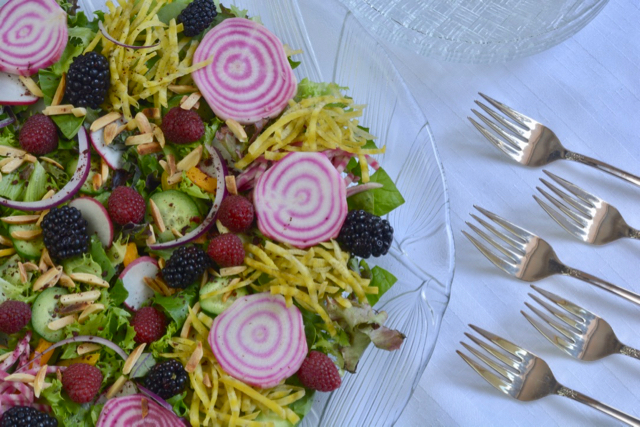 What I didn't know is that I would also get fresh honey! What does that even mean you ask?
I simply asked for a tablespoon of honey and it came with a Bee Keeping 101 lesson from my friend Kathy. She's pointing to the Queen bee and that's my head peaking a little closer to confirm I could definitely tell.
You can read more about that amazing Dinner Club evening in the post for the Harvest Jewelled Salad.
In The Spirit of Farm To Table
Make rules if you're up for the challenge (remember the 100 mile diet) or host your dinner in the spirit of farm-to-table. Serve real food, without labels if you can. In my Dinner Club hearing about everyone's shopping adventures is always a fun part of the evening.
What I mean by in-the-spirit is to simply do the best you can. In this menu you'll see an orange in my sangria photo. Citrus fruit is in season from December to March and although I wouldn't usually buy oranges in the summer, I did.
But, I also read the fruit label (with the tiniest print ever!) to learn that my orange was flown all the way from South Africa. So, in the spirit of farm to table I focused on as much local produce as I could, used local berries, raspberries I picked from my garden and gave in on that orange.
UPDATE: I'm happy to report that I made that sangria recipe last week without an orange and we all enjoyed it just as much. The classic orange flavour comes through from the liqueur so you can skip that orange if you want.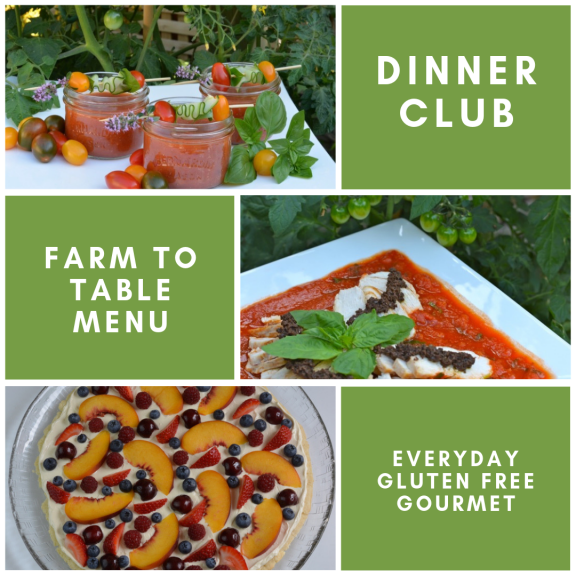 This post contains affiliate links. When you purchase using these links your cost is the same, but I receive a few cents for every dollar spent. I appreciate your support for this website.
Starting a Gluten Free Dinner Club
Dinner Club is a perfect way for people living on a restricted diet to come together and share their experiences while enjoying a meal. If you want to be part of a Dinner Club share the idea with friends.
Why not discuss the idea over a potluck Farm To Table dinner right away.
With no pressure of committing to a regular schedule just brainstorm the idea. Check out my post, How To Start a Dinner Club for some ideas.
Make The Presentation Count
Every kitchen needs tools to cook and serving dishes to serve. To minimize the amount of dishes I buy, I have collected a nice selection of clear glass and plain white platters and trays.
For my Gazpacho I chose Mason jars for a casual presentation to match the barefoot farm to table dinner I took it too. I added the cucumber ribbon on a skewer with garden tomatoes and fresh thyme for a gourmet touch.
Gluten free cooks know that reusable grilling sheets are ideal to prevent cross contact when cooking on someone else's' barbecue. To make my Summer Fruit Pizza I used a 12-inch tart pan with removable bottom and you can read all about how to do that in the recipe description for the Fruit Pizza.
So here is a Farm To Table menu I put together for you. No matter whether your meal is simple or elaborate, I hope you have an interesting discussion about where your food came from.
I'd love to hear anything from your dinner conversation in the comments below.
---
A Farm To Table Menu
Prosecco Berry Sangria and Farm-to-Table Gazpacho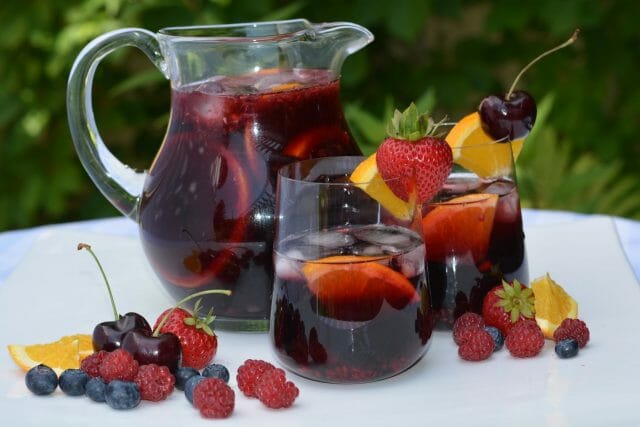 ***
Warm Spinach Basil Salad with Pancetta and Pine Nuts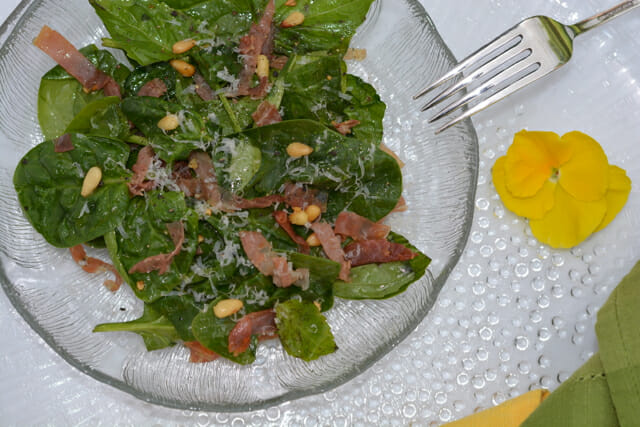 ***
Chicken with Tapenade and Tomato Basil Sauce
Grilled Vegetable Stacks or Garden Green Beans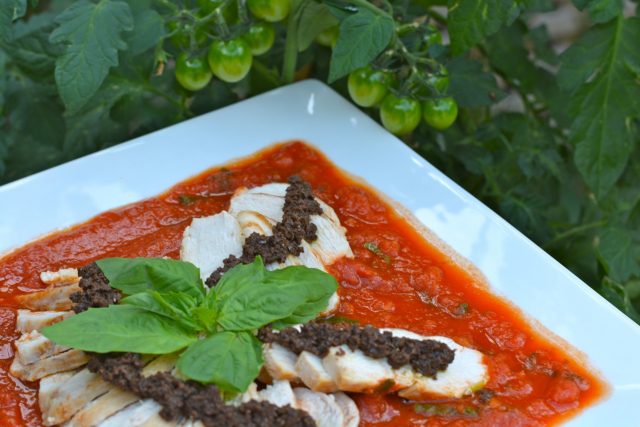 ***
---
More Dinner Club Menus
If you love Mason Jars like I do check out this post; Organize for Success with Mason Jars.