Mexican Pork Carnitas are Mexico's version of pulled pork. Perfectly seasoned pork that is folded into or piled onto corn tortillas and topped with chopped white onion, fresh cilantro and lime wedges.
Whether it's Friday night with the family or you're getting together with friends make these pork carnitas the star of your next Kitchen Party! Turn up the music and give everyone a job.
In my kitchen one person would be making these homemade corn tortillas.
Mexican Coca-Cola vs North American Coke
Carnitas simply means 'little meats' and there are as many ways to season the pork as there are cooks. Some insist the meat be seasoned with nothing but oranges and milk, while others include spices and real Mexican Coca-Cola.
The Coke sold in Mexico is made from cane sugar instead of corn syrup so has a slightly different taste. I've never tasted them side by side but I have heard this before.
If I could get my hands on a bottle of Coca-Cola from Mexico I'd definitely use it. Since that is not likely to happen I make my carnitas with regular Coke and it's perfect for my everyday palate and style of cooking.
Tips for Pulling Pork
The secret to pulling pork is to pull it when the meat is warm. This just means using two forks to pull the meat apart and in ten seconds you'll know exactly what that means.
I hate to admit how many times I've cooked the meat overnight in the slow cooker but didn't time it right and it was room temperature by the time I was ready to pull it. Don't do that.
Pulling pork is a tedious job. Depending on how finely you want the pork separated it will take more or less time. Of course you get to sample the meat during the process so designate this job to the person most likely to enjoy it!
If I was having a Kitchen Party I'd time the meat to come out of the oven no more than an hour before guests are supposed to arrive. I know exactly what hungry carnivores would be happy to grab a few forks and dig into that pan and pull the pork.
If you prefer to have all the prep done in advance you can pull the pork a few days in advance and refrigerate it. I still want the aroma of that succulent pork to fill the house while we're getting ready to eat so I reheat it slowly in the oven or a crock pot.
Soft Pulled Pork or Crispy Pork
Some cooks like their pulled pork soft and juicy while others insist it be cooked again to brown the meat. These people are going for crispy pork with caramelized bits of deliciousness.
We've tried this recipe both ways but the crispy pork adds another step. I typically serve soft pork for the first meal. When I'm reheating leftover do that step in a frying pan for the crispy version. This seems like a win-win for me.
PIN for later...
Toppings for Pork Carnitas
Of course you should serve the toppings you love but to experience exciting new flavours you've got to be willing to try something different.
Some sources say Pork Carnitas must be topped with chopped white onion and fresh cilantro, so be sure to try that. I always make small tortillas, sometimes called street tacos, so we can eat more and experiment with different topping combinations on each taco.
Here are some topping suggestions:
Diced avocado or avocado crema (AKA Avo Crema)
Homemade chipotle mayo: I consider this divine intervention when there just happens to be a squeeze bottle of this in my fridge when I'm making this recipe.
Diced tomato or prepared salsa: Check your pantry in case you got a jar of homemade salsa from a friend for Christmas.
Minced white onion
Lime wedges
Chopped cilantro
Tomatillo Guacamole with Tequila because every Mexican party needs tequila.
Homemade Corn Tortillas
Of course you can buy gluten free tortillas but sometimes homemade is where it's at!
We love the unique aroma and taste of masa harina but it this ingredient it new to you check out this post, How To Use Corn Flour, Cornmeal and Masa Harina.
Authentic corn tortillas are made with masa harina, water and an inexpensive tortilla press. If you don't have a press you can flattened the balls with your hands or a rolling pin.
Once you've made your own tortillas, at least three time, it actually becomes easier. Here are pictures of the steps or check out this post, How to make Corn Tortillas for more on my step-by-step process.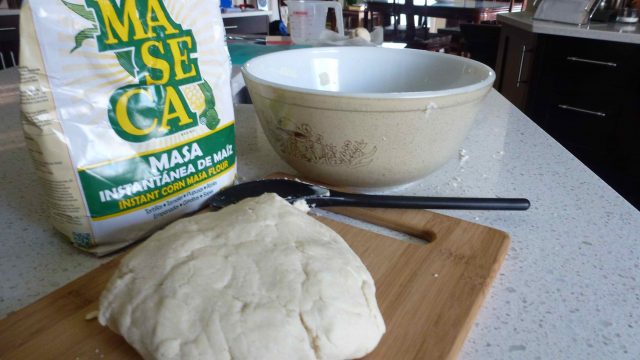 I like to have someone making tortillas while someone else assembles all toppings but if you've got keeners in the crowd make sure everyone gets to try.
Let me know in the comments below if you had a Kitchen Party with Pork Carnitas or you're planning one.
Originally posted 2019, updated January 2023.
---
__________________________________________________________________________
New here? Join our community and get your FREE resource, the tips I wish I knew when I started cooking gluten free.
Yes, I need 29 Tips For Cooking with Gluten Free Flour.
Still haven't mastered gluten free cooking? Check out our online Cooking Classes.
_________________________________________________________________________
More Mexican Flavours
Click on the text in the photo to go to the recipe.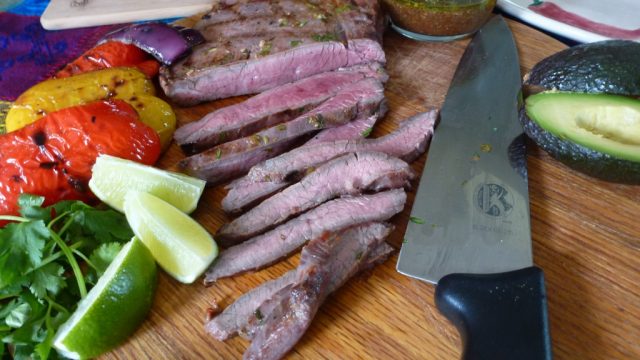 Mexican Pork Carnitas
Pork Carnitas is the Mexican version of pulled pork; succulent strings of pork piled onto homemade corn tortillas with all the toppings!
Ingredients
3-4

lbs

boneless pork shoulder (butt end),

cut into large chunks

1

tablespoon

oregano

1

tablespoon

cumin

1

tablespoon

salt

1

teaspoon

pepper

1

large onion,

quartered

8

whole garlic cloves

peeled

zest from 1 or 2 oranges,

finely chopped

¾

cup

orange juice

(4 oranges)

¼

cup

lime juice

(3-4 limes)

¾

cup

regular Coke or Mexican Coca-Cola

2

bay leaves

TOPPINGS: minced white onion, lime wedges and chopped cilantro
Instructions
OVEN METHOD
Preheat oven to 300°F. While oven is heating brown meat on the stove. Heat oil in a large pot over medium-high heat, browning on all sides in batches. Transfer to large bowl as it browns.

Add oregano, cumin, salt, pepper, onion, garlic, orange zest, orange juice, lime juice, Coke and bay leaves to the meat. Gently mix.

Transfer mixture to large baking dish with high sides, or 2 smaller ones. Cover with foil and bake for 3 hours, or until very tender.

To check for doneness remove one piece of pork. If it easily pulls apart with a fork it's done.

While still warm, pull the meat using 2 forks. This can be done right in the baking pan or in another dish. When finished stir meat with the pan juices. Can be done in advance and reheated.
SLOW COOKER METHOD
Place meat in the slow cooker.

In a bowl combine oregano, cumin, salt, pepper, onion, garlic, orange zest, orange juice, lime juice, Coke and bay leaves. Gently mix then pour over meat.

Cook on low for 8-10 hours or high for 5-6 hours.

To check for doneness remove one piece of pork. It's done when it easily pulls apart with a fork.

Transfer the meat to a large dish with sides. Pour the liquid into a bowl or large measuring cup and set aside.

While still warm, pull the meat using 2 forks.

Preheat broiler. Transfer the meat to a baking sheet or large baking dish. Pour half the liquid over the meat and gently toss.

Broil meat with sauce until warm, about 5 minutes. For browned, crispy pieces broil for about 10 minutes adding the remaining liquid as desired. The liquid can also be served on the side.
SERVING
Serve pork carnitas with warm corn tortillas and toppings of your choice.
Notes
TIPS for Citrus Fruit: Size matters but as a general guide expect to get 3 tablespoon of juice from an orange or lemon and 2 tablespoon of juice from a lime. To make sure you get the maximum amount of juice from each fruit warm them in the microwave before juicing. Fruit should just be warm (not steaming hot), 10-15 seconds per fruit.