Description
Tandoori Chicken is a recipe I've been making for years. When my son was young he called it Red Chicken and that's still what we call it.
In this recipe the meat is tenderized by a spicy yogurt marinade that gets its' red colour from both the tomato paste and the spices. Some recipes use red food colouring to intensify the colour but I prefer to pass on artificial colouring and the result is red enough for me.
Authentic tandoori chicken gets its' name from the tandoor oven it is traditionally cooked in. We cook it on the barbecue in the summer and in the oven all winter.
The Spice Cupboard
Indian cooking is all about the spices and if you need to expand your collection to cook East Indian food then do it. Recipes often call for spices by the tablespoon, not the teaspoon, so check your spice bottles before you cook. Cumin, chili powder and cayenne are fairly common; ground coriander and garam masala may be new additions if you're just starting to explore Indian flavours. Saffron, considered the most expensive spice in the world, is used in small amounts but it's always worth it.
A Canadian Celiac Podcast
Thanks to follower Sue Jennett for sharing her photo of this recipe served with my Fragrant Saffron Rice on a turquoise placemat. It looks delicious and I love that hibiscus blossom.
If you haven't heard Sue's podcast yet be sure to check it out, A Canadian Celiac Podcast.
PIN Tandoori Chicken for later…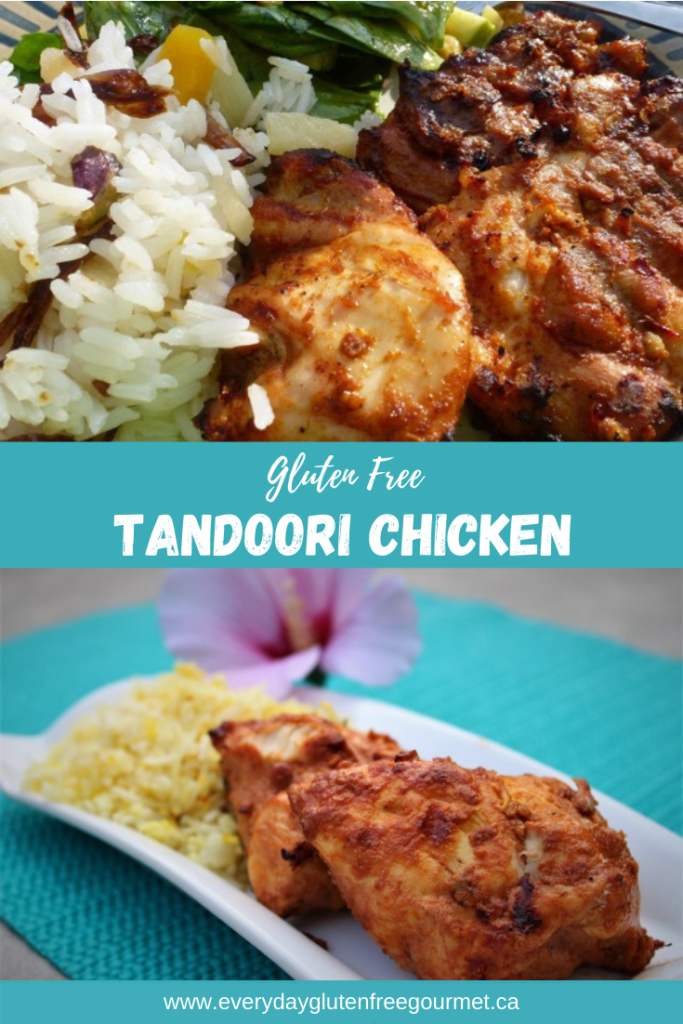 This post contains affiliate links. When you purchase using these links your cost is the same, but I receive a few cents for every dollar spent. I appreciate your support for this website.
Cook Once, Eat Twice
I cook bone-in chicken thighs for an everyday dinner and when I'm planning ahead I make sure I have enough chicken for two meals. That means cooking the whole recipe and freezing half for another day. That's what I call Cook Once, Eat Twice.
Other times I only cook half the chicken and freeze the other half. That way it marinates as it freezes and again as it thaws. There's no rhyme or reason but I'm always thinking about getting two meals for my effort.
Dinner Club – An East Indian Menu
This dish is definitely worthy of serving to company and can be a main course or one dish as part of an East Indian themed dinner. Here's my East Indian Menu for a Gourmet Dinner Club evening. For company I might cube up boneless chicken and thread it on skewers for an impressive presentation of an everyday favourite.
This Tandoori Chicken recipe is adapted from an old cookbook by well-known and much loved Calgary cookbook author, Noorbanu Nimji. A Spicy Touch has many recipes I still enjoy and is still on my kitchen bookshelf.
Let me know in the comments below how your chicken turned out.
---
More Recipes with Saffron
Click on the text on the image(s) to go to the recipe/blog post.
Tandoori Chicken
This is a recipe I've been making for years. In our house we call it Red Chicken, the name my son gave it when he was young. Rather than use red food colouring it gets the red colour from tomato paste and chili powder.
Ingredients
12

bone-in, skin on chicken thighs

¼

cup

plain yogurt

¼

cup

olive oil

2

Tbsp

tomato paste

tsp

chopped ginger

1

tsp

chopped garlic

1

tsp

salt

1

tsp

ground cumin

½

tsp

chili powder

(East Indian if you have it)

½

tsp

ground coriander

½

tsp

garam masala

¼

tsp

cayenne

8

strands of saffron

(optional)
Instructions
Combine all ingredients except chicken in a bowl and stir to combine. Rub marinade on chicken and marinate 4 hours or overnight.
BARBECUE METHOD
Grill bone-in chicken on low heat for 45-60 minutes until done. Move it to an upper rack or use indirect heat after the chicken is nicely browned.
OVEN METHOD
Cook in 350°F oven for 45-60 minutes.