This East Indian menu is perfect for a Dinner Club night. Explore rich, earthy dishes made with fragrant cumin, coriander and cardamom to create a culinary adventure. Divide the recipes among friends then gather in the kitchen to bring it all together. That's what Dinner Club is all about.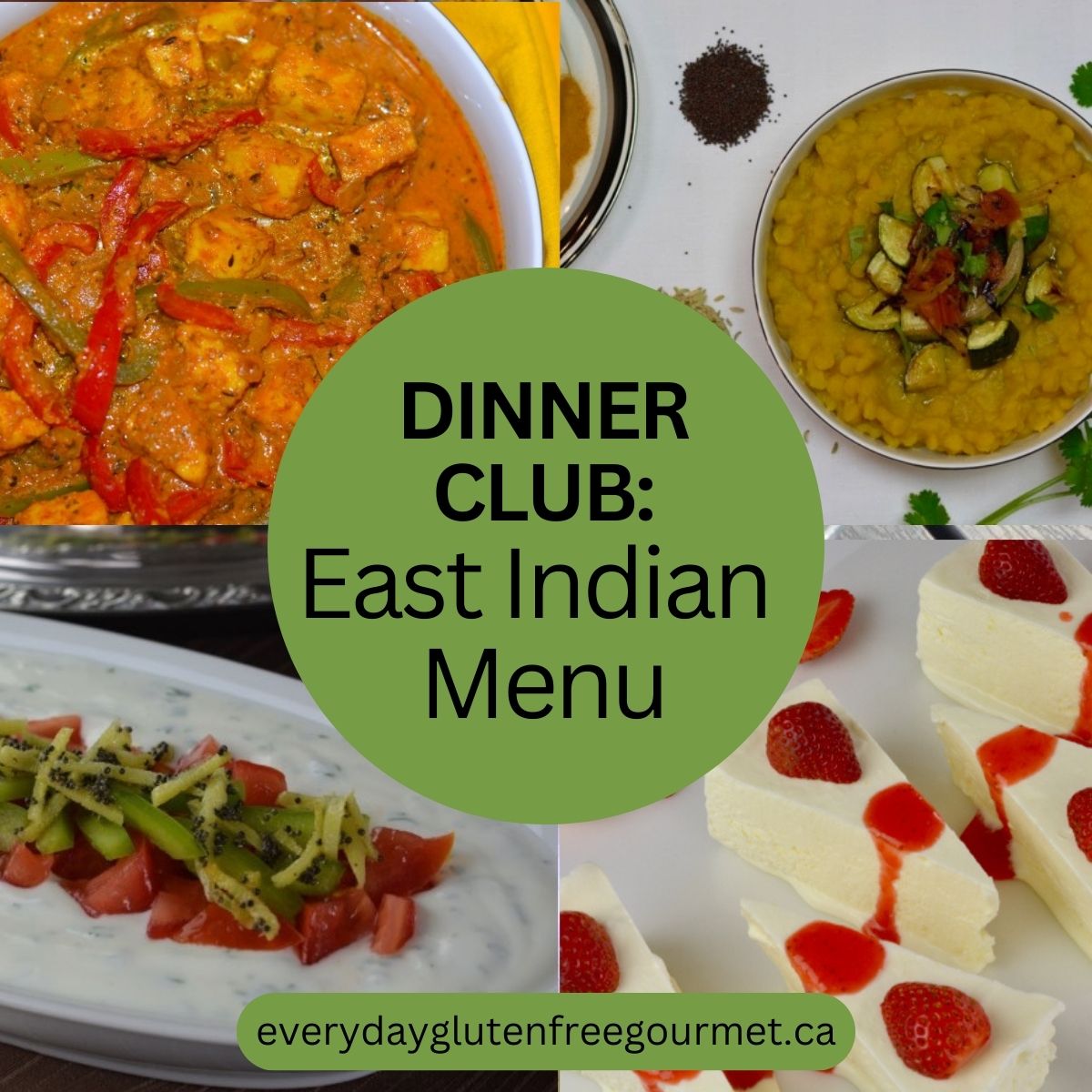 My friends and I to our Gourmet Dinner Club simply as Gourmet. We've been meeting since 1988 so have cooked our way around the globe over and over.
We've hosted elaborate multi-course dinners, created menus from countries we hadn't heard of, hosted events and occasionally invited other friends. The ideas are endless so make up your own rules and change them when they no longer work. That's how we do it.
The hardest part of planning our Dinner Club night is finding a date. I can't help you with that but once you've set a date then you need a menu and that's my specialty.
I love to try dishes from around the world and over the years I've collected a lot of great recipes. Here is my suggestion for an East Indian Menu.
Dishes
Pakora (vegetable fritters)
Tandoori Chicken
Paneer with Peppers in Fragrant Gravy
Dahl with Zucchini and Tomato
Cucumber Raita
Lemon Kulfi
Links to each recipe below. Switch it up to suit your taste. I sometimes include my Spinach Salad with Mango Chutney Dressing or a Whole Roasted Cauliflower for a vegetarian dinner. In the summer I might make Grilled Tandoori Shrimp.
How To Start A Dinner Club
Living with dietary restrictions presents challenges, especially when dining out. If you're up for a different challenge, cooking with friends and trying new foods, check out this post, How To Start A Gourmet Dinner Club. 
For us the idea is to have fun and try new recipes. That's it. We've learned to appreciate the occasional disaster and the story is archived in our minds as "one of those Gourmet Stories". We have lots of them and retelling each one just adds to the fun.
A Gluten Free East Indian Menu
Vegetable Fritters (Pakora)
These Vegetable Fritters are made with chickpea flour so are natually gluten free. Serve this East Indian snack with raita or chutney.
Check out this recipe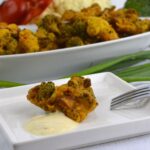 Tandoori Chicken
My son calls this Red Chicken. Some recipes call for red food colouring to enhance the colour but I don't want to use food dye. The tomato paste and chili powder make it red enough for me.
Check out this recipe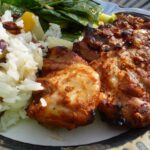 Tomato Ginger and Green Chile Raita
Tomato Ginger and Green Chile Raita is like a yogurt salad and it provides a cooling contrast to the spiciness of other East Indian dishes.
Check out this recipe
Zucchini Tomato Yellow Split Pea Dal
Zucchini Tomato Yellow Split Pea Dal is a long time favourite dal recipe. The spiced zucchini-tomato mixture on top is next level!
Check out this recipe
Paneer and Peppers in Fragrant Gravy
This Paneer and Peppers in Fragrant Gravy is a favourite East Indian recipe.
Check out this recipe
Fruited Rice Pilaf with Pine Nuts
Fruited Rice Pilaf with Pine Nuts is a delicious rice dish that can be served as part of any Indian meal. This is what I call 'special rice'.
Check out this recipe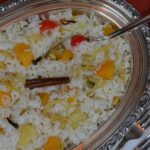 Lemon Kulfi
Lemon Kulfi is often referred to as traditional Indian ice cream and is said to be more dense and creamier than other ice cream.
Check out this recipe
Each recipe includes tips related to buying, using and cooking with the ingredients in that dish.
For me part of the fun of a Gourmet Dinner Club is discovering ingredients you are not familiar with or challenging yourself to try techniques you have never tried before. This attitude decreases the pressure, be adventurous and don't worry about every dish turning out perfectly.
I'd love to hear in the comments below if you tried this East Indian Menu and how it went.
__________________________________________________________________________
New here? Join our community and get your FREE resource, the tips I wish I knew when I started cooking gluten free.
Yes, I need 29 Tips For Cooking with Gluten Free Flour.
Still haven't mastered gluten free cooking? Check out our online Cooking Classes.
_________________________________________________________________________
More Dinner Club Menus