Saffron Rice is what I call special rice and this recipe is one of a handful of my favourite rice recipes. None would be considered difficult to make but they all require an extra step or two compared to simple steamed rice. It takes no more than five or ten minutes more than simply cooking rice but for an everyday dinner I often go for regular white rice. It cooks in twenty minutes and many days my dinner is timed around that.
Buying Top Quality Rice
When I say plain white rice I mean either fragrant Thai Jasmine rice or the aromatic, long grain basmati rice. I've never thought of myself as a rice snob but it's highly possible. I eat a lot of rice and I've tried every kind out there.
Each of my special rice dishes has a unique flavour combination or ingredient that elevates the rice itself. They're all associated with a specific ethnic cuisine. These include a classic French rice pilaf, Thai Jasmine Coconut Rice, Fruited Rice Pilaf with pine nuts and this saffron rice recipe. Each recipe is perfect for entertaining but don't wait for that, look for a reason to make it. This saffron rice goes well with an everyday chicken recipe or food with a Spanish, Mexican or Southwestern flare.
What Are

Saffron Threads
Saffron is the world's most expensive spice but don't let that discourage you from buying it. For less than the cost of a bottle of wine you can purchase a tiny box of saffron threads. They may be hand picked in Spain but could last you more than a year. Once you try it you'll be looking for other ways to use saffron so check out this Spanish paella.
A Menu Worth Repeating
Inspired by the American southwest I've made many dishes from cookbooks I bought on a vacation there long ago. This magical combination of flavours is one that has stood the test of time and is perfect for summer entertaining. I look forward to enjoying these three recipes together every summer.
A Canadian Celiac Podcast
Follower Sue Jennett shared a beautiful photo of this saffron rice recipe made in her kitchen with my Chicken Tandoori.Sue is the host of A Canadian Celiac podcast, an informative conversation and a great way to keep up on what's new in the gluten free space.
Let me know in the comments below if you enjoyed this saffron rice.
---
__________________________________________________________________________
New here? Join our community and get your FREE resource, the tips I wish I knew when I started cooking gluten free.
Yes, I need 29 Tips For Cooking with Gluten Free Flour.
Still haven't mastered gluten free cooking? Check out our online Cooking Classes.
_________________________________________________________________________
More Recipes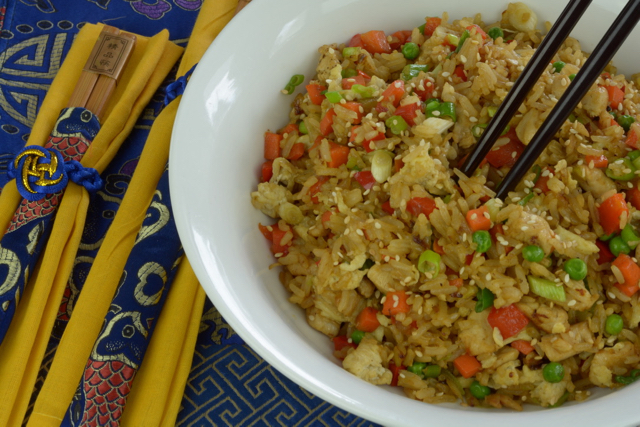 Fragrant Saffron Rice
Saffron is the world's most expensive spice but one teaspoon transforms this into the Fragrant Saffron Rice, a special rice dish in my books.
Ingredients
1

teaspoon

saffron threads

¼

cup

olive oil

½

onion, finely minced

2

teaspoon

finely minced garlic

1½

teaspoon

salt

½

teaspoon

pepper

2

cups

long grain white rice

3

cups

water
Instructions
Toast the saffron in a small, non-stick frying pan on medium heat for about 2 minutes or until fragrant. Continuously shake the pan to prevent burning. Set aside.

In a large pot over medium heat combine the oil, onion, garlic, salt and pepper. Stir for about 2 minutes, then add the rice. Stir constantly until all the grains of rice are covered in oil, about 2 minutes.

Add water and stir so all the rice settles to the bottom. Add the toasted saffron (without stirring) and bring to a boil over medium heat.

Reduce heat to low, cover and simmer until all the water is absorbed, 25-30 minutes.

Gently stir to mix in the saffron then serve.
Notes
This is a large recipe but I think it is worth making the whole thing. It keeps in the fridge for several days and can be enjoyed with many ordinary dinners.