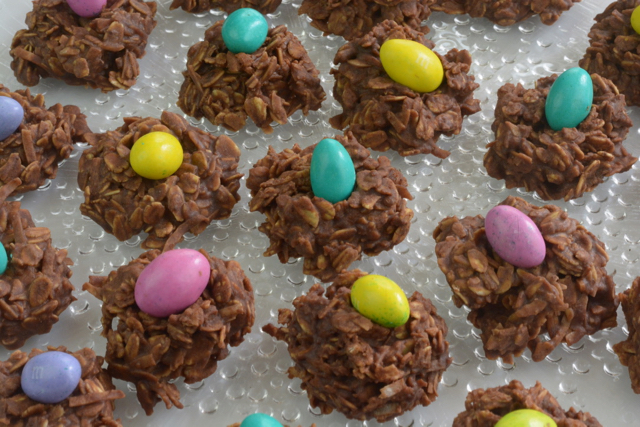 Description
These uncooked dainties are an easy no-bake recipe that anyone can make in a jiffy, like late at night when you realize you need cookies. Whether you need them as an immediate treat or to take somewhere the next day a no-bake treat is often the answer.
In my family we called them Uncooked Dainties, but other friends called them macaroons. Whatever you call them the combination of chocolate, coconut and oats makes a sweet, chewy cookie. You could experiment with decreasing the sugar but I haven't messed with the classic recipe. If these are made with gluten free oats it is an allergy friendly treat you can send to school.
PIN for later…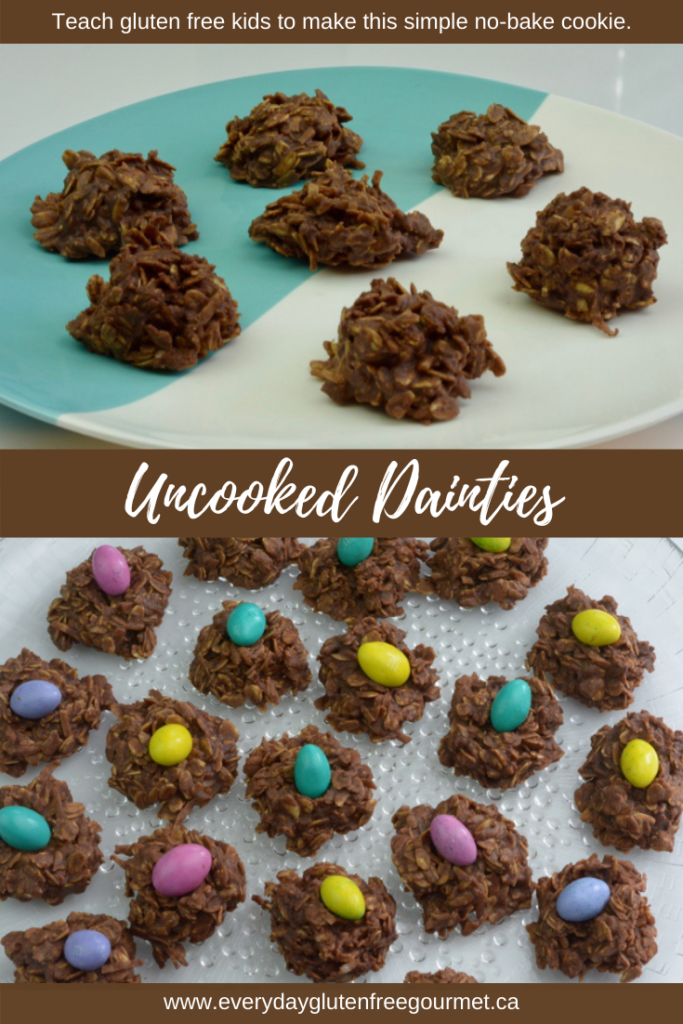 This post contains affiliate links. When you purchase using these links your cost is the same, but I receive a few cents for every dollar spent. I appreciate your support for this website.
Safe Gluten Free Oats
I only keep gluten free oats in my kitchen and my preference is whole oats. Quick oats are more finely processed and that's not what I want. For these cookies, my granola, overnight oats and almost everything I bake I want the texture of the larger flakes that are whole oats. It also makes it easier for stocking my pantry to only have one kind.
If you want to read more about the different type of oats available or the safety of gluten free oats check out this post,  Gluten Free Whole Oats vs Quick Oats.  The Purity Protocol used by some manufacturers ensures no contamination with wheat during the entire harvesting and manufacturing process. Learn what you need to know to make oats a part of your healthy gluten free diet.
No-Bake Treats
No-bake recipes are the recipes young children can and should learn to make. They will need help with the stove but they are fascinated with measuring and mixing. If your child likes to mix with their hands let them. As they get older they are curious about what happens in the pot on the stove and eventually in the oven too. Nurture this natural curiosity and one day you may be rewarded, with cookies.
Children learn so many things from the simple effort of making cookies. They learn measuring, counting, collaboration and organizational skills. I love watching them work side by side and seeing how they express their own unique creativity. Create a fun atmosphere in the kitchen and over time their skills will evolve and they just might want to learn to cook 'real food'.
Get The Tools
This recipe doesn't need too many tools. Just a  baking sheet and two spoons. Scoop a spoonful of the mixture out of the pot and use the second spoon to push it onto the waxed paper lined baking sheet. It's easy but for young children it takes practise to get the job done before the mixture hardens.
As a child it frustrated me that I couldn't make all the cookies before the mixture hardened. My younger brother simply packed the whole mixture into a few foil pie plates and was done in a jiffy. The modern solution is to use a metal scoop. This gets the job done quickly and if you have a set of scoops you can make any size you want.
My colleague created a festive look with these cookies by using a scoop to make them perfectly round and adding a piece of maraschino cherry on top. A simple touch to an everyday easy recipe.
Let me know in the comments below if you made these Uncooked Dainties now or when you were a kid.
---
More Recipes – Bars, Cookies and Muffins
Click on the (hard to see) text on the bottom of each image to go to the recipe/blog post.
Uncooked Dainties
These stove top cookies are quick and easy to make and bring back childhood memories for me.
Ingredients
2

cups

sugar

½

cup

butter

½

cup

milk

½

cup

cocoa

1

cup

shredded coconut

3

cups

gluten free whole oats

1

tsp

vanilla

pinch

salt
Instructions
In a medium bowl combine coconut, oats and salt. Set aside.

In a large saucepan heat sugar, butter, milk and cocoa. Bring to a boil and let boil exactly 5 minutes.

Remove from heat and add coconut/oat mixture plus vanilla.

Stir to combine. Use 2 teaspoons to drop cookies onto a wax paper lined cookie sheet. The mixture will harden as it cools so keep working until all the cookies are formed.
Notes
Optional decoration - These cookies need no extra sweetness but adding seasonal sprinkles makes them fun. Work quickly to add sprinkles before the cookies harden. Try heart sprinkles for Valentine's Day, Easter Eggs for spring or coloured sprinkles for special days like St. Patrick's Day, Pride Month, Halloween or Christmas.