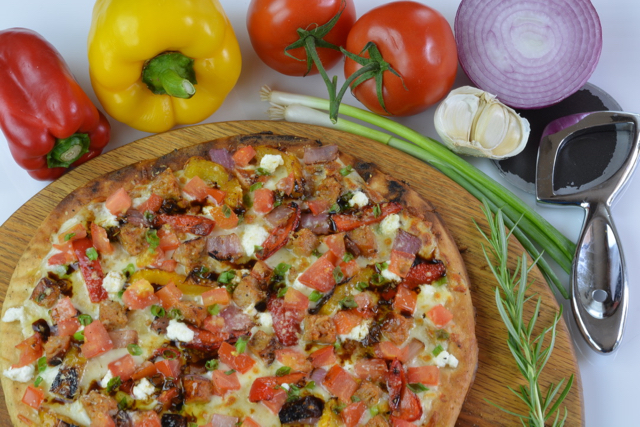 Description
Grilled Sausage and Vegetable Pizza is one of my favourite summer pizzas. I have a dozen or so favourite pizza recipes and this small collection of interesting flavour combinations keeps me excited about pizza all year long.
Rethinking Pizza
There is no denying that pizza is everywhere in our culture. Although gluten free pizza is more available than ever, people on a gluten free diet are excluded from many events because of the pizza.
Maybe it's time to rethink pizza.
Making homemade pizza doesn't have to be laborious. It should be a fun activity and making it fun is up to you. Cook with friends or not. Play loud music and drink wine or enjoy a more relaxing pace and catch up on the events of the week. Whether you make pizza with friends or create a Friday night special with family be sure to do it your way.
We enjoy listening to music, drinking wine and inventing new topping combinations. By the time the pizza is done we're ready for a movie. That's pizza night in our house.
This post contains affiliate links. When you purchase using these links your cost is the same, but I receive a few cents for every dollar spent. I appreciate your support for this website.
Pizza Paraphernalia
If you embrace the idea of making pizza at home there is no shortage of pizza paraphernalia you can acquire. There are pizza pans with holes in the bottom or pizza stones for perfectly browned crusts.  The pizza peel is for moving your pizza in and out of the oven. To cut your pizza there is the typical pizza wheel, the funky new Kitchy pizza cutter wheel or the restaurant style pizza cutter rocker. Some people are serious about their pizza.
Pizza Toppings
If you always put the same toppings on your pizza you are pretty much going to get the same taste. If you are looking for something amazing you must be willing to use different ingredients.
My Grilled Sausage and Vegetable Pizza uses fresh tomatoes rather than a tomato-based pizza sauce. The sausage and vegetables are all grilled and the addition of goat cheese adds some punch. Finally, the finished pizza is topped with a garlicy drizzle of rosemary-infused oil and balsamic vinegar. It must be tasted to be believed.
Gluten Free Pizza Crust
There was a time when I made pizza crust from scratch and I have even cooked raw pizza dough on the grill. But things change and I currently do not have a gluten free pizza dough recipe that I was inspired to make a second time. But there are gluten free pizza crusts in the freezer section and some of them are very good.
For this Grilled Sausage and Vegetable Pizza the topping and crust are both grilled. I removed my frozen pizza crust from the oven as I started to prep. Cooking it on the grill worked perfectly but of course you can cook it in the oven.
Either way this combination of grilled vegetables, three cheeses and the balsamic vinaigrette makes for a unique, amazing summer pizza. Let me know what you think in the comments below.
---
More Recipes – Grilling
In my post, 29 Great Gluten Free Grilling Recipes for Summer, you'll find:
Ingredients
2-10 inch GF pizza crusts
BALSAMIC VINAIGRETTE
6 Tbsp olive oil
3 Tbsp balsamic vinegar
1 Tbsp finely chopped garlic
1 Tbsp chopped fresh rosemary (or 1 tsp dried)
PIZZA TOPPINGS
2 GF Italian sausages, mild or spicy
1 red pepper, cored and cut in 4
1 yellow pepper, cored and cut in 4
½ red onion cut into 2 thick slices, skewered
CHEESE
2 cups shredded mozzarella
½ cup grated Parmesan cheese
FINAL TOPPING
1 tomato, diced
3 green onions, green part only, sliced thin
4 oz crumbled goat cheese
Directions
1

BALSAMIC VINAIGRETTE - Whisk together oil, vinegar, garlic and rosemary. Set aside.

2

PIZZA TOPPINGS – Preheat barbecue. Brush sausage, peppers and onion with some of the vinaigrette. Set remainder aside for finishing.

3

Grill sausage until cooked and vegetables until blackened. Cool, cut as desired and set aside.

4

GRILLING - Use package directions on your pizza crust as a guide. Grill one side of each pizza crust for 2 minutes or until nicely browned.

5

Remove from grill. Evenly sprinkle the cooked side of each crust with mozzarella and Parmesan cheese.

6

Top with Italian sausage, peppers and red onion.

7

Crumble goat cheese over pizza.

8

Sprinkle with chopped tomato and green onion.

9

FINAL COOKING

10

Return pizza to grill to cook the bottom and melt the cheese, 3-5 minutes. If the barbecue is too hot turn it down or off, or raise the pizza off the grill.

11

Drizzle each pizza with 1½ Tbsp vinaigrette. Cut and serve.