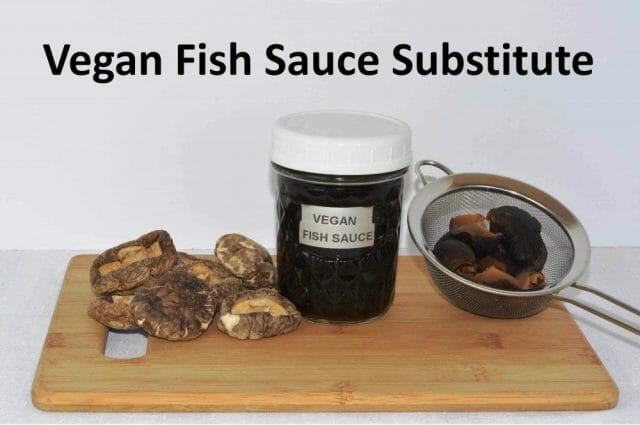 Description
This vegan fish sauce substitute makes Thai and Vietnamese cuisine possible for anyone allergic to fish or on a vegan diet. When planning for a Thai cooking class with a vegan participant I searched and found a recipe to meet this dietary need and made it gluten free.
Store bought fish sauce, the ubiquitous ingredient in Thai and Vietnamese cuisine, cannot be omitted. This recipe worked in all the Thai dishes we made and my vegan participant, along with the rest of the class, were all thrilled with the dinner.
Sweet, Salt, Sour, Bitter and Umami
With the popularity of cooking shows you've probably heard about umami. That meaty, savory flavour taste we love that comes from glutamates. These amino acids are found in animal protein but also in some vegetables, seaweed and fermented foods. In Thai and Vietnamese cuisine fish sauce contributes to both the salt and umami taste.
This post contains affiliate links. When you purchase using these links your cost is the same, but I receive a few cents for every dollar spent. I appreciate your support for this website.
Vegan Fish Sauce Substitute
Fortunately America's Test Kitchen did the research and once again I trust them. They thought seaweed didn't give the meaty punch of fish sauce. The combination of dried shiitake mushrooms, soy sauce and a salty broth is what most closely mimicked the taste of fish sauce. One word of caution, the taste of your soy sauce will impact the final taste of this sauce.
If you're a super taster, or you're just interested, do a soy sauce tasting. Check out this post, Gluten Free Soy Sauce vs Tamari Tasting, to see how I did it. It's easy to get excited about products labeled gluten free but read the ingredient list and some are completely artificial.
Dried Shiitake Mushrooms
Lucky for me I always have dried shiitake mushrooms in my freezer. Sometimes labeled Chinese black mushrooms, they're sold in large bags so I give some away and keep the rest in my freezer. I find them at the Asian grocery store and my favourite recipe to make with them is Lion's Head Meatballs. They're amazing!
Dinner Club – A Thai Menu
This Thai Menu has stood the test of time and was just as fabulous using the fish sauce substitute. We made Yellow Curry with broccoli instead of chicken, and a memorable Cucumber Carrot Salad. I also learned that this store bought yellow curry paste is vegan as well as gluten free.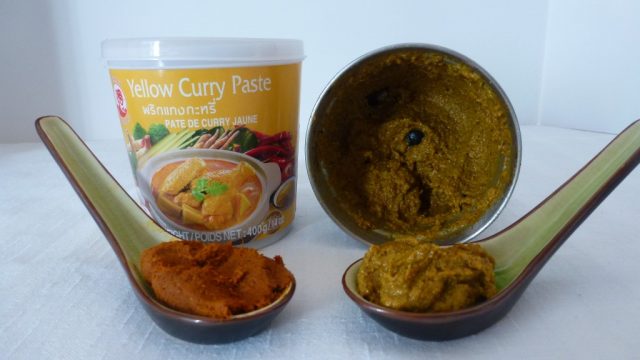 If you know of someone missing out on Asian recipes that use fish sauce please share this with them. In the comments below I'd love to hear what you made with this vegan fish sauce substitute.
---
More Recipes – Vegan, Thai & Vietnamese
Vegan Fish Sauce Substitute
This vegan fish sauce substitute makes Thai and Vietnamese cuisine possible for anyone allergic to fish or on a vegan diet.
Ingredients
3

cups

water

¼

oz

dried, shiitake mushrooms

(7g or 2-3 mushrooms)

3

Tbsp

salt

2

Tbsp

gluten free soy sauce
Instructions
Put water, dried mushrooms, salt and soy sauce in a saucepan. Bring to boil over medium heat.

Turn down heat and simmer until reduced by half, about 30 minutes.

Strain into a glass jar. Cool, label and store in the fridge for up to 3 weeks. Use in all Thai and Vietnamese recipes calling for fish sauce.
Notes
Dried shiitake mushrooms can be found in Asian markets and will keep indefinitely.