Gluten free fish sauce is commonly used in Thai and Vietnamese cuisine. It is the secret ingredient that may intimidate home cooks but is essential to recreate the recipes you are familiar with from these countries. It is readily available in Asian supermarkets as well as grocery stores with a large Asian section.
If you have eaten Vietnamese or Thai food you have probably tasted fish sauce. Called nuoc mam in Vietnamese and nam pla in Thai, fish sauce is a complex flavour ingredient used in almost every dish, much like soy sauce is used in Chinese cooking. It is a salty, pungent sauce derived from fermented tiny anchovies and smells like it. Although it is naturally gluten free some North American brands have added wheat so always read the label.
This post contains affiliate links. When you purchase using these links your cost is the same, but I receive a few cents for every dollar spent. I appreciate your support for this website.
Buying Fish Sauce
The two popular brands of fish sauce that I see are Squid brand and Golden Boy. One of my favourite cookbook authors, Hugh Carpenter, recommended Squid brand fish sauce when I first started cooking Asian food and I have been cooking with it ever since.
More recently Golden Boy brand came out with the small 200 ml bottle of fish sauce. Although I don't use Golden Boy brand I know that small bottle will appeal to some cooks. The large 725 ml bottle of Squid brand fish sauce may seem like a big commitment to some but that is the bottle I buy.
Whatever brand you buy, once opened fish sauce will last indefinitely at room temperature.
Fish Sauce – The Recipes
Here are some of my favourite recipes that use fish sauce:
Salad Rolls with Nuoc Cham dipping sauce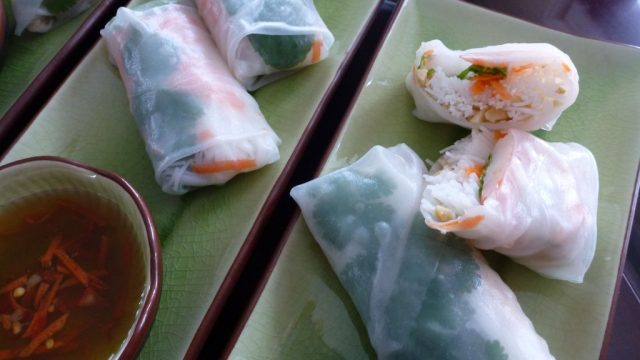 Vietnamese Pork in Tomato Sauce
If you are looking for a vegan option I posted a recipe for a vegan fish sauce substitute. I used it for many Thai recipes during a cooking class and we were all impressed with the final taste of every dish.
If you have a fish sauce story I'd love to hear about it in the comments below.
---
More Thai and Vietnamese Recipes