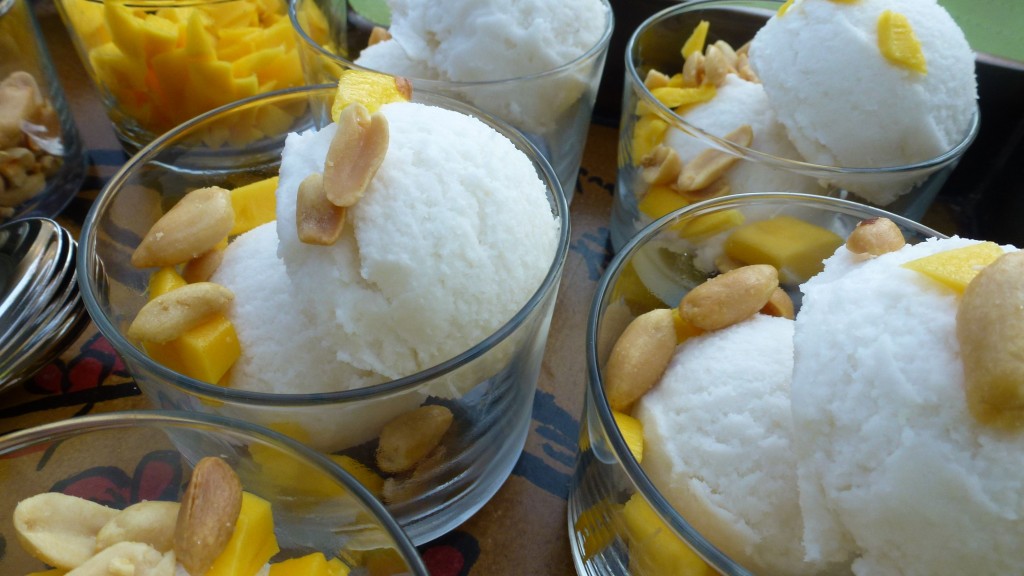 Description
This dairy free Coconut Ice Cream is a bonus for people who can't tolerate dairy, a large percentage of people with celiac disease, or anyone who is vegan. This unique combination of coconut ice cream topped with juicy mango pieces and roasted, salted peanuts will transport your tastebuds to Thailand with the first bite.
I made this Coconut Ice Cream as part of a Thai Dinner Club menu. The search for the ingredients was definitely worth the effort. In my Dinner Club not everyone likes it but when we hear the story we all accept tracking down some hard to find ingredients part of the challenge of Dinner Club.
This post contains affiliate links. When you purchase using these links your cost is the same, but I receive a few cents for every dollar spent. I appreciate your support for this website.
Get The Tools – An Ice Cream Maker
Homemade ice cream is fun and easy to make. I have had my Donvier ice cream maker for more than twenty years and it still works perfectly. It has no moving parts since turning it is what you do. The freezer insert lives in my freezer, wrapped in a clear plastic bag ready to use whenever I want ice cream.
Coconut Ice Cream by Ingredient
Coconut Water comes from the inside of a coconut. Young coconuts have more water and less coconut meat compared to the familiar brown-husked mature coconuts. Coconut water out of a young Thai coconut, is a refreshing and delicious beverage popular for its' nutritional value. One young coconut will yield about 1½ cups of coconut water, enough to have a taste and still make this recipe. Canned coconut water from the grocery store will also work in this recipe.
Coconut milk is made from the pulp of mature coconuts which is pressed to extract the thick milk. It is sold in cans labelled with the fat content the same way cow's milk is. Choose full fat coconut milk with a fat content greater than 20% or about 30 grams of fat per cup. Light coconut milk is about a quarter of this and will not give the same delicious results. Unless you eat a steady diet of coconut milk I would not recommend using the light variety.
If you're curious to know more about the percentage of coconut extract and how to use it as a dairy free option read my blog post titled, Gluten Free Coconut Milk.
Palm Sugar comes from the sap of various species of the palm tree and therefore has different names. Reading the ingredient list is the most reliable source for the contents. Palm sugar has a light molasses taste and is sold as light brown coloured, rock-like disks in clear packages. It is available at Asian supermarkets. In this recipe it melts along with the coconut milk. I have tried pounding the disks into smaller pieces with a mallet (expect a mess) and breaking it up in the food processor (I wouldn't recommend this either). It can also be soaked briefly in cold water, about 10-15 minutes, then stirred and used like that. Consider it another culinary challenge.
The Young Coconut Challenge
Let me know in the comments below if you braved the task of getting coconut water out of a young Thai coconut. I've made this recipe with both fresh and canned coconut water. Using the canned coconut water is definitely not as much fun.
Thanks to Palin over at Hot Thai Kitchen for her inspiration. I adapted her recipe based on the ingredients I bought and how it turned out in my kitchen. Let me know in the comments below if you tried it and how it worked.
---
More Thai Recipes and a Dinner Club Menu
---
A Travel Tale – Thailand
From time to time I write a travel post for my friend Sue over at Travel Tales of Life. This is the one I wrote about our trip to Thailand many years ago simply titled, Thai Red Shrimp Curry.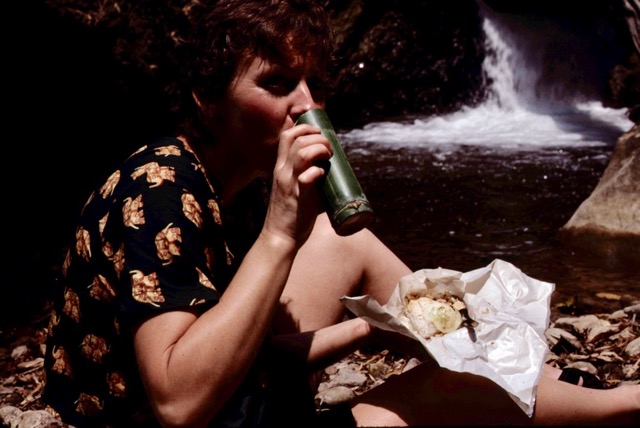 Dairy Free Coconut Ice Cream
This dairy free Coconut Ice Cream is amazing, but top it with mango and salted peanuts and you'll be transported to Thailand in one bite.
Ingredients
1½

cups

coconut milk

100g

palm sugar

(about 2 disks)

3½

Tbsp

white sugar

⅛

tsp

salt

1

cup

coconut water

(fresh from a Thai young coconut or canned)
OPTIONAL
1/4

cup

finely chopped young coconut meat and 1 Tbsp vodka
GARNISH
roasted, salted peanuts and diced mango
Instructions
In a medium saucepan combine coconut milk, palm sugar, white sugar and salt. Heat over medium heat stirring until sugar is dissolved.

Remove from heat and add coconut water and vodka (if using). Chill several hours or overnight in the fridge.

Add chopped coconut meat (if using) then churn in an ice cream maker according to directions. Keep in the freezer until ready to serve.

Scoop ice cream into individual dishes. Sprinkle with peanuts and mango. Serve.