Candied Sweet and Salty Pumpkin Seeds are delicious and seasonal. I made them to go on top of my Bourbon Caramel Pumpkin Tart but ate plenty of them right off the pan and served more on top of my pumpkin ice cream. The combination of the ice cream with warm bourbon-caramel sauce plus crunchy candied sweet and salty pumpkin seeds was heavenly.
Roasting Raw Pumpkin Seeds
You can tell by the artistic pumpkins you see on doorsteps that some people are serious about their pumpkin carving. The carving is a common Halloween ritual and some people like to roast the seeds from their pumpkins instead of throwing them away. If you've never done it, you should give it a try!
Pull the stings off and wash the seeds, dry them and then roast them. You can toss them with seasoning before you roast them but if you're making thesecandied sweet and salty pumpkin seeds just roast them plain.
Roasting pumpkin seeds - Spread them in a single layer and roast in a preheated 350°F oven until nicely browned, about 10 minutes.
PIN for later...
Are Pumpkin Seeds Gluten Free?
Not so long ago it was hard to find pumpkin seeds that didn't say "may contain wheat" on the label. I'm happy to see gluten free (and peanut free) nuts, seeds and more at my local grocery stores by the company Royal Nuts. Look for them if you want a certified gluten free product.
Fibre, The F Word
Nuts and seeds are healthy and are high in fibre. If you're on a strict gluten free diet you've got to know about the F word, fibre. To make sure you're getting enough fibre in your diet keep a good variety of nuts and seeds on hand. I use nuts in granola, granola bars, muffins, cookies and on salads. I use seeds in baking but I often use them for breakfast to make Chia Pudding or a smoothie.
Get The Tools
You just need a baking sheet and parchment paper to roast nuts. Buy baking sheets in pairs for all kinds of jobs in the kitchen.
Let me know in the comments below if you made these Candied Sweet and Salty Pumpkin Seeds and how many different ways you ate them.
---
A Pumpkin Spice Podcast and More Pumpkin Recipes
Episode 193 - What's All The Fuss About Pumpkin Spice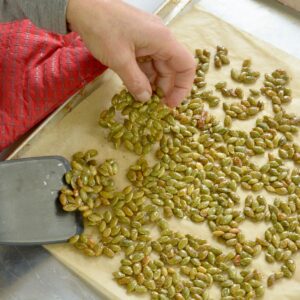 Candied Sweet and Salty Pumpkin Seeds
Candied Sweet and Salty Pumpkin Seeds are delicious and seasonal. They're extra special served on Bourbon-Caramel Pumpkin Tart with pumpkin ice cream.
Ingredients
1

tablespoon

corn syrup

1½

teaspoon

sugar

¼

teaspoon

salt

½

cup

raw pumpkin seeds
Instructions
Preheat oven to 350°F. Line baking sheet with parchment and grease lightly.

Combine corn syrup, sugar and salt in a small bowl.

Add pumpkin seeds and stir until coated. Spread onto baking sheet in single layer.

Bake in preheated oven until nicely browned, 7-10 minutes.

Cool on wire rack then break into pieces. Store in airtight container at room temperature.

Eat as a snack or serve on Bourbon-Caramel Pumpkin Tart or Pumpkin Ice Cream.