Chocolate Cupcakes with Chocolate Icing are a double chocolate favourite and can be decorated for any occasion. These cupcakes are light and airy with just white and brown rice flour and tapioca starch. If you're new to gluten free baking that might sound like a lot but I've got some tips to help you learn and not get overwhelmed.
Tip #1 – Experience comes from practise so just start baking. Nowadays there are many flour combinations that work so bake, taste and bake again. Keeping a few notes helps speed up your learning too.
Tip #2 – A mindset for learning will serve you well in the kitchen. After more than ten years of baking gluten free I'm still learning. It's realistic to set a goal that everyone loves your gluten free baking, not just the person who must eat gluten free. Set that standard for your baking.
Tip #3 – Gluten free baking doesn't stay fresh the way that baked goods made with wheat flour does. Using xanthan gum helps with freshness and you can make it a habit to store your baking in airtight containers as soon as it's cooled. For maximum freshness store your cupcakes in the freezer.
How To Help Gluten Free Kids Learn To Bake
Many gluten free kids I've met tell me they bake their own birthday cake and they love it. They get to choose the colourful cupcake liners, candy for decorating and funky candles. The baking is fun too and everyone loves to make icing. I love watching kids bake and seeing what fascinates them. Some kids love to throw all the icing sugar in the mixer bowl and see the huge cloud of sugar in the air while others could sit and decorate cupcake after cupcake for hours.
You can definitely keep the presentation simple but it counts so be sure to plan for it. Use different shaped trays or boards you own, write letters on the cupcakes to spell a name or buy one of those twirling cupcake display stands. The whole process creates excitement and anticipation of the actual celebration but remember you don't need a birthday to make cupcakes.
PIN for later...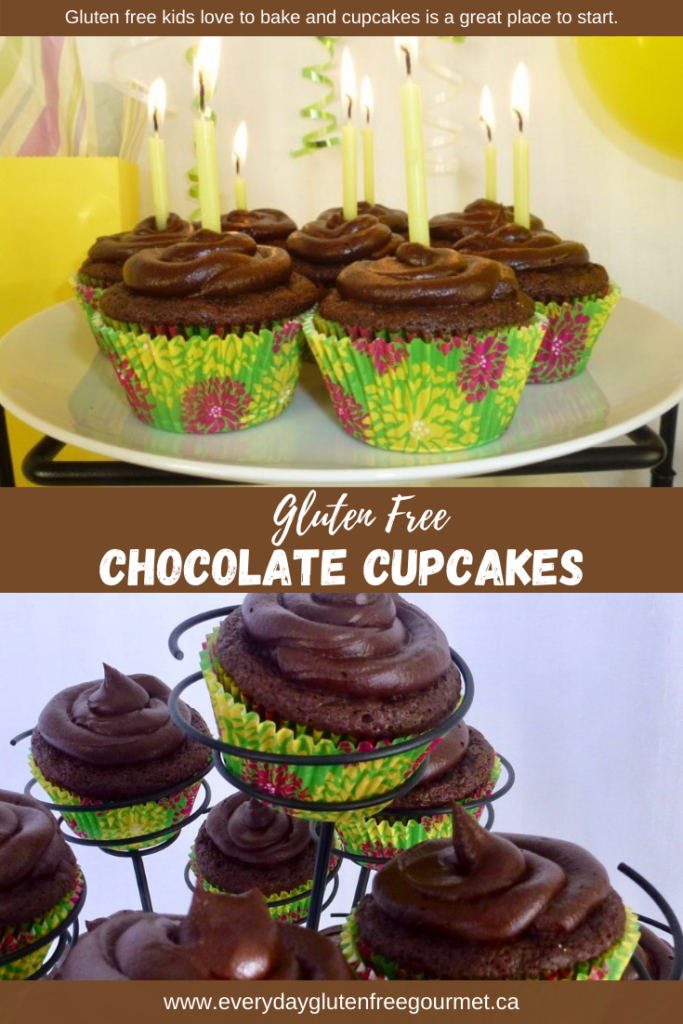 This post contains affiliate links. When you purchase using these links your cost is the same, but I receive a few cents for every dollar spent. I appreciate your support for this website.
Baking by Weight or by Measure
Professional bakers use weight measurements for accuracy which ensures they consistently get the same results. For everyday home cooks baking with cup measurements is more common and the majority of recipes are written that way. When you start gluten free baking you get to learn about baking all over again.
In this recipe I've included both measurements by cup and by weight. If you're serious about baking check out this blog post, Baking By Weight.
If you just want recipes that work and would rather use cup measurements then be sure you're measuring both dry and liquid ingredients precisely. Save your recipes and repeat with seasonal variations for a lifetime of cupcakes.
How To Vary Chocolate Cupcakes
The possibilities are endless but here are three ideas to go beyond a plain chocolate cupcake.
Ice cupcakes with this pecan-coconut topping from my recipe for German Chocolate Cake.
Use a cupcake corer to remove a small piece of cake from the center. Fill with homemade lemon curd, cherry pie filling or whipped cream then put the little piece of cake back on top. Spread with whipped cream or icing and you've got a little surprise waiting for that first bite.
Make Salted Caramel Cream Cheese Cupcakes by piping cream cheese icing on top of each cupcake using a pastry bag. Just before serving drizzle with caramel sauce and a few flakes of sea salt (Maldon Sea Salt is my favourite

).
Organize For Success
Every kitchen needs tools so I always recommend you buy what you like and expect them to last a very long time. You don't need the most expensive tools but purchase good quality items to do the job.
If you tried these chocolate cupcakes with chocolate icing or something different I'd love to hear about it in the comments below.
Originally published October 2015, updated April 2021
More Recipes for Gluten Free Cupcakes
Click on the text on the image(s) to go to the recipe/blog post.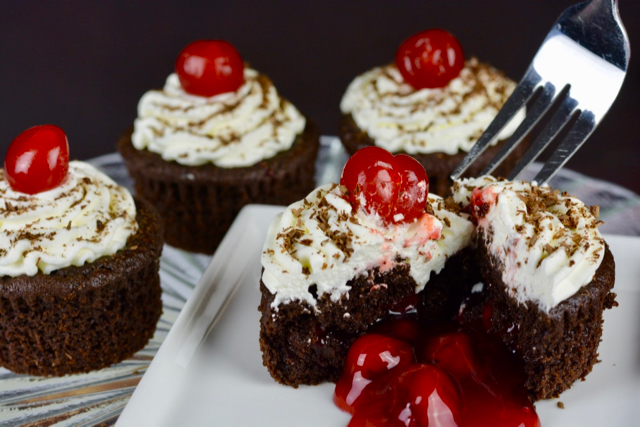 Chocolate Cupcakes with Chocolate Icing
Chocolate Cupcakes with Chocolate Icing is a perfect recipe for beginners or experienced gluten free bakers. The variations are endless.
Ingredients
CUPCAKES
⅔

cup

brown rice flour

(72 grams)

⅓

cup

white rice flour

(35 grams)

⅓

cup

tapioca starch

(35 grams)

½

cup

cocoa

(57 grams)

1

cup

sugar

(200 grams)

1

teaspoon

baking powder

½

teaspoon

baking soda

¼

teaspoon

salt

¼

teaspoon

xanthan gum
WET INGREDIENTS
½

cup

butter, melted and cooled slightly

2

large eggs

½

cup

buttermilk

1

teaspoon

vanilla
ADD-INS
½

cup

chopped nuts, crushed candy canes, M&M's or chopped chocolate covered coffee beans
CHOCOLATE ICING
½

cup

butter, room temperature

1

cup

icing sugar

⅔

cup

cocoa

1

teaspoon

vanilla

¼

cup

milk
Instructions
CHOCOLATE CUPCAKES
Preheat oven to 350°F. Fill muffin tin with paper liners.

In a large bowl of an electric mixer add all the dry ingredients and stir to combine.

In a large measuring cup combine the wet ingredients and stir.

With the electric mixer set on low add the wet ingredients and continue mixing for about 2 minutes until smooth and shiny.

If using add-ins fold them in with a spatula making sure they are evenly mixed in the batter.

Fill the cupcake liners about ⅔ full. Using a metal ice cream scoop with a thumb grip is a good way to enure cupcakes are all the same size and will bake evenly.

Bake for 18 minutes or until a toothpick comes out clean. Turn the pans around in the oven half way through the cooking time to ensure the cupcakes cook evenly.

Place the pan of cupcakes on a cooling rack and allow to sit for 2 minutes. Gently remove the cupcakes from the pan and place on the cooking rack to cool completely.

Spread with chocolate icing.
CHOCOLATE ICING
Combine butter, icing sugar and cocoa in a food processor with a metal blade. Blend for 30 seconds.

Add vanilla and milk and blend until smooth.

Using a spatula fill a piping bag with icing. Using even pressure squeeze the piping bag and draw in circles on the top of each muffin starting from the outside edge and ending in the enter.

Alternately you can spread the icing on each cupcake with a smooth spreader.