This is a gluten free German Chocolate Cake, just like the one my mom made when I was a kid. Her version used wheat flour and it was a family favourite so I decided I'd make a gluten free one. And I'd make it with that popular quinoa chocolate cake made with cooked, pureed quinoa instead of flour.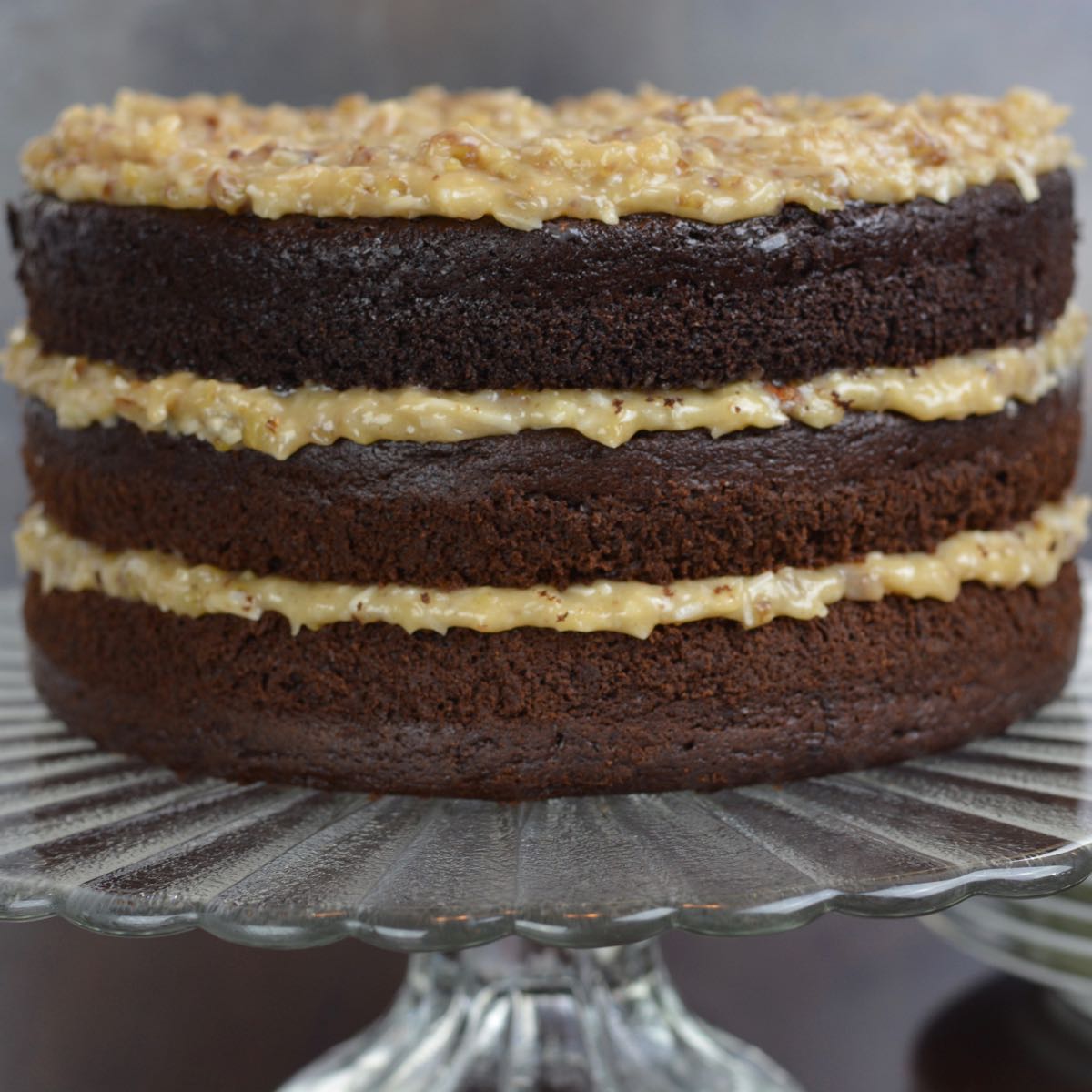 What is German Chocolate
If you have ever baked you are likely familiar with Baker's chocolate sold in boxes in the baking aisle at every grocery store. Available in unsweetened, bittersweet, semisweet, dark and white. In the 1950's one of the choices was German's sweet chocolate. It was named after Samuel German, an English-American chocolate maker.
Baker's does not sell German's chocolate anymore but I didn't feel obligated to use any particular chocolate for this cake. I just wanted a good gluten free chocolate cake. The traditional filling of coconut, pecans and evaporated milk would transform any cake into the memorable dessert we all had in mind.
PIN for later...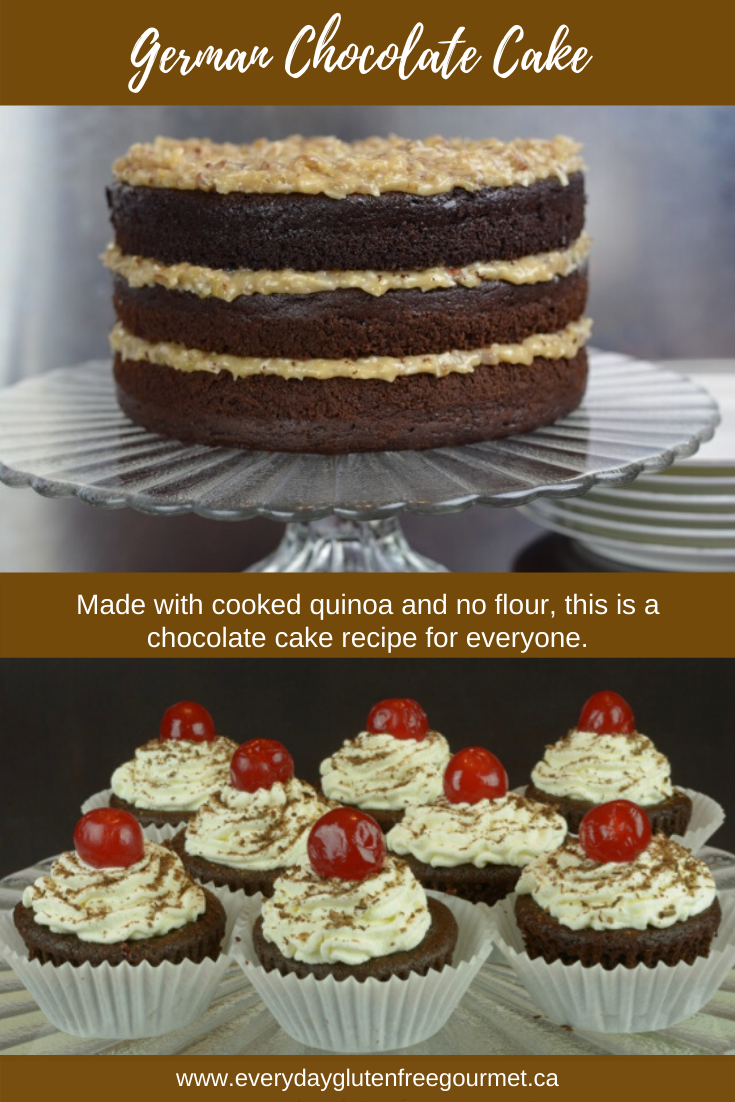 Quinoa Chocolate Cake
Have you heard of quinoa chocolate cake? This is it, a cake made with no flour, just cooked quinoa that is pureed. You use the same quinoa you may already have in the cupboard. Typically used to to cook the same way you cook rice or to make cold salads like this Apple Quinoa Salad.
It's available at grocery stores everywhere. If you think the price is expensive but the next bigger price, sometimes it works out to almost half the cost!
My version is adapted from the popular cookbook Qunioa 365 The Everyday Superfood. This award winning cookbook is written by sisters Patricia Green and Carolyn Hemming who are local to me.
Layer Cakes and Leftover Cake
When my mom made her German Chocolate Cake it had three layers and was served without icing. This quinoa chocolate cake recipe only makes two layers. You can make your cake with just two layers (no one would complain). I wanted my cake to look the way my mom made hers so I made a three-layer cake.
To get three layers I simply made the recipe twice. I used three layers and put the extra layer in the freezer, perfect for emergency use. You could use that batter to make cupcakes instead. Here is my suggestion for that kind of food emergency.
The filling recipe makes a generous portion, too much really for the three-layer cake. But the recipe uses a whole can of evaporated milk and I like recipes that use the whole can (no leftovers there). The excess filling also keeps in the fridge for weeks so I don't think it's a problem. Then one night when you're looking in the fridge you'll see it.
If you have that single cake layer in the freezer you can make yourself a few pieces of layered cake. Simply cut the cake into four, six or eight wedges. Use the leftover filling and make a few pieces of layered cake. Now that's what I call leftovers!
Let me know in the comments below if you tried this cake and how you did it.
__________________________________________________________________________
New here? Join our community and get your FREE resource, the tips I wish I knew when I started cooking gluten free.
Yes, I need 29 Tips For Cooking with Gluten Free Flour.
Still haven't mastered gluten free cooking? Check out our online Cooking Classes.
_________________________________________________________________________
Variations for Quinoa Chocolate Cake
This is a year round cake that can be varied with many fillings or your favourite fresh fruits.
Gluten Free German Chocolate Cake
This German Chocolate Cake is my gluten free version of an old family favourite. The cake is made with cooked quinoa, no flour at all!
Ingredients
QUINOA CHOCOLATE CAKE
2

cups

cooked quinoa

⅓

cup

milk

4

eggs

1

teaspoon

vanilla

¾

cup

butter, melted

1½

cups

white sugar

1

cup

cocoa powder

1½

teaspoon

baking powder

½

teaspoon

baking soda

½

teaspoon

salt
FILLING
4

egg

yolks

1-12

oz

can evaporated milk

(354ml)

1½

teaspoon

vanilla

1½

cups

white sugar

¾

cup

butter

7

oz

Angel flake coconut

(200g)

1½

cups

chopped pecans
Instructions
Preheat the oven to 350F. Lightly grease 2-8" round baking pans. Line the bottom of the pan with parchment and lightly grease the paper. Set aside.

In a food processor or blender combine milk, eggs and vanilla.

Add cooked quinoa and melted butter. Process for several minutes until smooth.

Whisk together sugar, cocoa, baking powder, baking soda and salt in medium bowl. Add the quinoa mixture and stir until combined.

Divide batter evenly between the 2 prepared cake pans.

Bake in the center of the oven for 40-45 minutes, until a toothpick inserted in the center comes out clean. Cool completely before removing from pan. Can be made a day before assembling the cake.

For a 3 layer cake make the entire recipe again. Freeze the extra layer or use that batter to make cupcakes.
FILLING
Whisk egg yolks, milk and vanilla in large saucepan until mixed.

Add sugar and butter. Cook on medium heat for 12 minutes or until thick and golden brown stirring constantly. Remove from heat.

Stir in coconut and pecans. Mix well.

Cool to desired spreading consistency. Can be made a day in advance and refrigerated.
ASSEMBLY
Place once cake layer on a pedestal tray.

Carefully spread a generous amount of filling on top of the cake.

Add the second cake layer.

Carefully spread a generous amount of filling on top of the cake.

Add the third cake layer.

Carefully spread a generous amount of filling on top of the cake.

Refrigerate until ready to serve.