This gluten free fruitcake is a light Christmas fruitcake and serving it during the holidays is a tradition for many families. People tell stories of their mothers and grandmothers' starting to make fruitcake months before Christmas. They can often remember the exact can or tin it was made in or how it was wrapped and served.
It seems to me that you need to be a certain age to appreciate fruitcake. I have some of the above memories but I'd choose shortbread or any cookie off of a tray of dainties, leaving fruitcake for the adults.
Fast-forward and I certainly enjoy fruitcake during the holidays so when a follower asked if I had a gluten-free version I said I would make one. Here it is, a light fruitcake that you can make in November or even December. It's late but it's not too late.
Fruitcake vs Fruit Cake
If you care about spelling and typos like I do my first question was, is it fruitcake or fruit cake? Both are acceptable so I chose it as one word, fruitcake.
What's The Best Gluten Free Flour for Fruitcake?
It's funny that I worried about what flour blend I would use when I made my first fruitcake. It seemed like a bigger adventure than making a chocolate chip cookie and I worried that my EGFG flour blend might not be the best choice.
Then I reminded myself there's no best gluten free flour.
There are flour blends that work, flour blends that work better for specific recipes and sadly there are flour blends that 'taste gluten free'.
You're the only one that can decide what you like and what you don't like so just keep cooking and pay close attention to what flours and blends you're using. Fruitcake has a small amount of batter so I used my usual EGFG blend and it was delicious.
This year my mini cakes crumbled slightly at the edges when I cut it. That could be because I didn't line the pans with parchment, because I overcooked it slightly or from the choice of flour.
I'm not making fruitcake again until next year so it's almost impossible to compare different flour blends. If you're a fruitcake fanatic you could get together with friends for a baking spree and organize a head to head comparison. If you do be sure to share what you learn.
Dark Fruitcake vs Light Fruitcake
Dark fruitcake includes molasses and brown sugar, with black fruits like currants, and dark liquors. Next year I'll make a dark fruitcake (for all us old people).
Light cakes are made with granulated sugar (or light corn syrup) with golden and yellow fruits. They can be eaten before they've aged so they're the best choice if you don't thinking about Christmas baking in September or October.
Light coloured liquor is generally used for preserving light cakes but they can be made without liquor. I'm not sure if either my mother or grandmother brushed their fruitcake with liquor but I think it must improve the taste so I used brandy.
FAQ's about fruitcake:
Why brush fruitcake with alcohol?
Brushing alcohol on fruitcake softens the fruit, mellows the cake and acts as a preservative. This is often referred to as aging the fruitcake and it takes one to three months.
What alcohol is best for light fruitcake?
Typically a light coloured alcohol and preferably one that you like. Try brandy, rum, bourbon, whiskey or even Grand Marnier.
Do I need to wrap fruitcake in cheesecloth?
No, but it's easier. Either way you will store your fruitcake in an airtight container for the aging process. If it's wrapped in cheesecloth you can open the container and brush the cheesecloth with alcohol once a week. If you wrap it in plastic it needs to be brushed two to three times a week during aging and you need to unwrap your cake each time.
Can I freeze fruitcake?
Fruitcake can be frozen but this stops the aging process. Ideally you should age your fruitcake for at least one month before freezing. I recommend sharing it rather than freezing it but there will always be extenuating circumstances.
PIN for later...
Edible Gifts: Baking and Wrapping Fruitcake
Make fruitcake in a regular size loaf pan, mini loaf pan or the kind of tin your grandmother used, just for fun. You need to remove your cake from the pan to brush it with alcohol but you can cut it any way you like and even put it back in the pan you baked it in.
I love giving edible gifts wrapped in cellophane bags with beautiful holiday ribbon and I like clear bags, no holiday designs for me. As always I recommend you buy what you like because the pans and even the cellophane bags will last your a long time.
Here's what I found online:
I'd love to hear in the comments below if you made, or are planning to make, Christmas fruitcake. I'd also like to know how old you think one needs to be to like fruitcake?
Happy Holidays!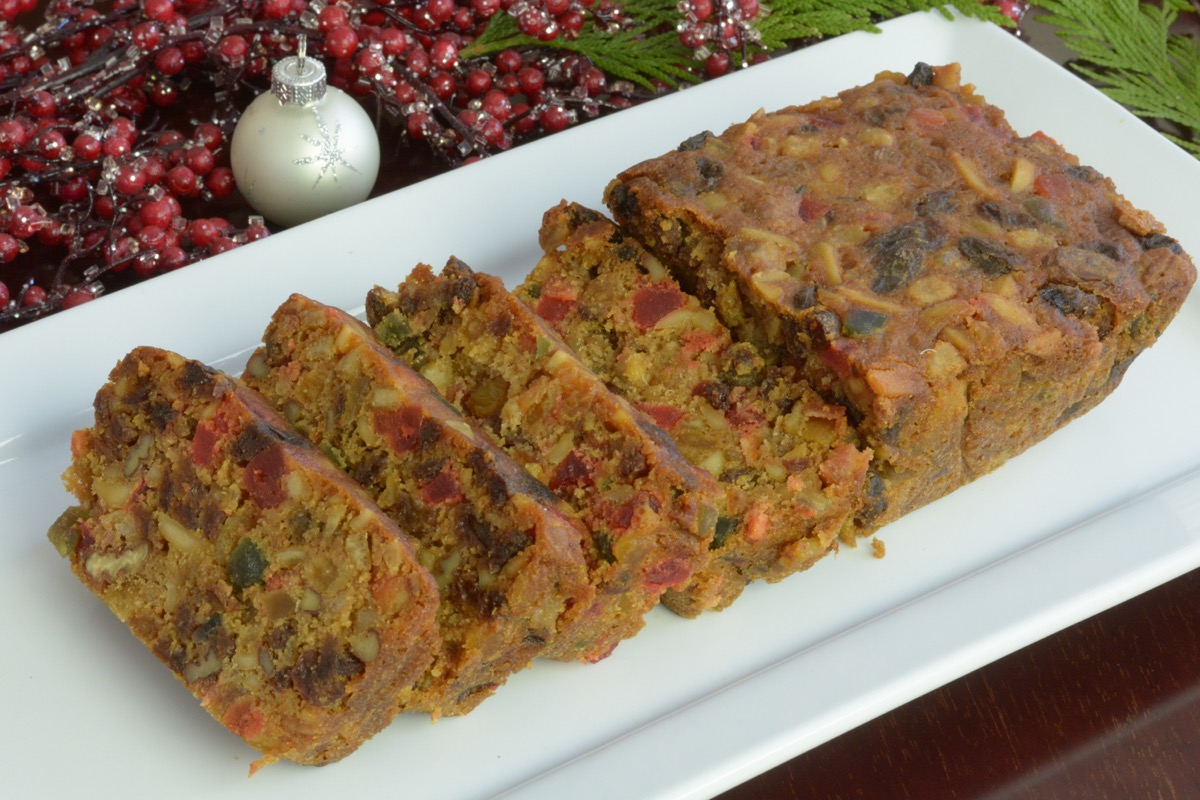 __________________________________________________________________________________________
New here? Join our community and get your FREE resource, the tips I wish I knew when I started cooking gluten free.
Yes, I need 29 Tips For Cooking with Gluten Free Flour.
Still haven't mastered gluten free cooking? Check out our online Cooking Classes.
More Holiday Recipes
Light Christmas Fruitcake (gluten free)
This is an easy recipe made with store bought mixed fruit and peel. Serious cooks start making fruitcake in October to allow a full 6 weeks of brushing it with brandy. Light fruitcakes don't even need that aging process so if you've thought about making gluten free fruitcake just do it!
Ingredients
FRUIT MIXTURE
1

cup

mixed candied fruit

1

cup

mixed candied peel

1

cup

sultana raisins

1

cup

golden raisins

¼

cup

brandy*

(first amount)
STEP 2 - Fruit Mixture
½

cup

slivered almonds

½

cup

chopped walnuts or pecans

¼

cup

EGFG gluten free flour blend**

(first amount)
BATTER
¼

cup

butter

½

cup

brown sugar

6

tablespoon

white sugar

3

eggs

½

teaspoon

vanilla

¼

teaspoon

almond extract***

¾

cup

EGFG gluten free flour blend**

(second amount)

¼

teaspoon

baking soda

¼

tsp each

cinnamon, allspice and nutmeg

1

teaspoon

xanthan gum
Instructions
ADVANCE PREP
Line a standard loaf pan (or 4 mini loaf pans) with parchment paper.

Set one oven rack to the bottom of the oven and choose a large baking pan to create a water bath. Prepare water to boil.
FRUIT/NUT MIXTURE
Combine candied fruit and raisins in a large bowl. Pour brandy over top, stir and let stand 2 hours or overnight.

Add nuts to fruit mixture. Sprinkle flour on top (first amount) and toss to combine.
MAKING BATTER
Cream butter and sugars together in large bowl of a stand mixer.

Add eggs one at a time mixing after each one.

Add vanilla and almond extracts with the last egg.

In a medium bowl whisk together flour (second amount), soda, spices and xanthan gum. Add to mixer bowl along with fruit/nut mixture and mix to combine well.
COOKING FRUITCAKE
Preheat oven to 275°F and boil water for water bath.

Spoon batter into prepared pan(s) and place in oven.

Pour boiling water into baking pan right in the oven. Bake 2½ hours for mini loaves or 3 hours for a standard size loaf pan.

Remove to wire rack and cool for about 10 minutes. Remove from pan and cool completely, about 30 minutes.
AGING FRUITCAKE
Once cool, wrap in cheesecloth and set into an airtight container. Generously soak the cheesecloth by brushing all sides with brandy (or at least the top and bottom). Close the container and repeat weekly for 1 to 3 months. No need to unwrap the cake, just soak the cheesecloth.

Alternately, wrap cake in plastic wrap and store in airtight container. Unwrap to brush with brandy every 2-3 days for 1-3 months.

Slide and serve fruitcake or wrap for an edible holiday gift.
Notes
*Alcohol: Use any light coloured liquor like brandy, whiskey, bourbon, rum or even Grand Marnier.
**EGFG flour blend: 300g sweet rice flour, 300g potato starch, 200g sorghum flour, 200g millet flour (makes ~8 cups)
***Almond extract: If I didn't have a 20 year old bottle of almond extract in my cupboard I might have skipped it. I can't say it's an essential ingredient so you'll have to decide.
Greasing vs lining pans: Greasing pans is more of a habit for me but that leaves a risk that the top of the loaf may

stick to the bottom of the pan. Lining pan with parchment will ensure a smooth top to your fruitcake for the best presentation.