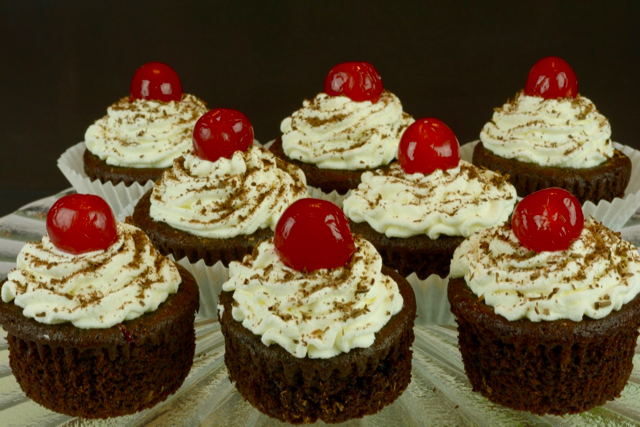 Description
Black Forest Cupcakes or a true Black Forest Gateau, brings together the taste of chocolate, cherries and whipping cream. This German specialty, known as Schwarzwälder Kirschtorte, must contain kirschwasser according to German law. Kirschwasser, also know as kirsch, is a clear, colourless brandy traditionally made from a specific dark-coloured sour cherry from the Black Forest.
Fortunately, home cooks don't have to worry about those details. We can create and enjoy anything we want and make changes based on ingredients available and our own personal taste.
But remember, this flavour combination has stood the test of time because it is magical.
PIN for later…
This post contains affiliate links. When you purchase using these links your cost is the same, but I receive a few cents for every dollar spent. I appreciate your support for this website.
Sponge Cake vs Quinoa Chocolate Cake
A traditional sponge cake is made with eggs, sugar and flour. Gluten free bakers need a repertoire of reliable cakes that they love and for me that quinoa chocolate cake is the substitute. It is made with eggs, sugar and cooked quinoa (instead of flour) and most importantly, this recipe is delicious and turns out every time. It is light like a sponge cake and can be transformed into many beautiful desserts.
The two versions of this cake recipe that I have posted on my website are:
Cherry Pie Filling – Homemade vs Store Bought
One can make just about anything at home but that doesn't mean you need to do it every time. Pie filling is both easy to make and easy to buy, with many gluten free brands available.
But, if someone happens to give you sour cherries from their cherry tree you might want to make homemade cherry pie filling. That's what I did with a gift of two pounds of sour cherries at the end of the summer. Not only were they home grown they were delivered to my door from half way across the city. That gift was actually the inspiration for these Black Forest Cupcakes. Thank you Barb!
Get The Tools
Every kitchen needs some tools. You don't really need anything special to make cupcakes but there are always tools that make each jobs easier. Here's what I used.
Let me know in the comments below if you tried Black Forest Cupcakes and how they turned out. If you take a picture I'd love to see it.
---
More Recipes
Kirsch, the liqueur used in Black Forest Cake, is also used in a traditional Swiss Cheese Fondue. I often have a tiny bottle in the back of my liquor cupboard so might make these two recipes around the same time.
This is the same chocolate cake made as a whole cake.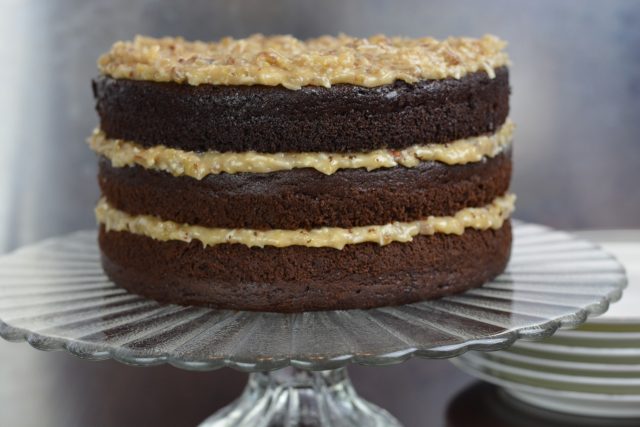 Ingredients
QUINOA CHOCOLATE CUPCAKES
2 cups cooked quinoa (see directions for cooking)
⅓ cup milk
4 eggs
1 tsp vanilla
¾ cup butter, melted
1½ cups white sugar
1 cup cocoa powder, sifted
1½ tsp baking powder
½ tsp baking soda
½ tsp salt
FILLING
1 can (19 oz/540 ml) cherry pie filling
OPTIONAL – 2 Tbsp kirsch or cherry liqueur
FINISHING & GARNISH
2 cups whipping cream
2 Tbsp icing sugar
1 oz square chocolate, shaved
24 maraschino cherries, with stems if available
Directions
1

NOTE - These cupcakes will be flat on top. The filling and garnish will make them look taller.

2

Preheat the oven to 350°F. Line 24 muffin tins with paper liners. Set aside.

3

In a food processor or blender combine milk, eggs and vanilla.

4

Add cooked quinoa and melted butter, process for several minutes until smooth. Then process a few more minutes for a nice smooth texture.

5

In a bowl whisk together sugar, cocoa, baking powder, baking soda and salt. Add the quinoa mixture and stir until combined.

6

Using a portion scoop fill 24 muffin tins. Bake in preheated oven 18-20 minutes, until a toothpick inserted in the center comes out clean. Cool on metal racks before decorating. Can be made a day in advance.

7

FILLING

8

Using a cupcake corer or a small knife, remove the center of each cupcake.

9

Combine cherry pie filling and liqueur if using. Fill each cupcake with about 2 Tbsp of cherry pie filling. Place removed center back on top of the filling.

10

FINISHING & GARNISH

11

Whip cream to soft peaks. Add icing sugar and whip until just firm.

12

Transfer to piping bag with tip. Pipe whipped cream in a circular motion to cover the top of each cupcake.

13

Sprinkle with shaved chocolate.

14

Blot maraschino cherry on paper towel then top on each cupcake.