Morning Glory muffins are a year round muffin but the fall season seems like a reminder to me to make them again. The carrots in my garden are almost ready to dig up and many trees are heavy with apples ripe for the picking.
I'll definitely use carrots and Granny Smith apples from the grocery store but I know this is the season and they will be at their peak.
I think of these as a healthy gluten free muffin filled with apple, carrot, coconut, raisins and walnuts. Recipes for Morning Glory Muffins vary and cooks need options so I've given you some below.
Muffins Are The Easiest Gluten Free Thing to Make
Muffins are always the easiest baked good to make so that's what I recommend to anyone new to gluten free. Start with homemade muffins.
You don't need an electric mixer, just two bowls and a spatula. One bowl for dry ingredients and a second for wet ingredients. Combine them together and you've got muffin batter.
In this particular recipe there's one extra bowl with all the healthy ingredients. Mixing the apple, carrot, nuts, raisins and coconut together first helps to make sure everything is evenly mixed. It's worth it!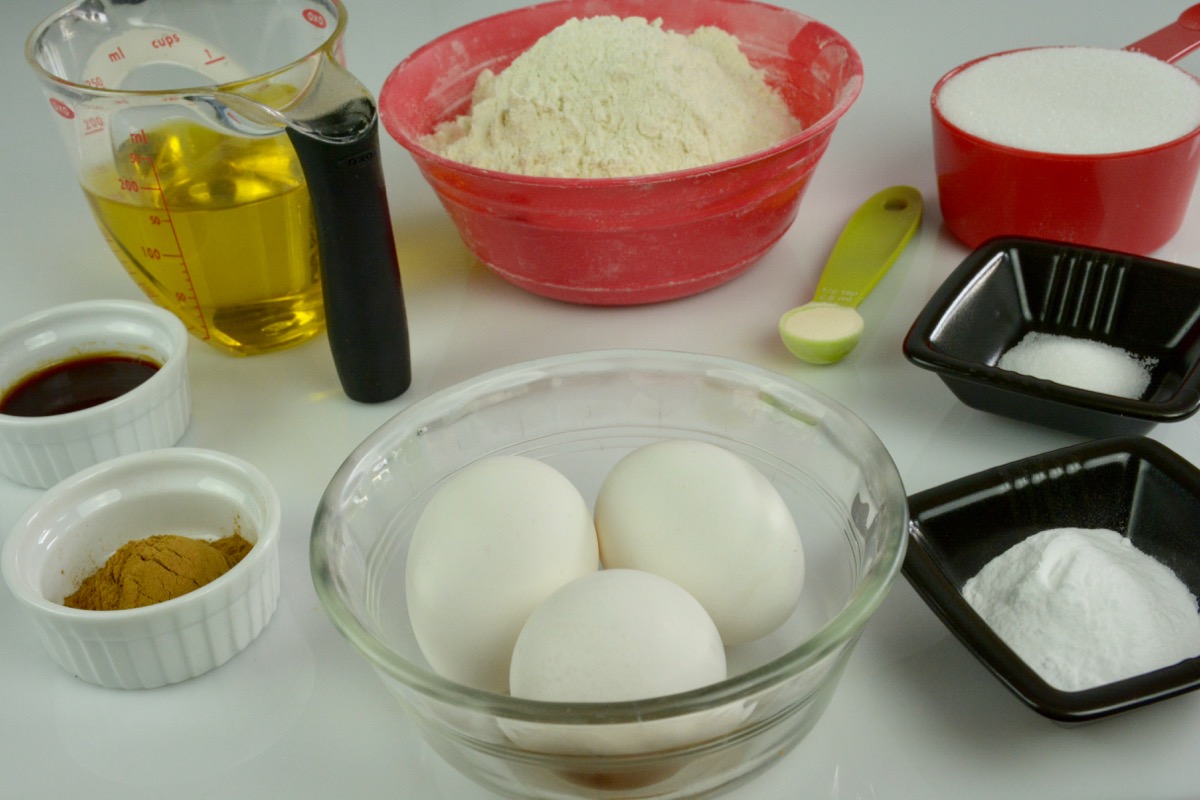 Substitutions For Morning Glory Muffins
Carrot and Apple
Measure 2¾ to 3 cups total and use any combination of grated carrot, apple or zucchini. Drained, crushed pineapple appears in some versions of morning glory muffins. That taste reminds me more of a carrot cake but there's nothing wrong with that either.
Nuts
Walnuts or pecans are my favourite but try any nuts you like. For a nut-free version use pumpkin or sunflower seeds.
Raisins
I'm one of those people who do not like raisins in my muffins (or my cookies for that matter). However, I do make an exception with this recipe but substitute dried cranberries or finely chopped dates if you prefer.
Coconut
In my mind Morning Glory Muffins must have coconut but in your kitchen you can substitute and create your favourite muffins. Stick to the same total amount of cups and your muffins should turn out just fine.
PIN for later...
FAQ's About Gluten Free Flour
These are the three questions I'm most often asked about gluten free flour.
How do I know what gluten free flour to use?
It takes time baking to learn about gluten free flour. There's no right flour blend for everyone but there is likely more than one blend that you will be happy with. I recommend baking the same handful of easy recipes (like muffins and pancakes), over and over so you can notice the subtle differences. The more you bake the more confident you'll become making adjustments and the quicker you'll find out what flour blend you like.

Should I use a store bought or homemade gluten free flour blend?
Store bought is a great place to start since there are so many to choose from. Ultimately it will depend on what kind of baking you do. Be open to trying different flours and flour blends until everyone in your house enjoys what you make.

What's in your EGFG gluten free flour blend?
I named my favourite flour blend after my name, Everyday Gluten Free Gourmet (EGFG). Sweet rice flour and potato starch dramatically improved my baking. Sweet rice flour retains more moisture than other rice flours while potato starch has a smooth texture and adds tenderness to baking. I cook with many other flours but my EGFG flour blend works for me in the majority of my baking.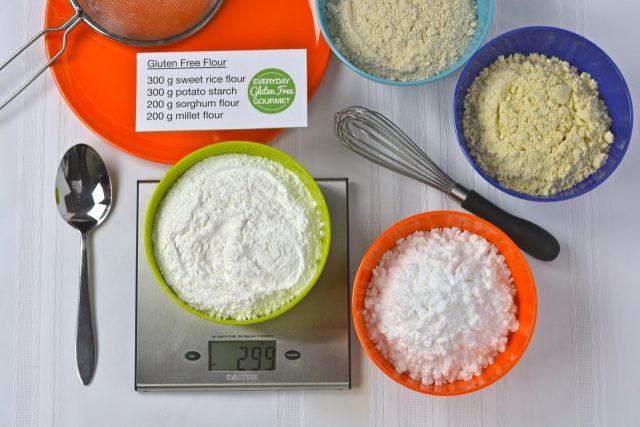 Virtual Gluten Free Cooking Classes
If you're keen to do a deep dive into gluten free flour join me for my virtual cooking class, Understanding How To Use Gluten Free Flour. I usually offer it every other month and can schedule it for a day that works for you if you're the first person to ask me.
If you're excited about experimenting and want my list of 29 Tips For Cooking with Gluten Free Flour follow the link to my sign up page. This free resource will be available next week and everyone on my list will be able to download it.
More Resources For Using Gluten Free Flour
Tools For Gluten Free Baking
Every kitchen needs tools and my advice is to buy quality bakeware. It doesn't need to be the most expensive but not the cheapest either. These are some of the tools I use to make muffins: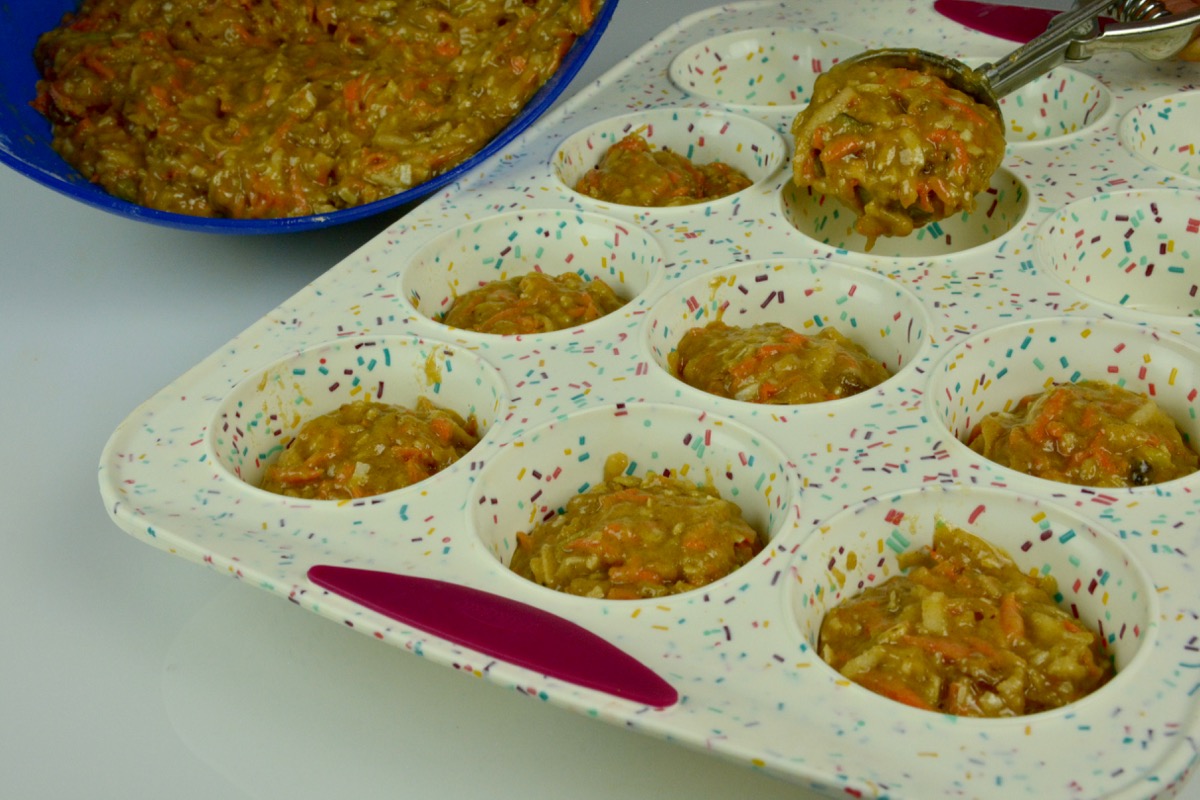 When your gluten free baking turns out, now that is the joy of baking! Let me know in the comments below how your muffins turned out.
Originally posted 2015, updated September 2022.
---
More Muffin Recipes
Morning Glory Muffins
Morning Glory Muffins are perfect for snacks and lunches year round but they remind me of fall when apples and carrots are at their peak.
Ingredients
DRY INGREDIENTS BOWL #1
2

cups

EGFG gluten free flour blend*

(260g)

¾

cup

sugar

2

teaspoon

baking soda

2

teaspoon

cinnamon

½

teaspoon

salt

½

teaspoon

xanthan gum
DRY INGREDIENTS BOWL #2
2

cups

grated carrot

½

cup

raisins

½

cup

chopped walnuts

½

cup

shredded coconut

1

apple, peeled and grated
WET INGREDIENTS
3

eggs

⅔

cup

vegetable oil

2

teaspoon

vanilla
Instructions
In a large bowl mix together flour, sugar, baking soda, cinnamon and salt.

Add carrot, raisins, walnuts, coconut and apple to the dry ingredients and mix in.

In a small bowl beat together the eggs, oil and vanilla. Add to the above mixture and stir until combined.

Scoop batter into lined muffin pan and bake in preheated oven for 20-25 minutes.

Cool on wire racks. Keep in fridge for up to a week, freeze well.
Notes
*EGFG flour blend: 300g sweet rice flour, 300g potato starch, 200g sorghum flour, 200g millet flour (makes ~8 cups)