Paneer and Peppers in Fragrant Gravy is a favourite East Indian recipe perfect for any Indian menu. Paneer is a fresh cheese that is naturally be gluten free. It is often used in saucy recipes and is worth trying if you like the flavours of Indian cuisine.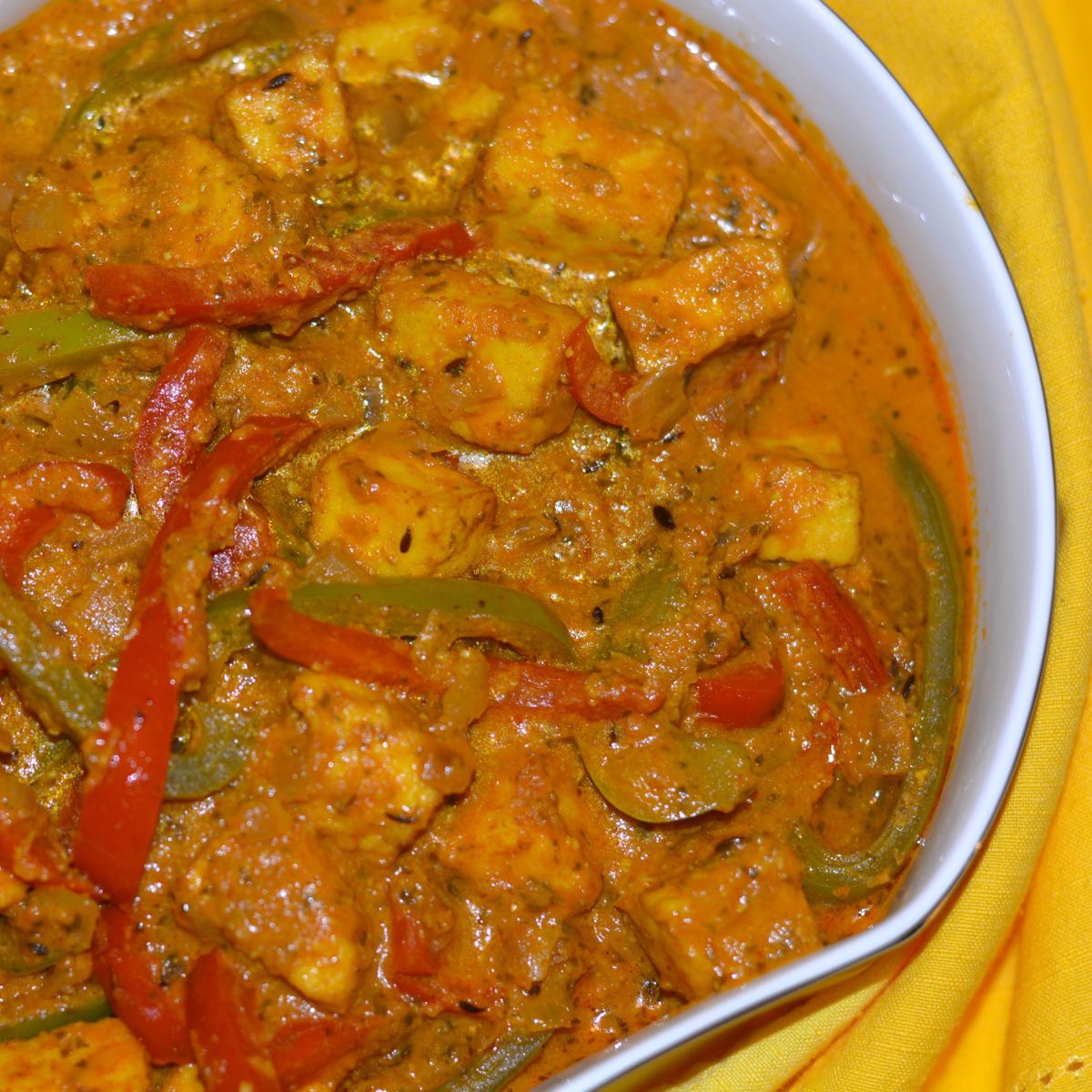 Paneer is an acid-set, fresh cheese. It is a non-melting cheese made by curdling warm milk with lemon juice or vinegar. It's easy enough to make but you can buy it, sometimes with a gluten free symbol on the package.
Find paneer with the cheese or in the freezer section at East Indian specialty stores and large grocery stores. It can be a fresh block or sometimes already cubed and fried.
Ingredients
Spices from all over the world are readily available and a joy to the adventurous home cook. To explore Indian cuisine you'll need a variety of dried spices. Buy what you're missing and enjoy the adventure.
canned tomatoes
cilantro
ginger
garlic
cumin seeds
onion
ground almonds (same as almond flour)
ground coriander
paprika
turmeric
cayenne pepper
sour cream
paneer (fresh cheese found in the deli case)
To minimize the number of spices you need to have, buy whole spices like cumin seed and coriander seed. I grind them in my coffee bean grinder and fill a spice bottle with the ground version.
Dinner Club: An East Indian Menu
If you're an adventurous cook you need to start a Dinner Club. If you do this is my favourite East Indian Menu. Mix and match the recipes to suit your taste.
Let me know in the comments below if you tried this Paneer and Peppers in Fragrant Gravy and what you thought.
__________________________________________________________________________
New here? Join our community and get your FREE resource, the tips I wish I knew when I started cooking gluten free.
Yes, I need 29 Tips For Cooking with Gluten Free Flour.
Still haven't mastered gluten free cooking? Check out our online Cooking Classes.
_________________________________________________________________________
Paneer and Peppers in Fragrant Gravy
This Paneer and Peppers in Fragrant Gravy is a favourite East Indian recipe.
Ingredients
1

can

diced tomatoes with juices

(19 oz/540 ml)

½

cup

chopped cilantro

2

inch

piece of ginger, peeled and roughly chopped

3

garlic cloves

¼

cup

vegetable oil

1½

teaspoon

cumin seeds

1

onion, diced

2

tablespoon

finely ground almonds

(this is almond flour)

4½

teaspoon

ground coriander seed

1½

teaspoon

paprika

½

teaspoon

turmeric

¼

teaspoon

cayenne pepper

3

tablespoon

sour cream

1

cup

water

1

package

frozen Paneer cubes, thawed*

(14 oz/400 g)

1

red pepper, thinly sliced

1

green pepper, thinly sliced

¾

teaspoon

salt
Instructions
Puree tomatoes, cilantro, ginger and garlic in food processor or blender.

In a large pot heat oil on medium-high heat. Add cumin and stir until cumin darkens in colour, about 20 seconds. Add onion and cook until golden brown, stirring frequently, about 10 minutes.

Add almonds, coriander, paprika, turmeric and cayenne pepper to onion mixture. Stir until aromatic, about 10 seconds.

Add tomato mixture to pan and decrease heat to medium. Cook until sauce thickens, about 8 minutes.

Add sour cream and water. Stir to evenly combine.

Add paneer, peppers and salt. Bring mixture to a boil, reduce heat to low and cover. Cook for 30 minutes, occasionally stirring gently. Serve hot.
Notes
*Paneer can be bought plain as a block, cut into cubes and even cut in cubes and deep fried. 
Nutrition
Serving:
195
9
Calories:
184
kcal
Carbohydrates:
9.96
g
Protein:
5.04
g
Fat:
15.08
g
Saturated Fat:
8.849
g
Polyunsaturated Fat:
1.846
g
Monounsaturated Fat:
3.187
g
Cholesterol:
7
mg
Sodium:
495
mg
Potassium:
399
mg
Fiber:
3
g
Sugar:
3.8
g
Vitamin A:
30125
IU
Vitamin C:
40
mg
Calcium:
97
mg
Iron:
2.07
mg