Fruited Rice Pilaf with Pine Nuts is a delicious rice dish that can be served as part of any Indian meal. This is what I call special rice. This rice recipe does take a few extra minutes compared to plain steamed rice but once in awhile it's worth the effort. I would definitely make it for company but sometimes I make it as a treat when I'm taking a main course out of the freezer so I have a few extra minutes.
East Indian Spices for Fruited Rice Pilaf
If you enjoy East Indian cooking or want to do more of it you may need to add to your spice collection. Having an extensive spice collection is part of the adventure of cooking. Certain foods and their unique combination of spices can transport you anywhere in the world. You can find some tips for storing spices in this post, Paneer in Fragrant Gravy.
PIN for later...
This post contains affiliate links. When you purchase using these links your cost is the same, but I receive a few cents for every dollar spent. I appreciate your support for this website.
Special Rice Dishes
I love rice in many forms and I have a handful of recipes that I refer to as 'special rice'. These are recipes that capture the flavours of cuisines from around the world and they would typically be naturally gluten free. Here's the list of my other 'special rice' dishes.
Indonesian Yellow Rice
French Rice Pilaf
Cook Once, Eat Twice Strategy
As often as I can I use a Cook Once, Eat Twice strategy. Everyday life is busy so it takes planning to get homemade meals on the table on a regular basis. We all like to have other people cook for us but the healthiest choice usually means cooking from scratch. Dishes with real food from the grocery store.
When I make Tandoori Chicken I try to make a double recipe, half for dinner and half to put in the freezer. Sometimes it goes in the freezer fully cooked to just thaw and heat. Other times I freeze the raw meat in the marinade. It marinates as it freezes and again as it thaws plus I get a delicious hot meal out of the oven.
Freezer Tip - If you add the words, 'make with fruited rice pilaf' right on the label it just might happen.
I hope you'll give this Fruited Rice Pilaf a try, who knows, it might become one of a favourite 'special rice' in your house. Let me know in the comments below if you added some new spices to your collection and how you liked this rice dish.
---
__________________________________________________________________________________________
New here? Join our community and get your FREE resource, the tips I wish I knew when I started cooking gluten free.
Yes, I need 29 Tips For Cooking with Gluten Free Flour.
Still haven't mastered gluten free cooking? Check out our online Cooking Classes.
More East Indian Recipes and a Dinner Club Menu
Click on the text on the image(s) to go to the recipe/blog post.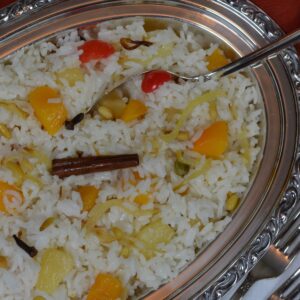 Fruited Rice Pilaf with Pine Nuts
Fruited Rice Pilaf with Pine Nuts is a delicious rice dish that can be served as part of any Indian meal. This is what I call 'special rice'.
Ingredients
1½

cups

basmati rice*

3

cups

water

2

tablespoon

vegetable oil

4

cardamom pods

4

whole cloves

1

bay leaf

1

cinnamon stick

½

cup

thinly sliced onion

14

oz

can fruit cocktail, drained**

1

teaspoon

sugar

2

tablespoon

pine nuts

(or pistachios)
Instructions
Bring rice and water to boil in a saucepan. Reduce heat to low, cover and simmer for 20 minutes.

Dry roast pine nuts over medium-low heat in a small pan until you can smell them toasting, about 5 minutes. Set aside.

While rice is cooking heat oil on medium-high heat in sauté pan.

Add cardamom pods, whole cloves, bay leaf and cinnamon. Sizzle for 30 seconds.

Add onion and cook stirring for 6-8 minutes until light brown.

Add fruit and increase heat. Cook, shaking the pan, until heated through, about 2 minutes.

Sprinkle sugar over fruit and cook another minute until sugar melts and glazes the fruit.

Add fruit and nuts to rice and stir. Remove bay leaf if desired. Cardamom pods, cloves and cinnamon are not to be eaten but look nice in the serving dish.
Notes
*I sometimes make only 1 cup of rice and combine it with the full recipe of fruit and nuts.
**I've tried many combinations of fresh fruit but the canned fruit looks nicest.